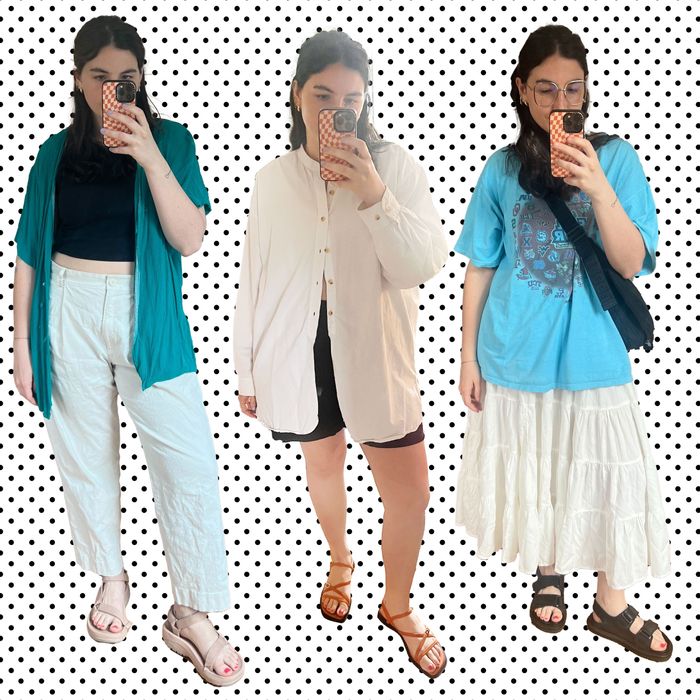 Photo-Illustration: by The Cut; Photos: Brooke LaMantia
For more of the Cut's favorite fashion, beauty, and home finds, sign up for the weekly Cut Shop Newsletter.
I am not someone who's normally down for showing off my toes, but the recent trend of mesh flats and the idea of having a barefoot-boy summer have both tempted me to bust out my little guys and embrace nature. Yet instead, I'm stuck thinking about the grit and grime that cover the New York City sidewalks I stroll on each day, which tends to leave me reaching for some sneakers on instinct when it's time to head out the door.
Even with all my anxiety, some sandals out there are so damn good I don't think twice about putting them on. As with any other shoe (mary janes, rain boots, even loafers), the pros always outweigh the cons, and these sandals have some major pros. The first is that I can't stop wanting to wear them. The second is that it's like a rebellion for my feet, and I can't get enough. Here are the best sandals for those of us who need a little push to embrace a free-toe summer.
My Top Three Selects
The Most Versatile Sandals


I love Tevas (just see here). Not only are they the most comfortable sandals on the planet, but they are perfect for literally everything. Going to a festival? Check. Going to the beach? Check. Going to sit in the park and read? Check. As a city gal, I prefer some platform to my sandals to keep my feet as far from the dirty ground as possible, and these amped soles deliver height while allowing me to feel supported. The traction is great for any terrain, and I know these shoes are going to last for years. Plus, they look cute with some breezy pants or a casual dress.
The Upscale Birkenstocks
These leather sandals are super-elevated but feature a classic fit and a look that pairs well with many different outfits. With three velcro straps that allow for a snug fit, the leather upper doesn't rub or cause blisters, and the molded insole provides ample support to keep your feet from hurting. Handmade with a cute zigzag hem on each velcro strap, these are a pair I'd take along on any vacation that involves a lot of walking (so my feet have room to breathe).
The Strappy Pair


I know what I said about preferring platforms, but this may be one of the only shoes I'll give a pass for being close to the ground. While strappy sandals can often be uncomfortable, these straps are adjustable and light, so they don't rub when you walk and offer lots of support to keep your feet in place. The square toe is a nice detail, and I love the orange color, which adds a pop to any outfit.
More recommendations
The Pair for the Barbie Movie
It's no secret that outfits are already being planned for the Barbie movie release, so let me introduce you to the pair I'll be sporting at my local AMC. These funky sandals feature a thick three-inch heel (Barbie-approved but still comfy) and are made from lightweight and durable EVA foam. With a removable padded insole, they're heels you won't want to take off.
The Perfect Flats


These woven slides make me feel like I belong at every farmers' market or local coffee shop in the world, which may be one of the best feelings out there. Made of vegetable-tanned leather, the woven top molds to your feet for an ultracomfy fit. Each pair is handwoven in Medellín, Colombia, and takes 24 hours to make, so the quality and durability are unmatched. While the bottom can be slippery on certain terrains, it's an easy fix that's worth the beautiful craftsmanship of these shoes.
The Inflatable Flip-Flops
Padded and pillowy have been in style for a bit, so why not use this to your advantage and get a pair of shoes that are so comfy while being so trendy and cool? These lightweight platform flip-flops are made entirely from textured EVA, so you'll feel light and buttery but supported. With its round toe and a wide variety of pastel colors to choose from, you'll really feel like you're walking on a cloud.
The Dad-Approved Ones


My friend is obsessed with these, and the more I see her wear them, the more I want them, especially the light-pink pair she often sports with a cute dress or miniskirt. Even Bella Hadid has even been spotted in these dad sandals, so you know it's only a matter of time before they take over the fashion world. Made for all-terrain wear, these sandals are great for wet and dry activities and feature a cushioned sole to support your feet however you plan to wear them. These are also the perfect sandals to style with some plush crew socks.
The Detailed Slides


These are the type of Dr. Martens you can get away with wearing at both the boygenius concert and out to dinner; we do love duality here. The three straps are adjustable, and the footbed is made from memory foam for a soft finish. They've been described as comfier than other Dr. Martens, but it's still a great idea to slowly break these in before walking in them all day.
The Best Slingbacks


Thongs are in! While we may be talking about another type, the sandal version is also here to stay. The best part? Even though the thong is a more casual style, when set on a heel it becomes an elevated classic. This square-toed pair by Charles & Keith features an adjustable slingback, which means there'll be no click-clacking while you walk — a huge win. And at under $50, they're a major steal.
The Sandal Version of a Cowboy Boot


If I were to splurge on something right now, it would be these embroidered western sandals from Ganni. Yeehaw! These are near perfection thanks to the calf-leather material, square toe, and block heel. Three adjustable buckles allow for the best fit, and they come in three colorways: deep red, light green, and black with yellow embroidery.