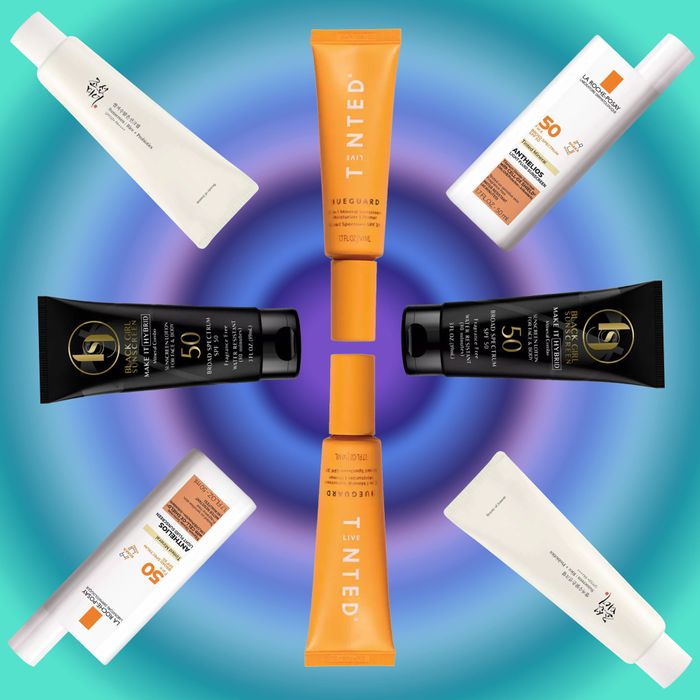 Photo-Illustration: by The Cut; Photos: Retailers
For more of the Cut's favorite fashion, beauty, and home finds, sign up for the weekly Cut Shop Newsletter.
Choosing to forego proper sun protection is like buying all the ingredients for a sandwich but running to the nearest bodega to eat instead. Unlike a great highlighter or self-tanner, sunscreen sits firmly in the you-get-what-you-give category of beauty, so make the sandwich. Ahead, we spoke with board-certified dermatologists to answer common questions and compile a shortlist of the best sunscreens at your disposal.
What's the difference between chemical and mineral sunscreen?
"Mineral sunscreen and chemical sunscreen are the two main categories," says Shereene Idriss, MD, board-certified dermatologist and founder of Idriss Dermatology in NYC. The main difference is in how they protect you from UV rays, which starts with the ingredient list.
Mineral sunscreens are comprised of zinc oxide or titanium dioxide; two naturally occurring substances that are broken down into smaller particles and smeared onto your skin. "These form a barrier on top of the skin and reflect light away," according to Sara Perkins, M.D., board-certified dermatologist and medical adviser for Hims & Hers. In other words, they put the block in sunblock.
Chemical sunscreens use synthetic ingredients such as oxybenzone, avobenzone, and homosalate. Dr. Perkins says these compounds "penetrate into the skin where they absorb and dissipate UV radiation to prevent damage." What you're left with is a gunk-free face, but that same gunk may wind up in your bloodstream. You can see why this would make some people nervous.
So … are chemical sunscreens bad for you?
The answer is nuanced. There's a reason we've reported on the "Is sunscreen bad for you?" topic many, many times.
Dr. Perkins says most chemical sunscreens are safe to use and effective in preventing sun damage and skin cancer, but there are potential concerns for people to be aware of — namely due to chemical ingredients being absorbed into the bloodstream. The operative word there being potential. Elena Jones, M.D., board-certified dermatologist and chief dermatologist of Humanrace notes that "studies are being done to address what concentrations [of chemical ingredients such as oxybenzone, homosalate, and octocrylene] are dangerous, how much absorption gets into the skin, and its long-term effects."
Before you go running toward the bright white lights of a zinc-oxide formula, Dr. Perkins stressed that the studies did not demonstrate any adverse effects from absorption and that the authors emphasized the findings do not indicate that people should stop using sunscreen. Some derms are more straightforward about it: "There is no evidence that proves we should be wary of chemical sunscreens and a lot of evidence that shows it helps prevent skin cancer," says Dr. Idriss.
What's the deal with mineral sunscreen?
Mineral sunscreens are considered a better option because they're less irritating than chemical sunscreens, making them more tolerable for sensitive skin, says Dr. Idriss. Since they're considered the safer alternative for both your skin and the environment (we get into all that here), Dr. Jones says she tends to recommend mineral sunscreen to everyone — regardless of skin type.
"The only downside is most mineral sunscreens leave a white cast because zinc oxide and titanium dioxide are white in color. Therefore, they don't work for all skin tones," says Dr. Idriss. Keep an eye out for the words non, nano, and zinc (preferably altogether) if you want to take extra care. Formulas with nanoparticles mean the zinc oxide has been engineered so small, the particles not only seep into the environment but potentially your bloodstream — negating the reason people opt for mineral sunscreens in the first place.
How do I choose the best sunscreen for my skin type?
This is where personal preference — about what you put onto your body and into the environment — really comes into play. Here's what the derms would recommend:
For oily skin: Dr. Perkins says people with oily skin should choose a sunscreen that is oil-free and non-comedogenic (won't clog your pores). "There are both physical and chemical options that can work well."
For dry and/or mature skin: "People with more mature skin may prefer a chemical sunscreen, which is less likely to settle into fine lines and wrinkles," says Dr. Perkins. Many facial sunscreens are now made with ingredients that are beneficial to the skin in other ways, so she adds that this skin type "may also want to choose a sunscreen that contains hyaluronic acid to hydrate and plump the skin, or with antioxidants like vitamin C."
For sensitive skin: All of our experts agree that mineral is the way to go. If you're sensitive and acne-prone, Dr. Idriss notes that physical sunscreens are the better option given that chemical sunscreens can be irritating.
What SPF is best?
A minimum Sun Protection Factor of 30 is ideal — and make sure the sunscreen is labeled as "broad-spectrum" which protects against both UVA and UVB rays. Once you're well established with SPF, you may soon find yourself wondering WTF is PA … and what's with the plus signs?
The Protection Grade of UVA (PA) grading system was established in Japan to denote the level of protection from UVA rays in particular. Why? Because UVA is the more sinister of the two. While both can cause skin cancer, UVB tends to cause the more immediate effects of sun damage (see: the burn), making everyone forget about UVA, which is primarily responsible for the long-term effects of sun exposure, like dark spots, wrinkles, and gene mutations. When you see PA followed by plus signs, the more, the better.
Anything else I should know?
Technique is everything. Dr. Jones says sunscreen should be worn all year round ("rain or shine") and should be reapplied every two hours for optimal protection. If you're already dreading reapplying your sunscreen after doing makeup or once you've left the house, Dr. Idriss recommends sticks, sprays, and powders on the go — just use regular sunscreen as your base. "I don't recommend using [other forms] as your first sunscreen because, given the delivery system, you can't be certain that you've gotten the adequate amount coverage needed in terms of the surface area it's applied to."
The Best Mineral (Physical) Sunscreens
The Best Mineral Sunscreen for Oily Skin
Dr. Perkins, Dr. Idriss, and the Cut Shop team all have their favorites from La Roche Posay — a New York-based brand with French roots — but this tinted sunscreen is notable since it has a slightly darker pigment, making the shade range a bit more workable across skin tones. It's also La Roche Posay's most-reviewed sunscreen on Amazon — and the feedback is strikingly positive, with over 75 percent of ratings being five-star. Since the formula is oil-free and non-comedogenic with a matte finish, it's best for those with skin on the oily side.
The Best Mineral Sunscreen for Dry Skin
Another sunscreen Dr. Idriss loves (along with the Cut Shop) is this newcomer from Tatcha. The formula has among the highest protection ratings for both SPF and PA, and despite its strength, it melts into even the driest of skin, leaving virtually no white cast. The formula is weightless and feels like, you guessed it, silk, with its inevitably high price being the main drawback.
The Best Mineral Sunscreen for Mature Skin
This lightweight (albeit liquidy — okay, straight-up runny) formula leaves a slight white cast, but it's worth it for the potential to reverse sun damage. It's all thanks to Isdin's plankton-derived enzyme complex, which has been shown to help repair damage caused by the sun. Dr. Idriss recommends this sunscreen "specifically for [its] well-aging benefits."
The Best Mineral Sunscreen for Sensitive Skin
Like a lot of SkinCeuticals products (hi, C E Ferulic), this formula has a cult-like following. That's because it's non-comedogenic, fragrance-free, and formulated with a plankton-derived ingredient that not only wards off UV damage but also stressors triggered by heat. While the water-resistant sunscreen is Dr. Idriss-approved, she notes the "universal" tint color will not work on all skin tones.
The Best Mineral Sunscreen for Combination Skin
Hers' new sunscreen is formulated more like skin-food than sunscreen. It not only includes a high SPF, but its inclusion of squalane and glycerin allows it to operate more like a daily moisturizer. It's also the most affordable of the mineral sunscreen bunch, which makes it a more reasonable long-term option for people with other steps (or prescriptions) in their routine.
The Best Sustainable Mineral Sunscreen
This sunscreen from Pharrell-founded beauty brand Humanrace is packed with moisturizing ingredients like squalane and hydrating ingredients like mushroom extract — all while being vegan, fragrance-free, and delivered in a refillable package. Dr. Jones notes that what sets the formulation apart is its attention to blue light, which she says has a similar damaging effect on the skin as UV rays.
The Best Mineral Sunscreen Primer
This weightless, unfussy sunscreen that Dr. Idriss (and our friends at the Strategist) recommends is billed as a primer, but also works well as a standalone product since it subtly blurs out blemishes and uneven tones. And don't let the yellow color deter you, Huegard tends to blend seamlessly on light, medium, and dark skin tones.
The Best Chemical Sunscreens
The Best Hybrid Sunscreen
For those of you who want the best of both worlds, some of your favorite sunscreen brands may have a hybrid option available, like this recent launch from Black Girl Sunscreen. The benefits: FDA-approved sun blockers like zinc oxide paired with synthetic ingredients to help the formula melt into your skin, leaving no white cast. Dr. Idriss says she's heard great things about it from her community and patients.
The Best Chemical Sunscreen for Oily Skin
Photo:
Nothing is quite as emblematic of the Supergoop brand (think Glossier for sun care) as its Unseen Sunscreen. The Dr. Perkins-approved bestseller leaves a genuinely invisible cast on the skin and is unlike any formula you've probably used before. The weightless sunscreen is especially good for oily skin since it has a matte-like finish; as for you dew-hunters, consider the Dr. Idriss-backed Glowscreen with SPF 40.
The Best Chemical Sunscreen for Dry Skin
We know, it's not convenient to buy and pay for overseas shipping, but when it comes to chemical sunscreens, you may be persuaded to. Dr. Idriss recommends this popular Beauty of Joseon product because "it's formulated using filters available outside of the US." This is a good thing in the world of sun protection since the FDA regulates sunscreen as an over-the-counter drug; that's also good but it makes it hard for companies to compete with newer, better chemicals that are greenlit in other countries. Beauty of Joseon's Relief Sun formula includes ingredients like Tinosorb M and Uvinul T — two actives that are only approved in the E.U. and Japan. It all makes for a highly effective sunscreen that feels like milk, nourishes your skin, and leaves you positively glowing.
The Best Chemical Sunscreen for Acne-Prone Skin
This oil-free formula is particularly appealing to sensitive and acne-prone people since it includes lactic acid, an exfoliant that encourages cell turnover and reduces breakouts (among other benefits). It's recommended by Dr. Perkins, who also notes that those with oily skin may prefer its matte formulation to combat shine.
The Best Reef-Friendly Chemical Sunscreen
While there's no governing body that oversees "reef-safe" sunscreen, you can use the Hawaii Act 104 as a helpful marker when shopping. Bask's lotion, like all that are compliant with the legislation, eschews oxybenzone and octinoxate — commonly used sunscreen chemicals that contribute to coral bleaching. That's not the only reason it's a Cut Shop favorite, though. This sunscreen looks as good as it feels, with the smoothest, lightest application of the bunch.
Our Experts:
Shereene Idriss, M.D., board-certified dermatologist, Founder of Idriss Dermatology in NYC, and creator of the #PillowtalkDerm series on Instagram
Elena Jones, M.D., board-certified dermatologist and Chief Dermatologist of Humanrace
Sara Perkins, M.D., board-certified dermatologist and medical advisor for Hims & Hers