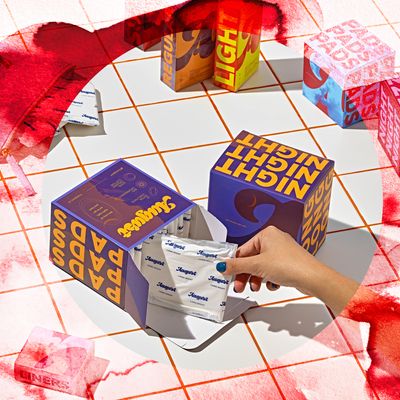 Photo-Illustration: by The Cut; Photo: Retailer
For more of the Cut's favorite fashion, beauty, and home finds, sign up for the weekly Cut Shop Newsletter.
Want to hear some truly wild actual math? I recently came across a staggering statistic about menstrual products that stopped me dead in my tracks: The average person who menstruates discards around 11,000 tampons in their lifetime, creating around 331 pounds of waste, according to data published by the Harvard Business School. In the United States alone, an estimated 12 billion pads and 7 billion tampons end up in landfills annually. Think about it, though — not only are most traditional pads and tampons individually wrapped in plastic, the products themselves are also largely made of plastic, from the base layer of pads to the synthetic material that soaks up liquid to the plastic tampon applicators. "You open period products and they all feel like they're made of cotton," Nick Jain — who co-founded the sustainable and tax-free period-product brand, August, with Nadya Okamoto back in 2021 — tells the Cut. "But then when you actually dive in and look at them, historically, most brands have used a lot of plastic."
All that adds up to: Period-care products are drastically impacting the environment.
The good news? Brands like August are entering the period-care-product space these days and addressing the problem head-on by launching sustainable solutions without compromising on functionality. "Our wrappers are compostable, for example, whereas most are fully plastic," Jain says. "We've also committed to reducing our carbon footprint over the next two to three years, in addition to offsetting our existing one."
Along with many environmental pledges and certifications — including being 100 percent net plastic recycled (meaning the same total weight of plastic put out is collected and recycled) and donating one percent of revenue to sustainability-focused nonprofits — August is committed to making sustainable period-care products more accessible, which Jain says will be an important next step for the growing industry. "Generally speaking, sustainable options tend to be more expensive. From a price accessibility standpoint, that can be very challenging," he explains.
August's organic pads, tampons, and panty liners are not reusable, but they're significantly more sustainable than other options on the market. And other brands like Diva, June, Saalt, and the Period Company have taken an even more aggressive approach to reducing their carbon footprint by developing zero-waste period products, including washable maxi pads and reusable menstrual cups that are made from medical-grade silicone. And because you can wear them over and over again, they're much more cost-effective than single-use period-care products.
But which sustainable products on the market really work? What should you be looking for? And which products are right for you? We've put together the below guide that answers your FAQs and gathers the best sustainable alternatives you should consider if you're think about making your own period care more earth-friendly.
New York City–based OB/GYN Dr. Lorraine Chrisomalis says that, although she has not yet seen an uptick in patients who wear reusable period products, she recommends a menstrual cup to anyone who is interested in a more sustainable option. "Some people are a little ambivalent about having to touch blood during the removal process, but menstrual cups are a completely safe and sanitary method," she explains. "You just fold them, place them into the vagina, and they just kind of unfold into the right location. They hug your cervix, so the menstrual blood flow goes right in."
Are reusable period panties hygienic?
Reusable period panties are another sustainable alternative that are becoming increasingly popular. And, yes, they're totally hygienic. "They're superabsorbent and washable," Chrisomalis says. "A lot of people feel normal in them when they're getting their periods. They're not afraid of having to change their pad or getting stains on their clothing."
What should I know about organic tampons?
Organic tampons from brands like August and Cora are "made from organic cotton," Chrisomalis says, adding that they are "hypoallergenic, free of dyes, synthetic materials, and plastic applicators." In short, organic tampons are better for your body and better for the environment than other options on the market.
Available in two different sizes, this menstrual cup offers up to 12 hours of leak-free protection. It's made from supersoft and flexible — yet firm — medical-grade silicone that contours to the body and won't cause irritation. The reusable, zero-waste design lasts up to five years.
If comfort is your No. 1 priority, try this zero-waste menstrual cup from Saalt. It's comfortable, easy to use, and specially designed for people with a history of bladder sensitivity or cramping. Made from 100 percent medical-grade silicone, this cup is BPA-, latex-, and toxin-free, plus it's naturally odor-free and reusable for up to ten years.
Unlike the other menstrual cups on the list, Nixit's version is a "one size fits most" disc-like shape. Instead of creating a suction effect, it stays in place due to the fact that it rests higher within the vaginal fornix (between the pubic bone and the posterior fornix). It provides up to 12 hours of leak-free comfort, thanks to the unique circular design, double-rim exterior, and flexible 100 percent medical-grade silicone material. If the stems of other menstrual cups have bothered you in the past, this menstrual disc is a good alternative.
New to the sustainable period-care game? Try this customizable subscription box that comes complete with tampons, pads, and liners, so you can test out different products and see which one works best for you. Everything inside the box is hypoallergenic, nontoxic, and 100 percent organic. The tampons are BPA plastic-free; meanwhile, the pads and liners feature compostable back sheets and wrappers.
Soft and flexible, the popular Diva menstrual cup is easy to insert and safe to wear for up to 12 hours. The brand offers three different sizes to suit every type of vaginal canal and period flow (with the largest option holding six regular tampons' worth of blood). One reviewer says they can go up to eight hours without having to empty it, even on heavy flow days, adding that it's "easy to insert and take out." What's more, a single Diva Cup can divert over 1,000 disposable period products from landfills.
Ideal for lighter days, these nontoxic pantyliners are designed to help absorb the last days of a period, discharge, and small bladder leaks. (Reviewers say they also work well for people who are worried about a bit of leakage when wearing menstrual cups, discs, or tampons on heavier days.) These waste-free pads are made from a blend of organic cotton and jersey spandex, which means you can wear them over and over again — just rinse them off in the sink or throw them in with your regular washing-machine load in between uses. Not only are they more comfortable than traditional plastic panty liners, they are also much safer for the environment and more sustainable.
If you like the concept of a reusable pad but tend to have a heavier flow, try this sustainable option from Aisle. Made from a blend of organic cotton and spandex, it features edge-to-edge protection, convenient snap closures, and a cotton top layer that wicks away fluid. Better yet? Each pad can absorb eight (yes, eight!) tampons' worth of blood. Simply rinse them in cold water, then wash and dry with your next load of laundry and rewear. "Very comfortable, easy to use and extremely absorbent," one reviewer writes.
Public Goods managed to achieve the impossible with these affordable and ecofriendly maxi pads: They are thin and virtually undetectable throughout the day yet also ultra-absorbent, thanks to the bamboo pulp material. "These stick like they should, absorb like they should, and assuage my anxiety over excessive plastic use," one reviewer writes. The entire pad (including the sleeve!) is biodegradable, hypoallergenic, antibacterial, and designed with wings for maximum comfort and convenience.
Most plastic tampon applicators are not easily degradable and contribute significantly to overall plastic waste. Cora's solution? These 100 percent organic cotton tampons, which feature innovative plant-based compact applicators that are so much better for the environment. They are made without pesticides, dioxins, fragrance, or chlorine, so they are perfect for people with sensitive skin. Each one gently expands, widthwise, for a comfortable fit and maximum leak protection.
Reusable and washable period underwear may sound scary, but Proof briefs are equipped with multilayer leakproof technology — including a moisture-wicking top layer, an absorbent core layer, a waterproof liner, and a water-resistant outer layer — so you have nothing to worry about. And even though this machine-washable style is specifically designed for heavy absorption, the look, fit, and feel is comparable to that of regular underwear.