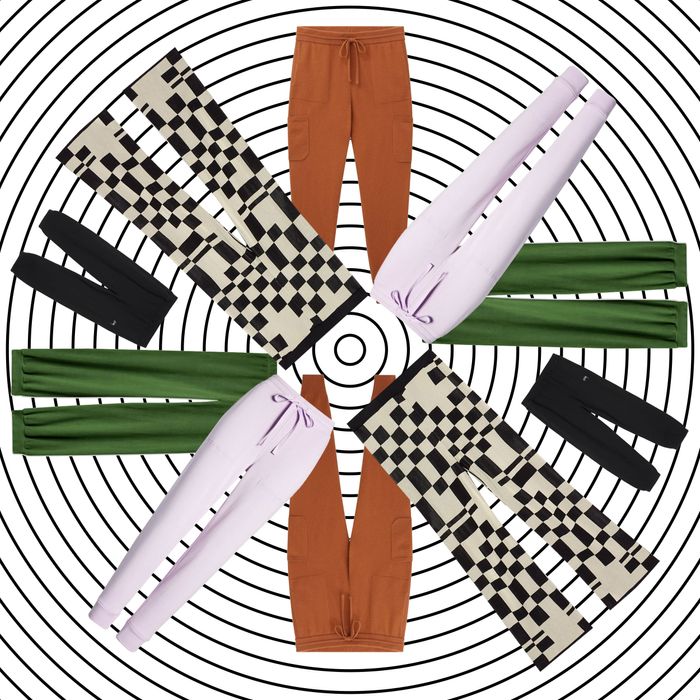 Photo: Courtesy of the Retailers
Back in March, it became clear that there are two types of pants in this world: hard pants and soft pants — and some people vowed never to wear the former again. Sales for sweatpants surged at the start of the pandemic. In the first full workweek under quarantine, site traffic and sales conversions rates reportedly doubled for the small direct-to-consumer brand Entireworld, which was later featured in a Times magazine cover story titled "Sweatpants Forever." Now, all these months later, consumers have likely gotten used to being comfortable and are looking for a fresh new pair to keep things interesting. Brands have had enough time to meet this new demand, and there are styles out there for every type of person and occasion. Fashion designer Norma Kamali even plans to get married in a pair. Below, 23 of the best options to wear on your couch, or down the aisle.
The Classics
It's pretty hard to beat this price. Just think of how good it'll feel when people mistake these for a much more expensive designer pair.
Available in sizes S–XXL.
It doesn't get any more classic than Champion.
Available in sizes XS–XXL.
Not only are these pants comfortable, they're also made of sustainable materials: a lightweight blend of organic cotton and recycled polyester.
Available in sizes 1X–3X.
Possibly the only pants more comfortable than Eileen Fisher's new sleepwear.
Available in sizes 1X–2X.
The New Classics
Everlane's new sweats are made of a lightweight French terry jogger and come in a seasonal apple cider color.
Available in sizes XXS–XXL.
The Outdoor Voices CloudKnit material really does live up to its name.
Available in sizes XS–XL.
The thick waistband on these Universal Standard pants is simultaneously flattering and super comfortable.
Available in sizes 4XS–4XL.
If you haven't yet perused the quietly-awesome women's section of the surf/skate brand Stussy, you should.
Available in sizes S–XXL.
The Super, Super Soft Sweats
Cashmere sweats aren't cheap, but these might be within "treat yourself" range. They'd also make a great gift.
Available in sizes XXS–XXL.
If you don't want to splurge on cashmere, these Lou & Grey pants are just as soft — and you can throw them in the dryer.
Available in sizes XXS–XXL.
Hurry, J.W. Anderson's Uniqlo collaborations go fast.
Available in sizes XS–XL.
The Instagram Favorites
Was 2020 the year Entireworld took over the entire world? Because it feels like it — on Instagram, at least.
Available in sizes XS–XL.
Leset is a celebrity favorite, beloved by everyone from Selena Gomez to Emily Ratajkowski.
Available in sizes XS–XL.
Juicy Couture style but for cool Manhattan-Amagansett moms (and everyone else). You could wear these to a (solo) holiday party.
Available in sizes XS–XL.
The Statement Sweats
You can count on Ashley Willams for a wild print. These make average tie-dye seem boring.
Available in sizes XS–L.
While these pants from the Spanish brand Paloma Wool aren't technically sweatpants, they ooze ease. Pair them with the matching top for a full "sweatsuit" look.
Available in sizes S–M.
A classic look, but cut up and pieced back together again. Kendall Jenner is a fan.
Available in size 4X.
The Non-Sweats Sweats
The softest hard pants you'll find. They're great for hiking (or just sitting around talking about how you might go on a hike soon.)
Available in sizes XS–XL.
The fashion-person's sweat pant.
Available in sizes 2–4.
These light down Montbell pants are ideal for outdoor dining in the winter months. And they'll match your Montbell fanny pack!
Available in sizes S–XL.
The Designer Splurges
Choose your fighter. Lucy is a "mood," as they say.
Available in sizes XS–XL.
Wear these to turn your living room into Studio 54.
Available in sizes XS–XL.
Look, we're going to be here for a while. If you want to splurge on some really nice cashmere sweatpants, no one's going to stop you!
Available in sizes S–L.
If you buy something through our links, New York may earn an affiliate commission.