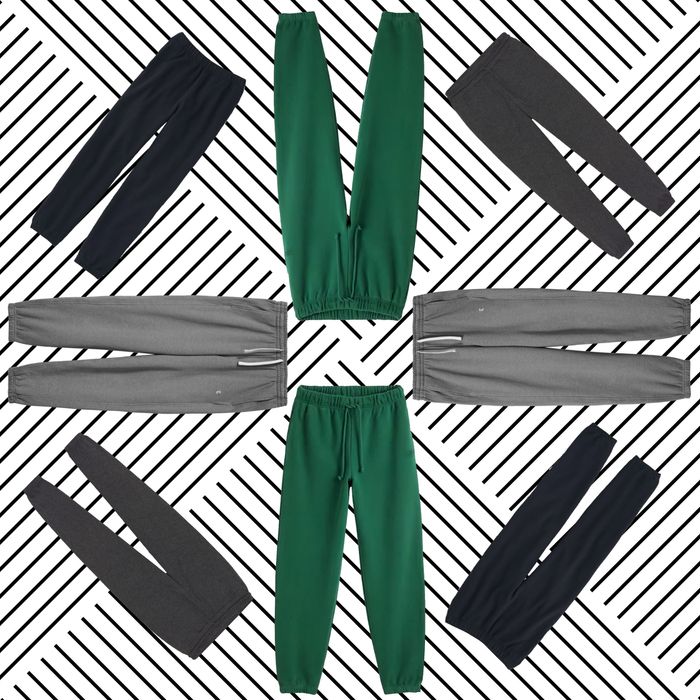 Photo-Illustration: by The Cut; Photos: Retailers
After two years and several months, we're happy to report that sweatpants are still the star of the pant show. While we might not be lounging at home 24/7, as soon as we step inside our apartments, they are the main characters of any show we're watching. If you can relate and love a good elastic waistband, we've rounded up the best sweatpants below.
The Classics
It doesn't get any more classic than Champion. The roomy fit allows you to dress them up or down.
Available in sizes XS–XXL.
It's hard to beat this price. Just think of how good it'll feel when people mistake these for a much more expensive designer pair. Plus the cinched cuffs and waist give it a tailored look.
Available in sizes S–3X.
Your new go-to black fleece pants. The drawstring makes all the difference.
Available in sizes 1X–3X.
This classic pair is still showing up on runways, so why not buy the $80 wide-leg version?
The New Classics
Are we really shocked that Lululemon's joggers are as good as its leggings? The thick waistband makes you feel supported even though you are wearing sweatpants.
Available in sizes 0–20.
Everlane knew what it was doing when it designed these joggers. While the pants are a bit pricier than the Hanes and Champion ones, they are just as comfortable and reliable. Plus the drawstring and cinched cuffs make it look tailored.
Available in sizes XXS–XXXL.
The Outdoor Voices CloudKnit material really does live up to its name.
Available in sizes XS–XL.
Not sure which we love more: Kotn's sweatpants or Kotn's socks? All we know is that when worn together, you've reached peak cozy.
Available in sizes XXS–XXL.
A pair of cotton-fleece sweatpants that are roomy enough to throw on over leggings in the colder months.
Available in sizes XS–L.
The Super, Supersoft Sweats
Best worn while lounging around the house all weekend. The colors are what stand out here.
Available in sizes XXS–XL.
Who said extremely soft sweatpants needed to be expensive? The fabric is thin and comfy.
Available in sizes 1X–4X.
Cashmere sweats aren't cheap, but these might be within the "treat yourself" range. They'd also make a great gift.
Available in sizes XXS–3X.
Bleusalt has mastered the chic but comfortable sweatpant. Bianca Nieves, our shopping editor, always wears hers when traveling. It provides the comfort of a legging without the restriction.
Available in sizes XXS–2X.
Pair these cozy joggers with Parade's seamless universal underwear and you have a match made in soft heaven.
The Instagram Favorites
Girlfriend Collective makes activewear in super fun colors out of recycled materials. A win-win!
Available in sizes XXS–XL.
Leset is a celebrity favorite, beloved by everyone from Selena Gomez to Emily Ratajkowski.
Available in sizes XS–XL.
Pangaia's tiny branding makes these sweats instantly recognizable.
Available in sizes XXS–XXL.
These wide-leg pants are ideal for anyone who wants the feeling of cozy sweatpants without cinching around the ankles.
Available in sizes XS-XL.
If you love Levi's denim, you have to try its loungewear.
Available in sizes XS-XL.
The Statement Sweats
If you really want to have an advanced pandemic wardrobe, pair your cloud sweatsuit with a matching Phlemuns face mask.
Available in sizes XS–XXL.
These sweatpants are handcrafted in Los Angeles and are available in an array of fun colors, like these tie-dyed ones.
Available in sizes XS–L.
These light down Montbell pants are ideal for outdoor dining in the winter months. And they'll match your Montbell fanny pack!
Available in sizes S–XL.
Joggers? Jeans? No, jeggings.
Available in sizes XXS–XL.
These Collina Strada joggers will have you planning a whole outfit around them.
Available in sizes XS-L.
The Designer Splurges
These are the most luxurious sweats you will own.
Available in sizes XS–XL.
The New York based brand is no stranger to loungewear. These color-blocked cotton sweatpants will keep you reaching for them day after day.
Available in sizes S-XL.
Sweatpants we could envision Harry Styles wearing.
Available in sizes US 2-16.