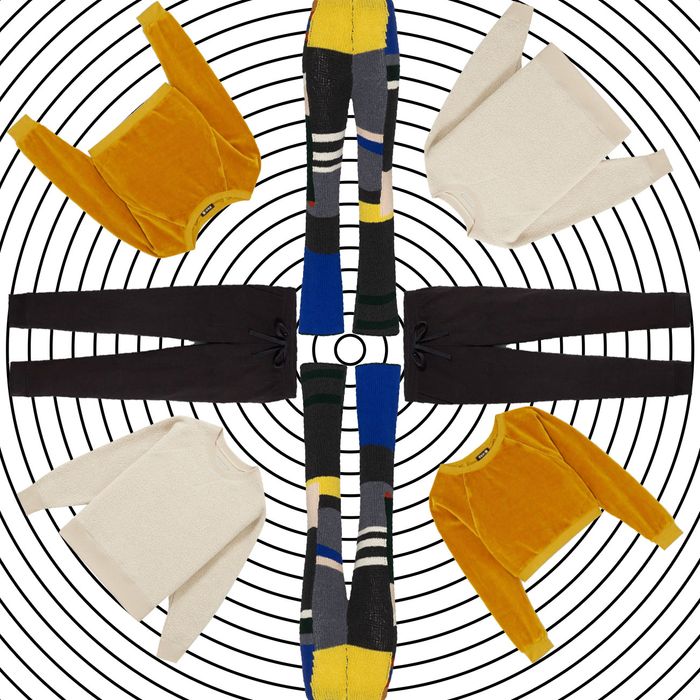 Photo: Courtesy of the Retailers
Staying indoors for days on end with no social contact leaves the mind free to wander. I've been doing a lot of soul-searching, and one thing I've realized about myself is that I am extremely good at buying sweatsuits.
My sweatsuit collection is robust to the point of ridiculousness. I began collecting them during a Paris Hilton phase, followed by a Sopranos phase, followed by Instagram fully taking over my life. Normally, there are not enough leisure hours in a week for me to give each of my sweatsuits its moment in the sun, and this weighs on me. But now, as we stay indoors seemingly forever, I find myself overprepared.
If you're interested in becoming a sweatsuit connoisseur yourself (no time like the present to develop a new hobby), below are some of the ones I'm into, ranked from the most affordable to the most luxurious — because, yes, fashion designers make sweatsuits too.
The Affordable Classic
Writer Marjon Carlos inspired me to check out this option from Hanes. She wrote on Instagram that she used to wear it when she worked from home as a freelancer, and it got her through "just about everything."
The Early-2000s Velour Tracksuit
Okay, I know this is technically not a "sweatsuit," but I had to put it in. I'm still obsessed with my Juicy Couture velour getup, but those are harder to come by these days. Luckily, Lady Kimora relaunched Baby Phat.
The Jumpsuit Sweatsuit
Available in sizes 14–24.
If the goal here is making life as easy and comfortable as possible, why even bother wearing separates? I like that this one has pockets.
The Fleece Sweatsuit
I've wanted the Everlane cashmere sweatpants forever, but I never pulled the trigger, and they're now mostly sold out. These fleece joggers seem just as comfortable, though, and there are still a few sizes left.
The '50s Bohemian Sweatsuit
I can't imagine that Audrey Hepburn ever wore a sweatsuit in her life, but if she did, it would probably look like this. In addition to sweatpants, I've been wearing a lot of leggings, and the pants here seem like a good in-between.
The Outdoor Voices FlyKnit Replacement
Everyone I know has the Outdoor Voices FlyKnit sweatsuit, and I'm pretty sure none of them use it for working out. That one's almost completely sold out right now, but the brand's collaboration with Saint Vincent is a kind of hilarious and unexpected replacement. Why not? It's a brave new world.
The Softest Sweatsuit I Own
This sweatsuit looks average but feels expensive, so don't let the relatively low price fool you. I've been wearing mine for about a week straight now.
The Instagram Favorite
This sweatsuit is about as culty as it gets. Every single person on my feed seems to have one, and now I do too, of course. But the colors! So cute!
The Party Sweatsuit
I throw a red-velvet-themed party every Christmas, and the red version of this sweatsuit was the perfect outfit for it. I think the gold color would also be ideal for hosting parties, even if they're only on Zoom.
The Futuristic Sweatsuit
As you may have noticed, we are now firmly in the land of "fashion sweatsuits." Marine Serre is a rising star of Parisian fashion. She's often inspired by a high-tech post-apocalyptic future, which feels on point right now.
The Sweatsuit With a Sense of Humor
We're all dressing like we live in Los Angeles now, so we might as well just give in to it. The "Erewhon drip" is currently sold out, but this cheeky tie-dye set by the British designer Ashley Williams seems like something you could get away with on the West Coast. (And the East Coast, for its irony.)
The Sweatsuit for People Who Don't Wear Sweatsuits
For when you're not wearing your Agnès B. snap cardigan.
The Artsy Knit Sweatsuit
I love how colorful this outfit is. I want to frame it and put it on my wall.
The Sopranos-Approved Sweatsuit
I can imagine Christa-fuh coming home from Italy and surprising Adriana with this one … and then realizing he got the wrong size.
The Holy Grail
Cashmere sweatsuits seem luxurious in theory but logistically frustrating. How would you wash them? If I were to own one, I would have to live a life of extreme impracticality (supported by extreme wealth, of course). If this ever happens for me, I'm immediately buying one by the Row.
If you buy something through our links, New York may earn an affiliate commission.