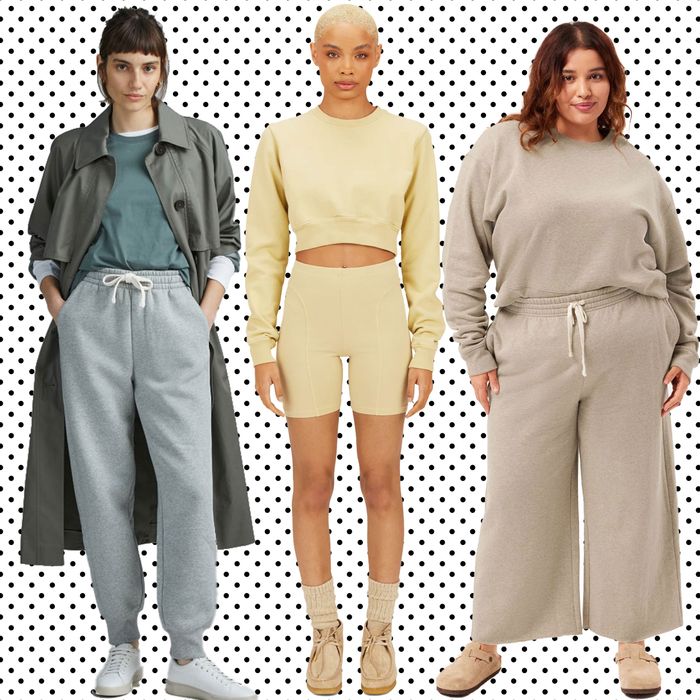 Photo-Illustration: by The Cut; Photos: Retailers
For more of the Cut's favorite fashion, beauty, and home finds, sign up for the weekly Cut Shop Newsletter.
With a few years working from home under our belt, we've all become pros at spotting (and buying) the best sweat suits. There might not be enough leisure hours in a week, but we still need to find ourselves prepared to look chic while lying horizontally (or working).
If you're interested in becoming a sweat-suit connoisseur yourself (no time like the present to develop a new hobby) and upgrading your sweatpants drawer, below you'll find the matching sets you're going to want to live in all fall. Trust us: We've only included the sweat suits we've continuously tried and tested inside (and outside) our homes over the past few years.
The Affordable Classic
Writer Marjon Carlos inspired us to check out this option from Hanes. She wrote on Instagram that she used to wear it when she worked from home as a freelancer, and it got her through "just about everything."
Material: Cotton and nylon fleece | Colors: 10| Sizes: S to XXL.
The One to Mix and Match
The idea behind Aleali May's Mayde was mix-and-match basics to style up or wear together. Each solid-color collection features sweatshirts, shorts and pants, ribbed tanks, and tees you can wear for a monochrome look.
Material: Cotton french terry | Colors: Varies by style | Sizes: XS to 4XL.
The One to Wear on Your Days Off
Gymshark's cute but reliable gym gear is beloved, and its sweats and hoodies for off days are just as good. With an oversize fit, thick fabrics, and cozy interior, these are ideal for post-workouts in the fall and winter.
Material: Cotton and polyester | Colors: 8 | Sizes: XS to XXL
The One to Wear Around the House
What's better than an oversize hoodie in the comfort of your own home? This cotton-terry set is thick and comfy without any stiffness, and it has quickly become this summer's go-to loungewear for Cut Shop writer Chinea Rodriguez.
Material: Cotton French terry | Colors: 1 |Sizes: XS/S to 4XL/5XL
The Classic Sweat Suit With a Twist
She's recycled. The blend of recycled-cotton-and-polyester set is super-flattering and comfortable, according to some very happy reviewers. Plus, the half-zip is a nice change from your usual hoodie or sweatshirt.
Material: Cotton, recycled cotton, and recycled polyester | Colors: 2 | Sizes: XXS to XL
The One With The Best Size Range
The supersoft favorites are available in sizes up to 6XL. The color range is limited, but if you love neutrals, it's perfect for your monochrome closet. We like to wear ours over our Girlfriend Collective sports bras and leggings.
Material: Recycled cotton and organic cotton | Colors: 5 | Sizes: XXS to 6XL.
The Retro Tracksuit
Former associate fashion editor Devine Blacksher is still obsessed with her Juicy Couture velour getup, but since those are harder to come by these days, this Tory Burch set still provides the required retro vibes to running errands on the weekend and traveling in comfort.
Material: Cotton and polyester | Colors: 1 | Sizes: XS to XL
The Elevated "Sweat Suit"
If this LESET set could speak, it would say, "I'm not your regular sweat suit. I'm a cool knit sweat suit." This gray set is more elevated than a casual sweat suit, creating a look that's minimal and chic.
Material: Polyester, viscose, spandex | Colors: 3 | Sizes: XS to XL
The Instagram Favorite
The Pangaia sweat suits are about as culty as they get. With over 1 million followers on Instagram and an ethos dedicated to science, purpose, and design, this brand is hard not to fall in love with. Everyone on our feeds seems to have one, and now there's a recycled-cashmere one.
Material: Organic cotton | Colors: 18 | Sizes: XXS to XXL
The Cashmere Option
If cashmere is your go-to, don't fret; you can still find a matching sweat suit to spend your days in. Wool products are always a bit steeper when it comes to pricing, but they are well worth it and will last many seasons.
Material: Recycled cashmere and virgin cashmere | Colors: 7 | Sizes: XXS to 3X
The Sweat Suit for People Who Don't Wear Sweat Suits
For when you're not wearing your Agnès B. snap cardigan. This matching set is still as comfortable as a sweat suit without having to sacrifice your personal style.
Material: Polyester and cotton | Colors: 1 | Sizes: 3 to 5
The Sweat Suit With a Good Message
We're all dressing like we live in Los Angeles now, so we may as well just give in to it. Instead of opting for a random printed sweat suit, get this colorful and cute one that empowers youth all over New York City.
Material: Recycled cotton and organic cotton | Colors: 1 | Sizes: XS to XL
The Cargo Sweat Suit
You've spent the past few months in various cargo pants and shorts, and now you can expand the storage to your sweatpants. With a wider leg and plenty of colors to choose from, mix and match these with hoodies and sneakers.
Material: Polyester and cotton | Colors: Over 30 |Sizes: 2XS to 2XL