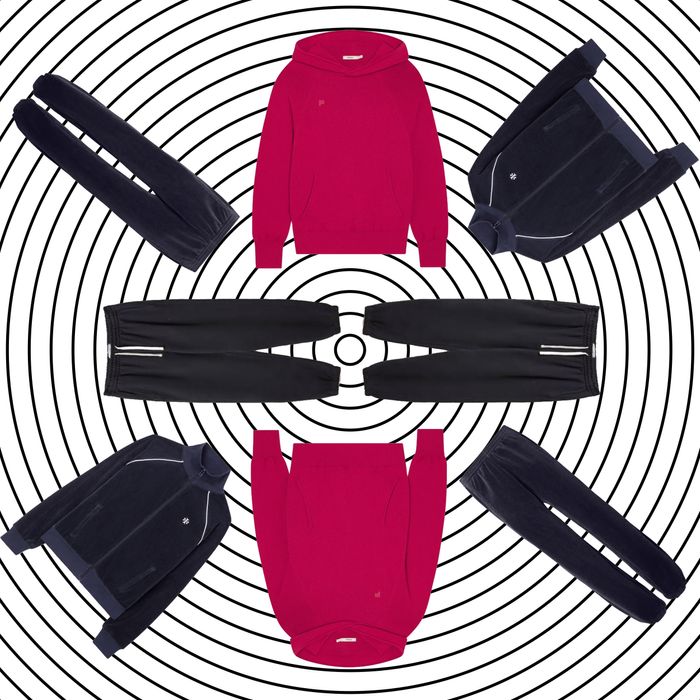 Photo-Illustration: by The Cut; Photos: Retailers
Staying indoors for days on end with no social contact leaves the mind free to wander. I've been doing a lot of soul-searching, and one thing I've realized about myself is that I am extremely good at buying sweatsuits.
My sweatsuit collection is robust to the point of ridiculousness. I began collecting them during a Paris Hilton phase, followed by a Sopranos phase, followed by Instagram fully taking over my life. Normally, there are not enough leisure hours in a week for me to give each of my sweatsuits its moment in the sun, and this weighs on me. But now, as we stay indoors seemingly forever, I find myself overprepared.
If you're interested in becoming a sweatsuit connoisseur yourself (no time like the present to develop a new hobby), below are some of the ones I'm into, ranked from the most affordable to the most luxurious — because, yes, fashion designers make sweatsuits too. — Emilia Petrarca, senior fashion writer
The Affordable Classic
Writer Marjon Carlos inspired me to check out this option from Hanes. She wrote on Instagram that she used to wear it when she worked from home as a freelancer, and it got her through "just about everything." — E.P.
The Retro Velour Tracksuit
Okay, I know this is technically not a sweatsuit, but I had to put it in. I'm still obsessed with my Juicy Couture velour getup, but those are harder to come by these days. This Tory Burch is my go-to when running errands on the weekend and for traveling in comfort. — Devine Blacksher, associate fashion editor
The Jumpsuit Sweatsuit
You can jump right into this sweatsuit for a minimal-effort look. You can also spice it up a little by adding a denim jacket and chunky slides. — D.B.
The Classic Sweatsuit With a Twist
This tracksuit is for the cool auntie or mom. It's casual yet sharp due to the half-zip pullover. Made of organic French terry, these sweats are premium quality without the luxury price. — D.B.
The '50s Bohemian Sweatsuit
I can't imagine Audrey Hepburn ever wore a sweatsuit in her life, but if she did, it would probably look like this. In addition to sweatpants, I've been wearing a lot of leggings, and the pants here seem like a good in-between. — E.P.
The Fleece Sweatsuit
Not all sweatsuits have to exactly match. This Outdoor Voices PrimoFleece pullover and sweatpants will keep you toasty and warm. — D.B.
The Softest Sweatsuit
If this LESET set could speak, it would say, "I'm not your regular sweatsuit. I'm a cool sweatsuit." The soft brown velour fabric elevates a casual lounge aesthetic, creating a look that's minimal and chic. — D.B.
The Instagram Favorite
The Pangaia sweatsuits are about as culty as they get. With over 1 million followers on Instagram and an ethos dedicated to science, purpose, and design, this brand is hard not to fall in love with. I have a set, my best friend has one, everyone on my feed seems to have one, and now there's a recycled-cashmere one. — D.B.
The Party Sweatsuit
While we love party pants, we love a party sweatsuit more because it's easy to put on and perfect when busting a move on the dance floor. This cute pink Suzie Kondi jumpsuit can be worn with a dainty open-toed kitten heel, clogs, or Birkenstocks. — D.B.
The Futuristic Sweatsuit
As you may have noticed, we are now firmly in the land of "fashion sweatsuits." Marine Serre is a rising star of Parisian fashion. She's often inspired by a high-tech postapocalyptic future, which feels on point right now. — E.P.
The Sweatsuit With a Sense of Humor
We're all dressing like we live in Los Angeles now, so we may as well just give in to it. The "Erewhon drip" is currently sold out, but this cheeky tiger print set by Stella McCartney seems like something you could get away with on the West Coast. (And the East Coast, for its irony.) — E.P.
The Teddy-Bear Sweatsuit
We all love a bear, but now you can feel like one in a warm and snuggly SKIMS fleece sweatsuit. — D.B.
The Sweatsuit for People Who Don't Wear Sweatsuits
For when you're not wearing your Agnès B. snap cardigan. — E.P.
The Short Sweatsuit
It doesn't matter what temperature it is: Having a short sweatsuit is necessary all year round. — D.B.
The Holy Grail
This is the top shelf of sweatsuits. A classic and luxurious look. The sweatsuit you casually wear to dinner at Via Carota on Friday night. — D.B.
This article was originally published on March 27, 2020. It has been updated throughout. If you buy something through our links, New York may earn an affiliate commission.