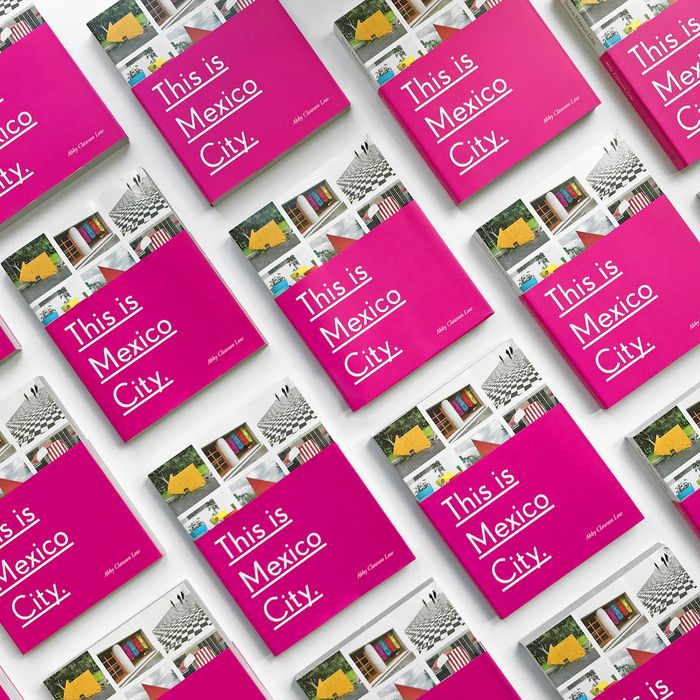 Photo: Courtesy of Abby Clawson Low
For some winter travel inspiration, we asked Abby Clawson Low to share the best things to do in Mexico City in a single day. She is the author of the vibrant new travel book This Is Mexico City, a New York City expat who has lived in the city for three years, and a graphic designer with impeccably good taste. Her book features hundreds of photos she took while exploring the capital. In it, she recommends museums, restaurants, hotels, sculptures, markets, food carts, and more, all organized by neighborhood.
Below, she chooses her favorite must-see spots, from a hidden fountain to the trendiest place to shop. Read through her itinerary, and then check out our guide to traveling with friends.
A Fashion-Forward Market: Hi-BYE
Frontera 105BIS Roma Norte, 06700 Ciudad de México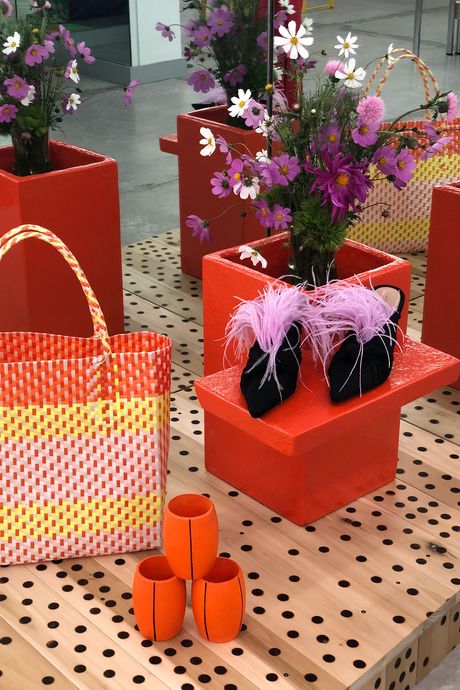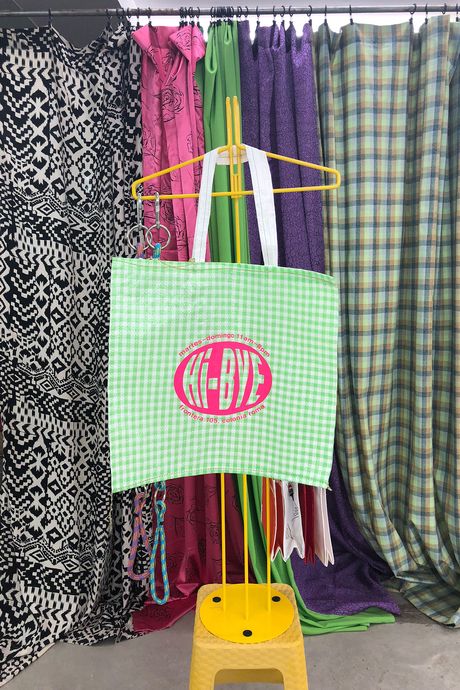 "The shop's ever-changing merchandise includes bags, garments, branded T-shirts, unusual floral arrangements and vessels, a mini library, found-art installations with interchangeable store interiors, and fixtures by Mexico City–based French designer, Fabien Cappello. You must see for yourself. When you do you'll find one of the three friends there running the shop. Say 'Hi'!"
Av. Río Churubusco 79, El Prado, 04220 Ciudad de México
"The National Center of the Arts is a series of architecturally unusual buildings in the southern part of the city where it's calmer, not as busy as the city center. It has five different schools for cinema, cinematography, dance, visual arts, and theater. You can go there for a performance or a film festival, but for me just walking through it is wonderful. They have a little café and a patio with fountains.
"In this picture, a Spanish-born Mexican designer and graphic artist [Vicente Rojo] did this pattern — several walls of patterned colored tiles. I saw the colored garbage can, and I was like, 'Oh my gosh, this is amazing.' Every space at CENART is different, graphic, and geometric."
A Family-Owned Candle Capital: Bazar de Velas (Candles Bazaar)
Gómez Farias 306, Del Carmen, 04100 Ciudad de México
"This is close to CENART, so you could walk. You pull up and it looks like a gingerbread house, but bright yellow from the outside. It has Christmas decorations on the outside, and when you ring the doorbell a woman lets you in. There must be like 1,500 candles you can buy in there: colorful rectangular candles, beautiful traditional candles you see around Mexico that are used for weddings a lot, every color in gorgeous rolled beeswax.
"A husband and wife started it in the '60s. They have about ten kids now and one of the daughters runs the shop. The smell just hits you, so intense and wonderful. You could find anything here."
A Sunlit Brunch Spot: Tetetlán (a Restaurant/Cafe/Cultural Center)
Av. de Las Fuentes 180, Jardines del Pedregal, 01900 Ciudad de México
"This photo is the upstairs [of Tetetlán], and you can see the plate-glass ceiling. The best time to go is during the day time, when the whole ceiling is all sunlight. What you can do is go there for lunch or breakfast — they open at 7 a.m. with fresh pastries, and stay open for dinner. But I'd go in the morning and then you can do the tour of Casa Pedregal next door, one of the most notable of the properties in the neighborhood."
"Casa Pedregal is in a part of the city where hundreds and hundreds of years ago, a volcano erupted and covered the area in lava, so the landscape is made up of black and gray volcanic rock. A Pritzker-winning architect, Luis Barragán, decided to develop about 700 lots down there when it was just cactus and lava stone. A new owner bought Casa Pedregal and this cell-phone store next door, stripped [the store] down to the studs where Tetetlán is now, and did an architectural intervention. Using whatever stone they could find there, they made it into this restaurant and café and well-being center and shop. You walk in and it's like, 'Wow, this is incredible, I can't believe this is real.'"
Where to Buy Thoughtful, Affordable Gifts: El Padrino II Open-Air Letterpress
República de Brasil, Centro Histórico, Centro, 06020 Ciudad de México
"At the Plaza de Santo Domingo, there are four little stands in this open breezeway on the side of a church. These guys have been there for at least 50 years, maybe more. At one stand, a man will do letterpress. You show up and he has drawers and drawers of metal typefaces, cast typefaces, dingbats, clip art-type images — you can see the drawers in the photo. They're from the '60s and '70s, cool photos of old computers or things like tacos and other random stuff.
"You pick a color and he has boxes of precut business cards, 100 per box. He will typically print them on a card, but I've had him do other things, too. You pick an ink color, typeface, and an illustration, and he'll print it up in a few minutes for 160 pesos, which is like $8. And because it's in the historic center of Mexico City, you can place your order, take a walk, and go back to pick them up."
A Hidden Courtyard: Fuente De Vicente Rojo (Plaza Juarez)
Av. Juárez 44, Colonia Centro, Centro, 06000 Ciudad de México
"This is an interesting place because most people don't know it's there. It's a nice place to go when you're in the center of the city and need a quiet break — there are benches to sit on, and it's walkable from the letterpress stand. There is a remarkable fountain with a thousand concrete pyramids, and water runs through it. It's across the street from the Palace of Fine Arts which is where the folk ballet performs. It's not a typical ballet, but a musical cultural performance with various dances and musical styles — there's an intense drum scene with Aztec dancers. It's something I'd see a hundred times."
A Library Section for the Blind: Biblioteca de México (Library of Mexico)
Tolsa 4, Centro, 06040 Cuauhtémoc
"This is the most incredible library in the center of the city, right across the street from a folk-art market. It's almost an entire city block, and it used to be a tobacco factory in the 18th century. Now it is renovated with the most incredible mix of colonial and modern architecture. It has plated-glass floors with books underneath, entire shadowboxes of children's books that extend to the ceiling, and a covered open-air courtyard in the middle where you can eat, but it's quiet.
"This picture is from the children's area, and at the back end of the library there's a gem, the library for the blind and vision impaired. There are Donald Judd–style chairs, and a little yellow channel about an inch wide running through the entire wood floor, which is a guide for the blind with their walking sticks. Overall it's a massive space, with five private libraries, reading rooms, research rooms."
Photo: Courtesy of Abby Clawson Low
This interview has been edited and condensed. If you buy something through our links, New York may earn an affiliate commission.