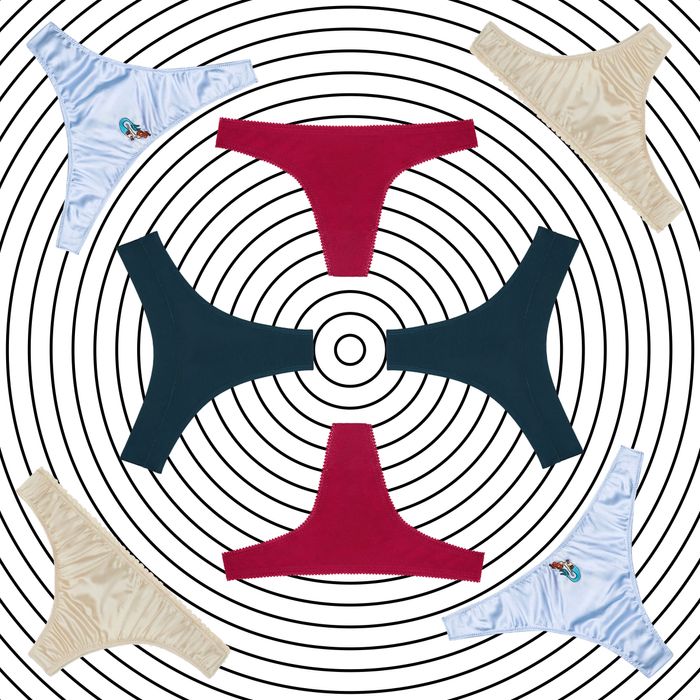 Photo: by The Cut; Photos: Retailers
For more of the Cut's favorite fashion, beauty, and home finds, sign up for the weekly Cut Shop newsletter.
Buttless briefs don't exactly scream "comfort," but these days, it's not hard to stack your top drawer with thongs that don't feel like an Hervé Léger dress for your derrière. It's been over 20 years since Sisqó had us freeing the cheeks; thongs are back on the runway, and there have been some serious advances in the underpants department that will leave your butt unbothered.
What's the criteria for the best (a.k.a. most comfortable) thong?
"Fabrication is key when shopping for thongs," says Willy Mrasek, creative director of the Felina brands. "You need something stretchy with a lightweight hand and clean construction." He says pliability is what ensures a smooth fit that doesn't bind or hinder your movement. We can thank good ol' Spandex (or elastane) for that. And now designers are combining the stretchy fiber with all kinds of comfortable textiles to make some of the best underwear we've had the pleasure of slipping into. Jessica Pfister, vice-president of Le Mystère, likes a smooth microfiber or a breathable mesh for an everyday thong, and for a truly invisible look, she says to search for a lightweight leg elastic with overlock stitches.
What materials should I look for?
Cotton. If there's one thing our experts unanimously agreed on, it's the merit of a cotton thong and gusset, which is naturally hypoallergenic, breathable, and easy to clean. A cotton-lined gusset helps "keep unwanted moisture and bacteria at bay," says Mrasek. And don't worry about being less hygienic down there if you do choose to wear thongs; studies have shown they have no connection to added urinary-tract or vaginal infections. Go ahead and treat yourself to the best thongs (the vast majority with cotton gussets), as curated by the Cut Shop team and friends.
The one that everyone and their mom owns
A thong so popular we went ahead and put a three-pack up for your consideration. You get the playfulness of the lace and the comfort of a cotton gusset. The Original thong has been around since the '80s, and the brand has since upgraded its one-size-fits-all approach to include plus and petite.
Available in one size from 4 to 14. 
The one that'll give your butt a boost
The Comfie thong — which comes in 45 colors — feels almost like regular cheeky underwear, but the eyelash lace blurs out any hint of panty line. It's all thanks to the thick band construction, which is also helpful for preventing underwear from sliding down your butt.
Available in sizes S/M to L/XL. 
The one that's secretly a stocking
Like the rest of Skims' Fits Everybody line, this high-waisted thong has an elastane-to-polyamide ratio that is so high that it's more reminiscent of hosiery than underpants. If that sounds appealing to you, by all means, shimmy your way in.
Available in sizes XXS to XXXXL.
The one for working out in your lightest-colored leggings
This seamless thong was recommended by so many Cut Shop friends — especially for wearing under leggings or a sheer dress or anytime you want to avoid a visible panty line.
Available in sizes XS to XXXL.
The butt-floss one
If Negative has been high key following you around Instagram, allow us to enable your purchase. So many Cut Shop friends recommend the brand's Sieve and Glacé line, but we only have eyes for this très cosmopolitan G-string.
Available in sizes XS to XXL.
The one that leaves your hips alone
Rachel Lerman, East Coast boutique account executive at Skarlett Blue, recommends the Entice Thong for anyone looking for something sexy who still wants to be comfortable. The scalloped-trim front that contrasts with the thicker waistband isn't just cute, it also ensures nothing digs in when you sit down.
Available in sizes S to XL.
The all-cotton-everything one
Do you have a baby tee from Pretties? A cherry tattoo, or perhaps a flame heart? You'll need a Pointelle thong made of 100 percent GOTS-certified organic cotton and French lace. We do indeed make the rules in this case.
Available in sizes XXS to XXL.
The supersoft one
Pascale Gueracague, chief design officer at Cuup, says the combination of modal fabric (which he says is twice the softness of cotton) and lay-flat stitching is why Cuup's thongs are so popular. It's true: Virtually every member of the Cut Shop team owns these — and a matching bra to go with it.
Available in sizes XS to XXXL.
The underrated one
Like all of Aerie's Real Me undies, these are buttery soft and have some heft, so you feel like you have coverage without the bulk. But it's the subtle yoga-pants-like dip that makes these especially flattering.
Available in sizes XXS to XXL.
The whale tale for the gods
You may think of the exposed-thong trend as a G-string situation, but if you're going high rise, why not go all the way (up your torso)?
Available in sizes XS to XL.
The coquette cutie
On the daintier end of the spectrum is Love Stories, which walks the sexy and sweet line like no other lingerie brand. While it might not be a cotton thong, the fabric is just as soft, and you can wear them for special occasions instead of everyday.
Available in sizes S to XXL.
The undefeated no-show
No-show thongs abound, but we won't stop singing Auden's praises. For $5, this seamless thong from Target's in-house lingerie label is truly hard to beat, especially considering it holds up well in the wash.
Available in sizes XS to XL.
The (almost) commando one
No, you're not catching a breeze down there, it's just OnGossamer's light-as-air mesh thong. The next best thing to going commando.
Available in sizes XS/S to L/XL.
The interactive one
If you want lingerie that looks like it may as well be served on a platter, Kiki de Montparnasse's is the one. At the moment, we're loving this "unwrap me" situation for date night.
Available in sizes XS to XL.
The one to confirm your stars are aligned
You don't need to know someone's moon and rising signs to get naked, but this will put your sun house on full display. Scorpios, it's best to be up front.
Available in sizes S to XL.
Our experts
Jessica Pfister, vice-president of Le Mystère

Pascale Gueracague, chief design officer of Cuup

Rachel Lerman, East Coast boutique account executive at Skarlett Blue

Willy Mrasek, creative director of Felina brands