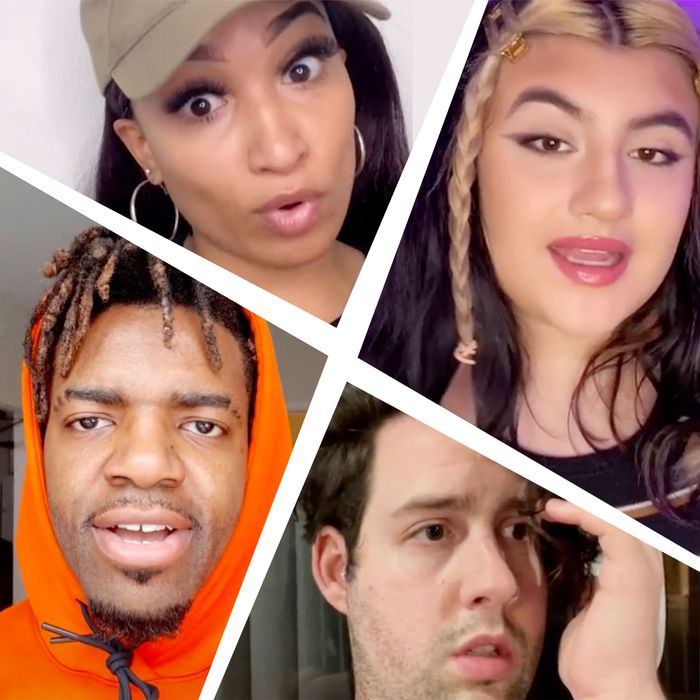 Some of the most iconic moments from top TikTok astrologers: @aaarantzaaa, @cassipy, @thatastrologyguy, and @ascendsun.
Photo: Clockwise from Top: @aaarantzaaa/TikTok, @cassipy/TikTok, @thatastrologyguy/TikTok, @ascendsun/TikTok
Whether you have felt personally attacked or utterly thrilled by the random horoscope TikToks that show up on your feed, there's a high chance they led you to the dark hole that is TikTok astrology. Although it was once deemed an "alt" niche on the app, TikTok astrology has grown in popularity over the past few months. Regardless of whether you hardly remember your star sign or are the sort of person who goes into hiding when Mercury is in retrograde, there is an astrology TikToker for every level of birth-chart commitment.
Here are our top ten TikTok astrologers to follow.
@aaarantzaaa
Never seen without her iconic gold hoops, Arantza dives into the nitty-gritty of what each star sign represents and why. Her speciality is dating: She'll tell you what signs make the worst love matches and who is most likely to cheat based on their zodiac chart.
@ascendsun


Sun is an artist and astrologer who offers both personal readings and general astrology facts with drama and flair. In addition to horoscope content, Sun also teaches the power of manifestation and visualization.
@astro_laurie


Astro Laurie is your classic astrologer. She offers a weekly horoscope in addition to breaking down the placement of the planets and how they affect each star sign.
@astroscope


The Astroscope duo take their astrology videos one step further as they act out common interactions between different star signs in little skits.
@cassipy
Cass's page is reminiscent of an old-school Instagram meme page, but zodiac style. Her speciality is comparing star signs to One Direction songs, coming-of-age movies, and characters from Euphoria.
@loveexistsvision
You've probably already encountered one of Queen Alice's ubiquitous tarot-card readings, which often start with her saying, "Stop scrolling because the universe has a message for you," while she lays out a selection of cards. Even if it's often just ambiguous life advice, hearing that someone will soon confess their love for you is never a bad way to start your day!
@niamcdow
Nia breaks down the basics of star signs and birth charts along with a clothing haul or Brad Pitt appreciation video every now and then.
@theastrodim
AstroDim is known for her readings of beloved celebrities' birth charts. During this past Black History Month, AstroDim broke down a different Black celebrity's birth chart every day for the month. Did you know that Whitney Houston was a Pisces rising?
@thatastrologyguy
If you're someone who enjoys astrology, but does not take it too seriously, then Joshua's account is for you. You will be too busy laughing at his sassy jokes to realize he's actually making fun of your star sign.
@zodiac.boyfriend
Zodiac Boyfriend covers everything from how he thinks each star sign would walk into a room to how they would run away from a serial killer. He'll soon feel like your TikTok boyfriend, or at least just your funny astrology-obsessed best friend.