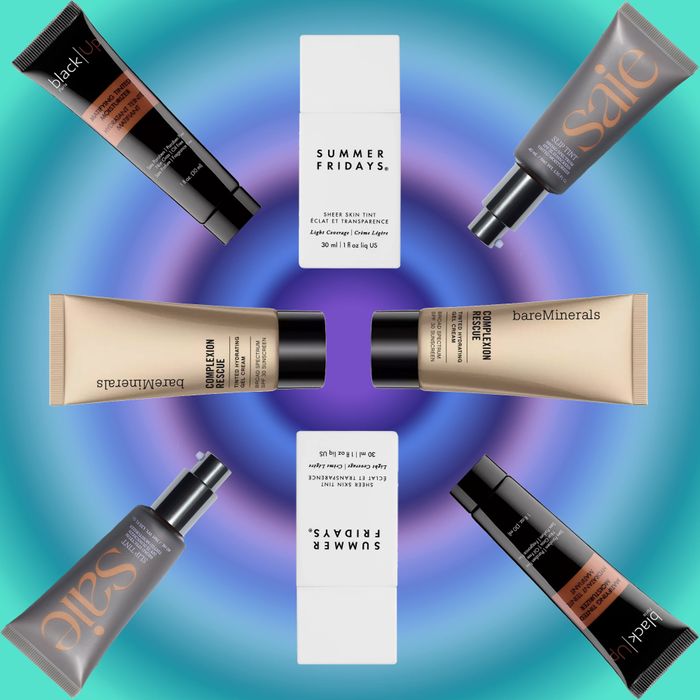 Photo-Illustration: by The Cut; Photos: Retailers
For more of the Cut's favorite fashion, beauty, and home finds, sign up for the weekly Cut Shop Newsletter.
Tinted moisturizers are a happy medium between full-coverage foundations and not wearing makeup at all; it's the "dress with pockets" of the makeup world, if you will. A good tinted moisturizer is your skin but better — barely detectable but glowing and natural. To truly find the best tinted moisturizers out there, the Cut tested a host of them. We checked for hydration efficacy, coverage levels, and shade offerings. We took notes on the finish and smell of each formula. From there, we spoke with experts and found 15 tinted moisturizers that are sure to please everyone.
What does a tinted moisturizer do?
According to makeup artist Simone Otis, the main purpose of a tinted moisturizer is to hydrate your skin with the added bonus of a light amount of pigment that will tone down redness and soften the look of blemishes or hyperpigmentation.
Fellow makeup artist Valeria Ferreira also notes that a tinted moisturizer can be better for those with drier skin types or since "it absorbs much quicker and doesn't sit on the surface of the skin." Unlike foundation, though, a tinted moisturizer is less likely to last throughout the day.
Should it replace a moisturizer or be used on top of one?
Despite its name, a tinted moisturizer is not skin care. While it can be a replacement for foundation, it should not replace a moisturizer since "it doesn't have all the properties that some moisturizers and skin-care products have," Ferreira explains. So be sure to do your normal skin-care routine before applying your tinted moisturizer of choice!
Best Tinted Moisturizers
The Cult Favorite
Photo: Courtesy of the Vendors
Laura Mercier is a tinted-moisturizer pioneer. She launched her original in 1996 with one thought in mind: Would French women wear this? It was so light and unobtrusive that it turned out they would. The cream is moisturizing, but it's not thick. We think anyone in the market for a lightweight tinted moisturizer will be happy with this formula, and with 15 shades to choose from, no one is getting left out.
The One for Oily Skin
Photo: Courtesy of the Vendors
BareMineral's Complexion Rescue is very similar to Philosophy's skin tint, but we found its tube to be more travel-friendly, and its 16-shade range beats Philosophy's eight-shade range by a mile. We like that the "bouncy" gel-cream doesn't feel heavy on the face, and with an SPF of 30, it also provides a decent layer of sun protection. And you know what else this "bouncy" texture achieves? It smooths over rough spots and pimples to cast the illusion of really great skin. Plus, this one is a favorite of both Otis and Ferreira.
The One That's Also a Serum
Ilia's Super Serum Skin Tint is a favorite because of all its added skin-care benefits. Hydrating squalane? Skin-smoothing niacinamide? SPF? It's a multitasker! Ilia has recently expanded it into 30 flexible shades that are easy to blend with your hands for a glowy finish and Otis describes it as "buildable and lightweight, which I recommend as a great option for dry or mature skin."
The One for Dry Skin
Photo: Courtesy of the Vendors
If you're more of a "dewy, glow-y" person, allow me to introduce you to Hourglass. Its tinted moisturizer was the most moisturizing of this group, and it executes a perfect "lit-from-within" glow. I had no trouble applying the other moisturizers with my hand, but I found that Hourglass's ultra-creamy texture spread a lot more easily with a foundation brush. It provides coverage similar to a regular foundation, and though the hyaluronic acid-packed formula is a must-have for dry skin, my naturally oily face was a bit too shiny for my liking.
The One With the Best Coverage
Ideal for sensitive skin, this all-in-one tinted moisturizer has good coverage, like really good. You'll get the coverage of a buildable natural foundation with the look and feel of a skin tint and some sun protection sprinkled in. Since there's more coverage here than most tinted products have, these shades aren't flexible. We suggest you go to your nearest Sephora and grab your exact shade or mix and match until you get it right.
The Dewy One
Same goes for this Saie tint. The brand's products also tend to be on the dewier side, so if you have oily skin, don't bother. If you have dry skin or combination skin that doesn't mind a little extra shine, however, this tint is for you. It will give you light coverage, a little sun protection, and a very dewy finish. Consider this another option to grab if you want to fake a multistep skin-care routine.
The No-Makeup-Makeup One
If you want something that's very easy to use and very sheer, this is for you. Like the rest of Glossier's wash-of-color, no-makeup-makeup products, this lightweight, sheer-coverage tint leaves your skin dewier without much effort. Skip the brushes and tools and apply it directly with your hands for the best results.
The One That's Like Skin Care
Lightweight, sheer, and very flexible, this is makeup and skin care in one. It's formulated with humectants like glycerin and hyaluronic acid, plus soothing tiger grass, so you're guaranteed to get some skin-care benefits along with your coverage. This is on the dewier side, though, so if you have oily skin, you can skip it.
The One With the Best Range
Offering the wide shade range Fenty Beauty is known for, the Blurring Skin Tint comes in 25 pretty flexible shades. Buff on a few drops for a natural blurring finish and long wear, and you'll get as much out of this as you do your favorite foundation without all the extra fuss and layers.
The Skin-Enhancing One
Photo: retailer
As the name declares, this tint is skin-enhancing. While it offers very light coverage, your skin will look better in a way that's kind of hard to pinpoint. Is it smoother? Is it clearer? It's a little of both — as if you did a good skin-care routine and then got a really good golden-hour selfie. Its shade range is especially great for darker skin tones.
The Drugstore One
Photo: Courtesy of the Vendors
Only a few drugstore makeup companies bother to sell tinted moisturizer, and an even smaller amount offer more than three shades. That's why I was drawn to CoverGirl's six-shade range of BB creams, which technically aren't tinted moisturizers, but close enough. Get past the formula's glue-like scent and you find a really good mattifying cream. Just don't apply any around your under eyes — it dries very matte.
The Best for Dark Complexions
Photo: Courtesy of the Vendors
We found that Black Up's "Mattifying Tinted Moisturizer" dried closer to a "natural" and not "matte" finish. Shopping writer Chinea Rodriguez liked the color payoff; it provided the right amount of tint to even out her skin, but not so much that she looked like she was wearing makeup. And of course Black Up supplied the best shade range for women of color. She actually wore the lightest shade, called "light," which made her laugh a little.
The One That's Technically a Sunscreen
A lot of tinted moisturizers on the market have SPF in them, but the tinted sunscreen from EltaMD is one that Otis and Glowbar CEO Rachel Liverman swear by. "I love that it is oil-free and noncomedogenic, meaning it won't clog my pores. It is great for anyone but especially wonderful for people who are acne- and breakout-prone," Liverman says.
The Drugstore One That's Also a Serum
This serum is all over our TikTok FYP pages and is often compared to Ilia's Skin Tint. This drugstore find is under $20 and available in 14 different shades, and contains hyaluronic acid to make the skin smooth.
The Fancy One That's Worth It
This Neo Nude tinted moisturizer from Armani is a product worth the cost and is also one of Ferreira's favorite products since it provides a light, dewy finish to the skin and leaves a natural glow.
Experts: