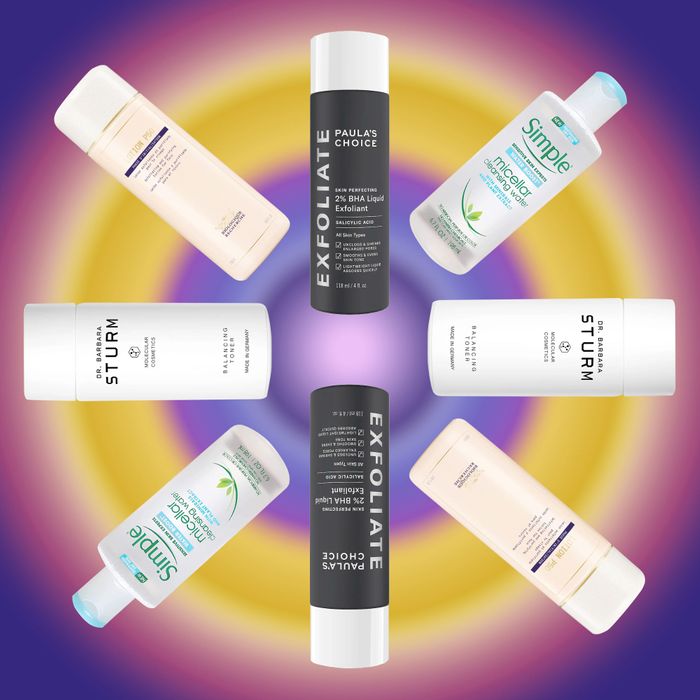 Photo-Illustration: by The Cut; Photos: Retailers
For more of the Cut's favorite fashion, beauty, and home finds, sign up for the weekly Cut Shop Newsletter.
When you simply hear the word toner, your face may feel tight and cracked just from the mention. It's true that you may associate toners with dryness, especially since many contain alcohol. A hard no! But there are plenty of alcohol-free formulas on the market that can deliver the results you're looking for, even if you have dry or sensitive skin. Consider this your guide to all things toner to answer your burning questions. In short, they're by no means necessary to any skin-care routine, but you may find certain benefits in using a toner, as different kinds can help target an array of skin issues.
FAQs
Think of a toner as an add-on to your cleansing step, says Dr. Iris Rubin, dermatologist and founder of SEEN Skin & Hair Care. Using one helps ensure that any dirt, excess oil, makeup, or any other debris is removed. Toners are not, however, a universal product, says Dr. Shereene Idriss, board-certified dermatologist, founder of Idriss Dermatology in New York City, and creator of the #PillowtalkDerm series on Instagram. "Toners have been marketed as one-size-fits-all when in fact they should be thought of as a counterpart to serums. There are exfoliating toners, hydrating toners, etc., and each serves a different purpose in your routine." Another of these purposes is to balance your skin's pH.
Dr. Tsippora Shainhouse, board-certified dermatologist at SkinSafe Dermatology in Beverly Hills, says pH balance is an important point in understanding why toners exist in the first place. She explains that the skin's surface is naturally acidic, but if it becomes too acidic (meaning it has a low pH), it can cause redness, irritation, and excess grease, which can result in acne. If your skin is alkaline (meaning it has a high pH), it can become inflamed and oversensitive and lead to premature skin aging and wrinkling. The water you wash your face with can also have an impact since alkaline water can lead to moisture loss, dryness, and irritation. Dr. Shainhouse says using soft, non-alkaline, non-mineral-heavy water is ideal and you should consider adding a water softener if you notice your skin and hair are super-dry.
What form of toner is best?
Some toners come in sprays, and others are applied to your face using a cotton swab, but whatever the application process is, they can help rebalance your skin and its pH. Celebrity facialist Joanna Vargas, founder of Joanna Vargas Salons and an eponymous skin-care line, says that because cleansers and other products also balance your skin barrier, toners are not required but are simply an option if you want to add one to your rotation. Dr. Shainhouse seconds this and says that while toners can deliver specific ingredients, like salicylic acid for breakouts or chamomile for soothing, you can find these same ingredients in other serums, moisturizers, and alternative skin-care products. With all this said, it's up to you whether you want to use a toner or not — unlike sunscreen and moisturizer, which are nonnegotiable.
In which order should you apply toner in your skin-care routine?
In the morning, it goes like this: cleanser, toner, serum, face oil, moisturizer, sunscreen, and then makeup. In the evening, it's pretty much the same start with a couple of swaps toward the end: cleanser, toner, serum, moisturizer, retinol, and face oil. Dr. Idriss says toners are typically the first step post-cleaning due to their lightweight liquid nature. The general rule of thumb is to apply products with lighter textures first and finish with thicker ones so everything can absorb into the skin properly, according to Dr. Rubin.
How often should I use a toner?
Frequency of use depends on the ingredients, says Dr. Idriss. If it's an exfoliating formula, she recommends a maximum of four times a week, but daily use is fine if it's a hydrating one, especially in the drier winter months or cold climates. Dr. Rubin says most toners are designed for twice-daily use after cleansing, but again, take your skin type and the formulation into account.
Now that you're an A+ student on all things toner, shop the expert picks below for any kind of skin concern you want to tackle.
Best Toner for Dry Skin
Dealing with parched pores? Dr. Shainhouse suggests this formula. Yes, it's a micellar water, but toners and micellar water have similar consistencies and both can be used to remove dirt and impurities from your skin after cleansing. She says dry skin benefits from ingredients that slightly acidify the surface, like glycolic or mandelic acids, and from those that bring moisture, like hyaluronic acid and glycerin. Basically, this cleansing liquid is the tall glass of water your skin has been searching for.
Best Toner for Acne-Prone Skin
Zap any pesky bumps with the help of this 2 percent salicylic-acid formula from Neutrogena. Most important, it also serves up soothing ingredients like green tea and cucumber to minimize overdrying and irritation. Plus, it unclogs pores and cuts down on oil — no shiny faces here! Dr. Shainhouse says formulas with glycolic acid and lactic acid are also great for acne-prone skin.
Best Toner for Aging Skin
Another Dr. Shainhouse rec is this super-gentle but effective toner she likes for aging skin. It helps mildly exfoliate dry skin with polyhydroxy acids, or PHAs; controls oil and redness with niacinamide; and soothes with the help of aloe. Talk about a triple threat.
Best Toner for Oily Skin
If you're dealing with excess grease, this pick sops up oil but also has hydrating ingredients to prevent your face from becoming too dry. Dr. Shainhouse says salicylic acid is an oil-soluble ingredient that penetrates pores, but if the ingredient feels over-drying or you have sensitive skin, she recommends a toner with charcoal or witch hazel, like this one from Boscia. Anytime you need a refresh, spritz this convenient travel-size version on your face to combat oil without stripping natural moisture. You should avoid toners with alcohol across the board since they're too drying, but even more so when you have oily skin since they can strip the skin's moisture barrier and trigger even more oil production.
Best Misting Toner
Vargas is a fan of this white-tea toner from Lori Harvey's brand, SKN, and swears it gives her skin a little boost of moisture. It comes in a spray form and has hyaluronic acid and aloe to help plump and hydrate skin. The rosewater and glycerin also give you an instant refresh. Vargas typically follows it up with the Eden serum from her own brand to lock everything in.
Best Under-$50 Exfoliating Toner
It's top rated for a reason! Dr. Idriss loves this salicylic-acid toner for oily, acne-prone skin and the way it zeros in on blackheads. The under-$50 price tag for such a cult-favorite product is a plus. Dead cells and dirt that cause skin dullness and breakouts are swept away, and you're left with clearer pores and less-visible wrinkles.
Best Bougie Exfoliating Toner
Its nickname, "Jesus in a Bottle," has been rightfully earned. The P50 lotion is consistently mentioned in the Cut's "Why Is Your Skin So Good?" column because it brightens, exfoliates, reduces blackheads, and seemingly shrinks pores. One caveat? If we're straightforward, it smells bad (beauty writer Tanya Akim said, "An ex-boyfriend once said P50 smelled like gasoline on my face"), but you will see a noticeable difference in your skin tone and texture, so you decide if it's worth it.
Best Hydrating Toner
Actress Tika Sumpter doesn't typically use a toner, but when she does, she reaches for this extra-hydrating one from Kiehl's that is filled with squalane for a boost of replenishing moisture. It's gentle enough for all skin types yet still unclogs pores, and it has an impressive 4.4-star rating out of five.
Best Dewy Toner
Sometimes a light mist is all you need, especially if you're on the go and can't run through your whole regimen in front of a sink. This will give you that effortless glow, and the aloe-rosewater combination works to quickly calm and hydrate skin if you have a busy day ahead. (It's also a favorite of musician Cassie.)
Best Medical-Grade Toner
For something tried and tested, Obagi is a pharmaceutical company that offers some powerful skin care. This toner is formulated with soothing botanicals like aloe vera, borage extract, and witch hazel, and it's one of actress Michaela Coel's go-tos. It has a 4.7-star rating on Dermstore if that helps convince you.
Best Clean-Beauty Toner
For an antioxidant-rich toner, opt for this Indie Lee one. It's formulated with plant extracts like aloe vera, cucumber, chamomile, and sage, and it protects the skin barrier from any environmental pollutants. You can even use it as an instant refresher when traveling or post-workout.
Best Pore-Reducing Toner
Dr. Barbara Sturm is celebrity approved, but even us regular noncelebrities can't get enough of this toner. It has a perfect five-star rating, and reviewers say they use it daily and notice a difference in hydration and brightness. By removing buildup, it also minimizes pores for that glassy, smooth complexion.
Experts: