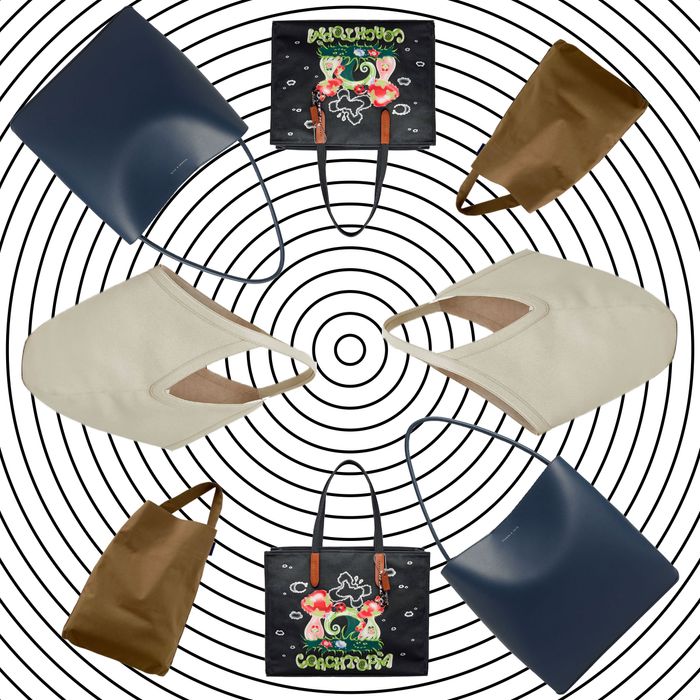 Photo-Illustration: The Cut; Photos: Retailers
For more of the Cut's favorite fashion, beauty, and home finds, sign up for the weekly Cut Shop Newsletter.
Who doesn't love a cotton tote bag? Bonus points if it's free. We all have our favorites. For deputy style editor Joanna Nikas, it's the one she got with her Nutrafol package. For me, it's my Hood Health tote that can fit everything and anything. However, as much as we all love our emotional-support totes, I'm on the hunt for tote bags that keep their shape rather than becoming a blob when I throw all of my belongings inside them.
I'm not necessarily looking for a work bag (although it can surely double as one). My criteria is less "farmers market" and more "I want to carry more things than my go-to shoulder bag allows." It should at least have one pocket on the inside, so my keys, lip balm, wallet, and sunglasses aren't always at the bottom of the pit. And it should make me feel and look put together. Like Mary-Kate and Ashley Olsen carrying their extremely beat-up Birkins without the Birkin price tag.
Below is a list of ones I own, bags fellow editors are always using when I meet them at events, and totes our group chats highly recommend.
Best Tote Bags
This might look like your typical cotton tote bag. But trust me when I say it's not. Made from a waterproof canvas, the thicker handle makes carrying it around so comfortable, and the oversize rectangular silhouette really is what put the icing on this tote-bag cake. And it has a pocket and key-chain loop.
While I don't own this Charles & Keith tote bag, when I use the one I do own (which is similar but no longer in stock), I'm floored with compliments and the ol' question, "Where did you get that?" The faux-leather material is buttery soft and the less-than-$100 price tag makes it a winner in my book.
I love schlepping my Mansur Gavriel M Hobo bag during Fashion Week. It can hold my laptop and all of my other between-show necessities without having to sacrifice the look. Priorities! While the price is bit steeper, it is made with 100 percent Italian embossed cow leather and calf-suede lining, making the cost per use much more worth it.
While I don't own the Coachtopia tote, I do love my Coachtopia Ergo shoulder bag, so I know the brand's latest sub-brand is worth the hype. Made from 100 percent recycled canvas, the tote can fit your laptop and summer reading. The unique artwork is by Sabrina Lau.
Don't be fooled by the word mini. This baggy tote can fit most, if not all, of your belongings. Sure, your laptop is out of the question, but everything you need for your next park hang? Yeah, that probably fits. I have this one in black and convinced one of my best friend's she needs it too.
Beloved by moms all over the country (it's one of our top-selling products in our Mother's Day roundup), this tote is true to its name. It is also easy to carry around and style.
Designer Brandon Blackwood was inspired by his mom and a friend to make this bag. With this tote, you're always prepared and have what you need (and don't need) within reach. Our market editor, Roberto Johnson, swears by it.
I regret not purchasing this tote bag in 2017, when the "Rei Kawakubo/Comme des Garçons: Art of the In-between" exhibition was at the MET. One of my best friends did purchase it, and she can vouch that it is as practical to take to the office as to the grocery store.
You can't walk the streets of NYC without spotting this tote at least once. I caught a fellow editor sporting hers recently, and while it was the first time she was out and about with it, she raved about how efficient it was and how it made her outfit stand out.
Behold the next tote I have my eyes on. There's something about a larger-than-life tote bag that screams, dare I say, quiet luxury. And I'm here for it. It reminds me of Peter Do's dumpling bag without the $1,000 price tag.
Add this to the things TikTok has made me want to purchase. The Spanish brand might be known for its quirky knits and effortless dresses, but its accessories shouldn't be disregarded. This bag can be worn across your chest or on your shoulder, and according to the site's product description, it can "carry anything from a jacket to a yoga mat."
Another oversize tote for your consideration. This time, it's quilted and less than $100. And yes, TikTok users approve of this one too.
Shopping editor Hanna Flanagan isn't immune to TikTok recommendations either. She shared that as soon as it popped up in her FYP, she added this one to her wish list. And who are we to blame her? You can fold the bag completely, making it the perfect tote to throw in your suitcase and bring back filled with all your overseas purchases.
A bag so good, it's one back order until August. So mark your calendars now, and work on your patience.
You can trust Hereu to make the best leather goods you've had in your life. I own the Spanish brand's boots and loafers and can't wait to get my hands on this tote.
If leather bags aren't your thing or you're looking for a more beach-friendly tote, this option for less than $100 is great to style with all of your swim looks.