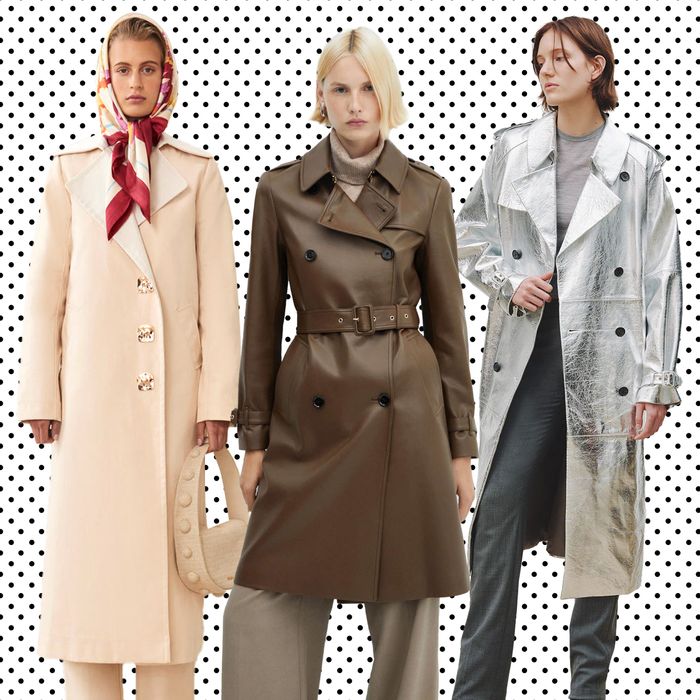 Photo-Illustration: by The Cut; Photos: Retailers
For more of the Cut's favorite fashion, beauty, and home finds, sign up for the weekly Cut Shop Newsletter.
Fall is the time of year when you think about updating your wardrobe with outerwear pieces, and a good trench should be the first thing on your list. Trench coats are the perfect transitional staple for when the temperature begins to drop and the weather becomes unpredictable.
When you think of a classic trench coat, you probably think all-weather, often khaki-colored, double-breasted design with structured lapels, and a waist-cinching belt. Am I right? Maybe designers like Burberry and Ralph Lauren come to mind as well since both labels have helped popularize the look since its inception. But your favorite cool-girl brands and affordable retailers — including Cult Gaia, Farm Rio, the Frankie Shop, Zara, and Mango — also have stylish trench coats for every aesthetic and occasion.
So this season, shop for your favorite camel coats and wintertime puffers, but don't forget to add a transitional trench (or two) to your cart as well. Whether you're looking for a sleek style to pair with your everyday looks, something durable yet chic to tackle the fall weather, or a style that's ideal for layering, these are the 17 best trench coats the internet has to offer.
The Best Classic Trench Coats
A classic trench coat is conservative and timeless, just like the selections below. You'll find investment pieces from Burberry (the brand behind the original trench) and Ralph Lauren (the all-American option) in addition to all-weather trenches from beloved brands that are a bit more accessible in terms of price point, including Mango and Banana Republic.
For a chic and affordable trench coat with a similar relaxed vibe, stylishly withstand the storm in this twill option. This lightweight coat is a wardrobe staple for fall layering.
Available in sizes XXS–XL.
If you want a classic trench with a little more wiggle room, this flowy, water-repellent coat is a great option. It has the traditional trench-coat elements but with more of a fit-flare shape. Along with the soft heather gray, it's also available in a medium-brown hue.
Available in sizes XXS–XXL.
For a durable, all-weather coat made to brave both the countryside elements and the city streets, look no further than the British outerwear brand Barbour. Well known for its versatile waxed jackets, Barbour boasts an array of classic-trench options, like this water-resistant, belted style. 
Available in sizes 4–14. 
Be prepared for whatever the weather may bring with this classic twill trench, which features a center vent in the back and a traditional double-breasted closure with storm flaps. As opposed to other straight-cut coats, it has a slightly oversize silhouette to create a more relaxed fit.
Available in sizes XXS–XXL. 
Brown and black hues are standard when it comes to trench coats. But if you want something a little different that can still be styled like a neutral, try this rich navy coat. It features a bold gold belt buckle and Coach's jacquard C pattern on the undercollar.
Available in sizes XS–XL. 
If you're looking to invest in a forever staple — a sophisticated piece that you can wear year-round — there's nothing quite like a Burberry trench. The famous style features shower-resistant gabardine as well as the brand's iconic checked lining.
Available in sizes 0–16. 
The Best Textured Trench Coats
Fall is the season of textured clothing — everything from faux fur and leather to suede and denim. So even though you might want to wear a more traditional all-weather trench on days when it's raining outside, why not delve into the essence of fall with some textured trenches when the skies are clear? You can switch up your look without having to worry about weather damage.
Try this faux-leather option in black or brown if you're looking for a sleek and modern take on the trench coat. The leather effect gives it a cool, edgy vibe.
Available in sizes XXS–4XL.
Swap your basic jean jacket for this next-level denim trench. And if you love denim on denim the way Julia Fox does, don't be afraid to style it with, well, more denim.
Available in sizes XXS–XXL. 
Wool coats, a fall-winter staple, come in all shapes and sizes. I love this one because it has the silhouette of a typical trench with the warm wool-blend fabric of a heavier coat.
Available in sizes XS/S and M/L.
Who doesn't love a quilted coat? They're comfortable, plush, and always look cozy chic. If you're a fan of Norma Kamali's famed Sleeping Bag Coat, then you're sure to love this trench style from the brand.
Available in sizes XXS–XL.
Another faux-leather option for those who love a little extra flair. If you find you need a coat that says "I'm fashionable and fabulous" when you walk into the room, this glossy faux-leather look with faux-fur cuffs and collar may just be the statement piece you're looking for.
Available in sizes XS–XL.
The Best Fashion-Forward Trench Coats
If you love the idea of a trench but want something a little less classic (and a little more trendy), scroll on to shop my selection of coats that have the flair you're looking for. Even though some of them will not keep you dry or protect you from the elements, all six styles are sure to make a fashion statement.
Probably not the most practical of trench coats when it comes to warmth and weather resistance, but it sure is pretty. This semi-sheer trench features a whimsical design that can be layered easily over sweaters, mock-necks, and blouses. It's also a fun choice for those who are fans of the sheer trend and are looking for a flowy throw-on option for those temperate days and nights.
Available in one size. 
If you're a fan of Farm Rio's vibrant color palette, then you're probably not afraid to rock bold shades like this green. Some trench coats can come off a little conservative and stuffy, but this one is an easy, relaxed version of the classic style.
Available in sizes XXS–XL. 
I love this lightweight canvas-and-cotton coat for a beautiful and soft look. It's reminiscent of Mad Men's always-put-together Betty Draper and her impeccable style. With its hammered and copper-tinged square snaps and contrasting structured off-white lapels, it's an elegant transitional option that will add an air of sophistication to any look.
Available in sizes XS–XL.
Need a raincoat that doesn't resemble crumpled fabric with a hood? Patent-leather coats, like this shiny trench, are always a stylish way to endure the elements without feeling drab and drippy.
Available in sizes XXS–XL.
You can tell how buttery soft the vegan leather feels just by looking at it. The chocolate-brown color is a chic alternative to black, and in addition to its rich color, the coat features a retro silhouette with a fully pleated back.
Available in sizes XS–L. 
For those who are all about fierce, futuristic fashions and love a good statement piece, consider investing in this metallic trench. (Pro tip: Since it's a real-leather garment, I'd refrain from wearing this in any kind of potentially damaging weather.)
Available in sizes XS–XL.