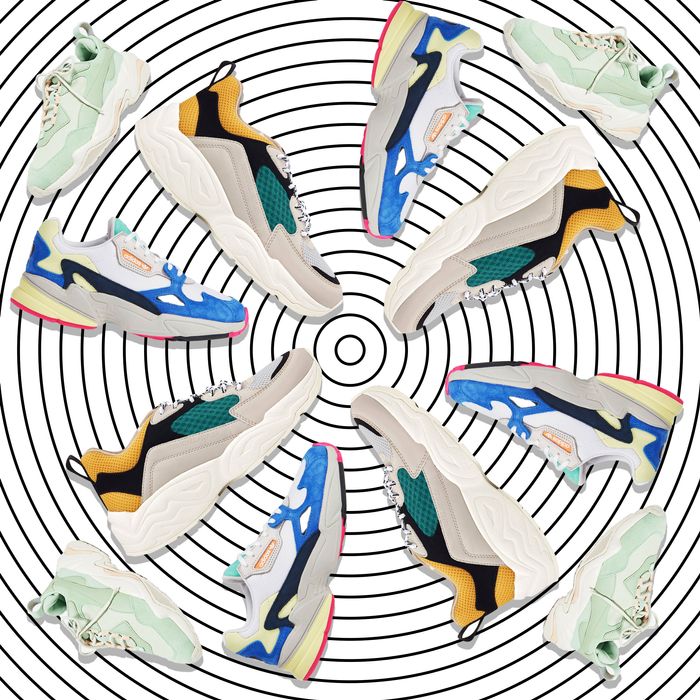 Photo: Courtesy of the Retailer
Balenciaga launched its wildly popular, aggressively clunky Triple S shoes last September. One year later, ugly sneakers are still going strong. Whether you've been a fan since the beginning or you're finally coming to terms with the trend, if you want to buy a pair of super-bulky trainers this fall, it's never been easier.
For $100, you can find a pair of Nikes or Adidas that have a dad-like effect without tipping over into full fashion-victim territory. Or, if you want to get showy — because half the fun of this trend is going to extremes — you can try something like Gucci's straight-from-the-runway Flashtreks or Prada's slick, futuristic Cloudbursts.
A few notes for the beginners: Don't overthink these sneakers. They make a strong statement, so the best way to wear them is with basics like jeans and a good sweater. (Then again, they're a great foil to a girly floral dress.) If you want extra credit, try adding some status socks in the mix.
Scroll ahead to shop our current favorites.
The '90s Throwback
You can tell Fila's comeback is officially fashion-world-approved because the brand just collaborated with Fendi. Sneakers from that particular collection are really expensive, but this pair is well under $100 and has all of the sturdy, cushy appeal you'd want in an ugly shoe.
The One to Buy If You're Curious About the Trend
It's chunky but not excessively so, plus it comes in a very nice pink shade.
The Colorful Designer Lookalike
So you like the look of the Balenciaga Triple S but don't want to spend $900? These are like a beginner version.
The One That'll Give You a Boost
With a two-inch platform, these will give you extra height without sacrificing comfort.
The Ones to Buy If You Don't Like Color
These are eye-catching and Instagram-friendly, but if you're a dyed-in-the-wool New Yorker who distrusts color, you can still wear them with your all-black wardrobe.
The Ones Your Dad Might Wear
Could this be something your dad wears while running to the grocery store? Probably, and if that excites you, get them.
The Ones to Get If You Like Scandinavian Style
In the world of influencers, Scandinavia is having a real moment. These look like the sort of thing you'd see on a cool girl from Copenhagen.
The Yeezy Alternatives
All of the washed-out hues but none of the controversy.
The Runway Dupe
With their high arch, the shape of these look a lot like the Louis Vuitton Archlights, which remain very popular.
The Ones That'll Keep People Guessing
Given the minimal branding, someone would have to look very closely to see that these are by Kendall + Kylie.
The Pair That Looks Like It's From the Future
With a sleeker sole, this Prada pair is trendy but less ubiquitous than other designer ugly sneakers.
The Ones That Started the Trend
People camp out for these guys, and they sell out fast. They're true clout sneakers — if you can get your hands on a pair.
The New Clout Sneakers
Believe it or not, what you're looking at is the toned-down version. On the runway, Gucci showed these bedecked with bejeweled, criss-crossing chains.
If you buy something through our links, New York may earn an affiliate commission.