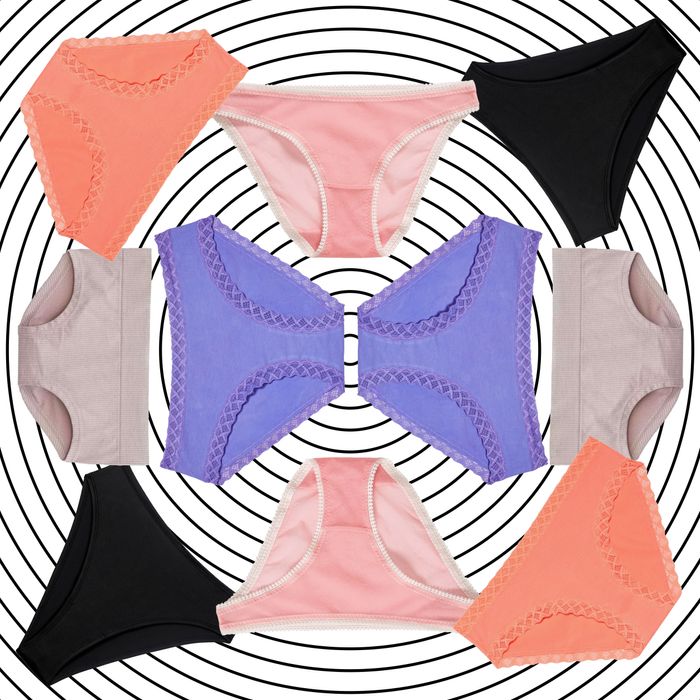 Photo-Illustration: Courtesy of Everlane.
For more of the Cut's favorite fashion, beauty, and home finds, sign up for the weekly Cut Shop Newsletter.
Ask a bunch of people to recommend what they consider to be the best underwear for women, and you'll get a bunch of different answers. Everyone has an opinion on their faves, and it usually depends on body type and personal preference — one person's "most comfortable thong ever" is another person's torture device.
What makes a good pair of underwear?
"The most important thing when it comes to underwear is always comfort; you'll have your underwear on all day, and the fabric should be soft, breathable, and stretchy enough to move with your body," explains Chine Leclere, head of operations at Gooseberry.
Besides comfort and wedgie-free wear, a good pair of underwear feels like you're wearing nothing at all. Gush founder Hannah Richtman prefers a moisture-wicking fabrics for comfortable wear all day. If that's not for you, organic cotton or cotton in general is always a safe and breathable bet.
Lastly, it comes down to style. Do you want the full coverage of briefs and boy shorts, a cheeky bikini, or a high-rise thong?
Below, we've done most of the work for you, rounding up 33 pairs of underthings with rave reviews (these brands are in our drawers, too!) and then organizing them by categories. Read on for the best boy shorts, the best briefs, the best thongs, the best shapewear etc. (And if you realize when you're done that you want something a little bit less utilitarian, we've got a list of the best sexy lingerie, too.)
Best Bikinis
Best Simple Bikini
This bikini style was designed to feel like it's barely there, and that's why we love them.
Available in sizes XXS–XL.
Best Minimal Bikini
These are a top seller because they're comfortable and made from quality fabrics — meaning they'll last more than ten cycles in the dryer without shrinking.
Available sizes S–L.
Best Sheer Bikini
These briefs are ultralight, super-sheer, and low rise — in case you're wearing a lightweight linen dress and need underwear that won't show underneath.
Available in sizes S–L.
Best Risqué Bikini
This crotchless bikini is certainly not for the faint at heart, but may be perfect if you're looking for something spicy. And, amazingly, reviewers say they're comfortable enough to wear regularly.
Available in sizes XS–3X.
Best Seamless Bikini
This Black-owned brand is doing neutral and seamless underwear right. They're available in 12 diverse shades, and the brand offers a number of virtual tools to achieve the most accurate match.
Available in sizes S–XL.
The Best Hipsters
Most Flattering Hipsters
Cuup gets all the love when it comes to its bras (and swim!), but we're here to let you know that its underwear deserves all the hype, too. Hipster underwear tends to awkwardly hug your body. However, this cut from Cuup hugs your curves in all the right ways and is incredibly soft.
Available in sizes XS–3XL.
Best Athletic Hipsters
Perfect for runs, workouts, or just strenuous couch sitting. These moisture-wicking hipsters are great for anyone on the move, but they're also comfortable enough to wear at home.
Available in sizes S–XL.
Best Seamless Hipsters
One reviewer called these "a nice alternative to a thong," and the band of lace around the middle is quite pretty.
Available in sizes M–XXL.
Best Shaping Hipsters
Spanx makes the best shapewear, so it only makes sense that their underwear is also stellar when it comes to lifting and contouring.
Available in sizes XS–XL.
Best Leakproof Hipsters
You may not be able to tell from the looks of it, but these top-rated hipsters can absorb up to five (five!) tampons' worth of liquid. They also have some odor-reducing properties to help you feel fresh throughout your period.
Available in sizes XS–3XL.
The Best Briefs
Best Silk Briefs
One of Leclere's favorites is this fancier pair made of 100 percent silk.
Available in sizes XS–L.
Best Mom-Approved Briefs
While these aren't exactly maternity underwear, these are the briefs mom-to-be and Harper the Label founder Claire Harper hasn't ditched during her pregnancy. The smooth and stretchy briefs are made of nylon and spandex with a cotton gusset lining, and you can wear them comfortably even when you aren't expecting.
Available in sizes XS–XXL.
Best Low-Rise Briefs
Cute everyday underwear without sacrificing comfort is basically the ethos of cool-girl brand Cou Cou. The underwear, including these low but not too low-rise pairs, are made of pointelle-knit organic cotton, so while they're not super-stretchy (you can size up), they're breathable and comfy.
Available in sizes XXS–XXL.
Best Budget Briefs
Aerie runs the gamut of everyday basics, seamless pairs, and nicer, lacier pieces. However, the best part is building a bundle of up to ten pairs to save money; you'll pay $38. We suggest starting with these stretchy and seamless boy briefs.
Available in sizes XXS–XXL.
Best Boyfriend Briefs
If you need something to lounge around in, this cotton pair of boy briefs is extra casual and comfortable. With a superhigh waist, the ribbed briefs sit comfortably on the waist and hips, and, of course, they have a matching cropped top.
Available in sizes XXS–XL.
Best Boxer Briefs
Photo: Retailer
This assortment of mid-thigh briefs provides a mid-rise–to–full-coverage fit.
Available in sizes S–2XL.
Prettiest Cotton Briefs
These ultra-feminine briefs come in tons of colors so you can mix and match with whatever you're wearing on top. Reviewers say these briefs are soft, comfortable, and long-lasting.
Available in sizes XS–XXL.
Best Shaping Briefs
These high-waisted seamless briefs offer plenty of coverage. Writes one reviewer, "Just enough snugness without being too tight!"
Available in sizes S/M–L/XL.
Best Seamless Briefs
"They don't show underwear lines at all," says one fan. And the high-waisted cut provides coverage without feeling too grandma-esque.
Available in sizes S–XXL.
Best Lounging Briefs
There's nothing better than just lounging around in some extremely comfortable boxer briefs. While you do need to size up to get the perfect fit with this option from Richer Poorer, they are well worth it.
Available in sizes XS–XL.
Best Sexy Briefs
Photo: Retailer
It doesn't get much more luxurious than La Perla lingerie. The black lace on these is undeniably sexy, but they still provide plenty of coverage.
Available in sizes XS–XL.
Best French-Cut Briefs
It's giving leg — and a lot of it. That's what reviewers love most about this subtly sexy design from Natori. They're a lot like the brand's signature cotton panty, just with a few centimeters taken off the thigh.
Available in sizes XS–XXL.
The Best Boy Shorts
Best Simple Boy Shorts
These come in a ton of sizes and colors, all in very reasonably priced packs of six.
Available in sizes 1X–3X.
Best Lacy Boy Shorts
Reviewers say these lacy boy shorts fit perfectly — they're as comfortable as they are pretty.
Available in sizes XXS–XL.
Best Boy Shorts to Peek Out From Under Jeans
You can't go wrong with iconic Calvins. These are made with a uniquely stretchy cotton, and the branded waistband is still cool.
Available in sizes XS–XL.
Comfiest Boy Shorts
When it comes to boy shorts, you want to make sure that the leg openings don't roll or bunch up — and these fit the bill. Fans say the cotton/elastane blend is impossibly comfortable.
Available in sizes S–XXL.
The Best Thongs
Best Silky Thong
Like Harper's favorite silky brief, this barely-there thong is made of the same stretchy nylon blend and cotton gusset lining so you can expect that same comfortable fit sans panty lines.
Available in sizes XS–XXL.
Best Deep-V Thong
When we say you need to add some deep v's to your drawer, we do not mean that of the mid-aughts menswear ilk. We mean the Little Black Thong from Hannah Richtman's Gush, which is designed with a high waist and low cut for a universally flattering (and surprisingly comfortable) shape.
Available in sizes XS–XL.

Best Lacy Set
Hanky Panky's low-rise cotton thongs have a lace upper and a cotton bottom. They're a classic for a reason: not only are they pretty, but they're invisible under everything.
Available in one size.
Best Cotton Thong
What can we say? We can't get enough of Skims and its selection of thongs. These come highly recommended by our deputy style editor, Joanna Nikas.
Available in sizes XXS–4XL.
Most Comfortable Thong
Fans of this thong rave about how it's smooth, hypoallergenic, and designed to not creep up, no matter how long you wear it.
Available in sizes XS–XL.
Best Barely There Thong
Simple and seamless.
Available in sizes S/M–M/L
Best High-Waisted Thong
Photo: Retailer
This comfortable high-rise thong gives you the best of both worlds: support in the front and freedom in the back.
Available in sizes XS–3XL.
Our Experts: