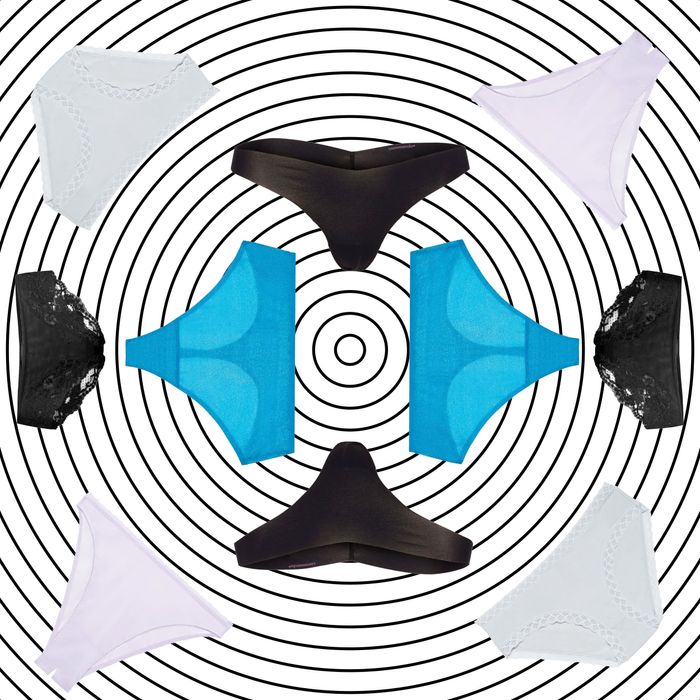 Photo: Courtesy of Everlane.
Ask a bunch of people to recommend their favorite underwear, and you'll get a bunch of different answers. Everyone has an opinion on the best underwear for women, and it usually depends on body type and personal preference — one person's "most comfortable thong ever" is another person's torture device.
That's why the best way to shop for undies online is to determine your favorite shapes first, and dive into the reviews from there. Below, we've done most of the work for you, rounding up 23 pairs of underthings with rave reviews and then organizing them by categories. Read on for the best boy shorts, the best briefs, the best thongs, etc. (And if you realize when you're done that you want something a little bit less utilitarian, we've got a list of the best sexy lingerie, too.)
The Best Simple Boy Shorts
These come in a ton of sizes and colors, all in very reasonably priced packs of six.
Available in sizes 1X–3X.
The Best Lacy Boy Shorts
Reviewers say these lacy boy shorts fit perfectly — they're as comfortable as they are pretty.
Available in sizes XXS–XL.
The Best Boy Shorts to Peek Out From Under Jeans
You can't go wrong with iconic Calvins. These are made with a uniquely stretchy cotton, and the branded waistband is still cool.
Available in sizes XS–XL.
The Comfiest Boy Shorts
When it comes to boy shorts, you want to make sure that the leg openings don't roll or bunch up — and these fit the bill. Fans say the cotton/elastane blend is impossibly comfortable.
Available in sizes S–XXL.
The Prettiest Cotton Briefs
These ultra-feminine briefs come in tons of colors so you can mix and match with whatever you're wearing on top. Reviewers say these briefs are soft, comfortable, and long-lasting.
Available in sizes XS–XXL.
The Best Shaping Briefs
These high-waisted seamless briefs offer plenty of coverage. Writes one reviewer, "Just enough snugness without being too tight!"
Available in sizes S/M–L/XL.
The Best Seamless Briefs
"They don't show underwear lines at all," says one fan. And the high-waisted cut provides coverage without feeling too grandma-esque.
Available in sizes S–XXL.
The Best Sexy Briefs
It doesn't get much more luxurious than La Perla Lingerie. The black lace on these is undeniably sexy, but they still provide plenty of coverage.
Available in sizes XS–XL.
The Best Seamless Hipsters
One reviewer called these "a nice alternative to a thong," and the band of lace around the middle is quite pretty.
Available in sizes M–XXL.
The Best Shaping Hipsters
Spanx makes the best shapewear, so it only makes sense that their underwear is also stellar when it comes to lifting and contouring.
Available in sizes XS–XL.
The Best Borrowed-From-the-Boys Hipsters
We like the piping that makes them look like men's briefs. Reviewers say they're super comfy and never ride up.
Available in sizes S–XXL.
The Best Athletic Hipsters
Perfect for runs, workouts, or just strenuous couch-sitting. These moisture-wicking hipsters are great for anyone on the move, but they're also comfortable enough to wear at home.
Available in sizes S–XL.
Best Simple Bikini
This bikini style was designed to feel like it's barely there, and that's why we love them.
Available in sizes XXS–XL.
Best Minimal Bikini
These are a top seller because they're comfortable and made from quality fabrics — meaning they'll last more than ten cycles in the dryer without shrinking.
Available sizes S–L.
Best Sheer Bikini
These briefs are ultra-light, super sheer, and low-rise — in case you're wearing a lightweight linen dress and need underwear that won't show underneath.
Available in sizes S–L.
Best Risqué Bikini
This crotchless bikini is certainly not for the faint at heart, but may be perfect if you're looking for something spicy. And, amazingly, reviewers say they're comfortable enough to wear regularly.
Available in sizes XS–3X.
The Best Lacy Set
Hanky Panky's low-rise cotton thongs have a lace upper and a cotton bottom. They're a classic for a reason: not only are they pretty, but they're invisible under everything.
Available in one size.
The Most Comfortable Thong
Fans of this thong rave about how it's smooth, hypoallergenic, and designed to not creep up, no matter how long you wear it.
Avaialable in sizes S–L.
The Best Barely-There Thong
Simple and seamless.
Available in sizes S–L.
The Best High-Waisted Thong
Reviews are passionate about this one ("This plus-size high-waist thong is the TRUTH!"). Not only is the fit comfortable and flattering, but the shimmery fabric makes it feel just a little bit special.
Available in sizes 1X–3X.
If you buy something through our links, New York may earn an affiliate commission.