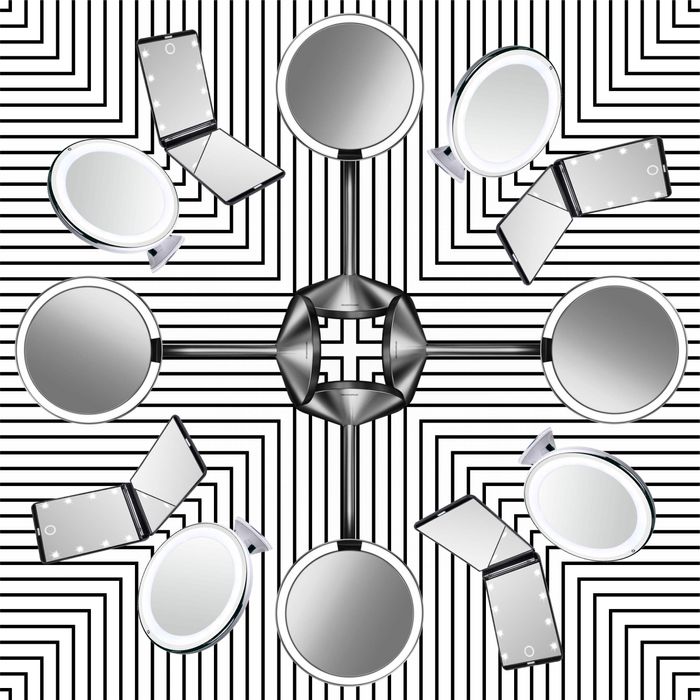 While the skin-critiquing "smart" mirror is still several months away, you can buy a very flattering vanity mirror right now. There are a lot on the market, and they vary wildly in price. Which one is perfect for you? Below, seven mirrors to meet all of your vanity needs.
The One That Sticks to the Wall
If you're low on countertop space, try this six-inch mirror with a suction cup attached. It's got a magnification power of seven and an adjustable ring light, but make sure to throw some AAAs in your cart, too — batteries aren't included.
Create your own glam station with this "Hollywood" mirror furnished with dimmable lights.
When you place your face directly in front of this mirror, it lights up automatically. And it doesn't require batteries or annoying cords — you just charge it monthly. I own several mirrors, but this is my favorite.
The One for Frequent Travelers
This compact mirror is thinner than a CD case and barely the size of your hand. The mirror not only lights up, but one side is equipped with double magnification.
Of course you're addicted to your phone; here's a mirror that reflects your lifestyle with a built-in USB port, microphone, and speaker. You can use it to charge your phone, take calls, or just play music.
The One the Kardashians Use
Vanity Girl Hollywood is a West Hollywood company that claims to supply a host of celebrities with makeup mirrors, including the Kardashians. They're expensive, but this petite one — the most affordable option from the brand — is pretty charming.
The One for True Obsessives
This mirror arrives with a second, smaller magnetic mirror that magnifies your face by a power of ten. To use, simply attach it to any part of the larger rectangular mirror, and then stare at the super-size version of your skin all day.
If you buy something through our links, New York may earn an affiliate commission.