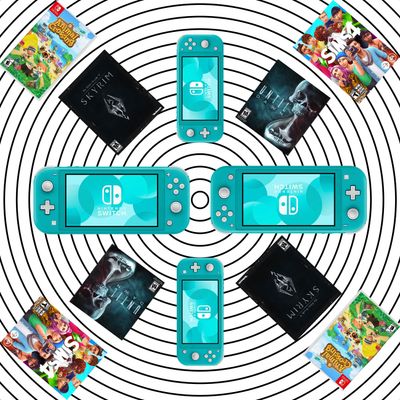 Photo: Courtesy of the Retailers
As we do our part to stem the spread of the coronavirus by practicing social distancing, we're considering (or reconsidering) hobbies we previously overlooked or set aside. For instance: video games. What better way to distract oneself from the grim reality of the outside world than to immerse oneself in a new one, where the only concerns are gathering food and treasure, beating monsters, and leveling up? Plus, they require both hands, successfully preventing the urge to take another look at the phone.
Below, we asked the Cut staff (and a few friends) to tell us about the video games they're leaning on right now. But first, two console recommendations:
Nintendo Switch
The console we're all rushing to buy (if we don't already have one).
Nintendo Switch Lite
For those who want to have the Switch experience but prefer single-player, handheld gaming.
Until Dawn
If you have a PS4 and enjoy scary movies, I recommend Until Dawn, a survival-horror game from five years ago. Even my roommate, who doesn't enjoy playing video games, sat on the couch with me to just watch the gameplay, because it's like an adventure movie (there are even famous faces, including Rami Malek and the cheerleader from Heroes). If you're worried about not getting enough exercise right now, this game will get your heart rate up. — Rachel Bashein, managing editor
Red Dead Redemption 2
If you're longing to return to a pre-COVID-19 era when you could roam freely through the wilderness meeting strangers and gathering in groups of ten or more at packed saloons, now is the time to start playing Red Dead Redemption 2. It's basically Westworld, if Westworld hadn't sucked in season two. My favorite activities are brushing my horse, Mr. Horse, hunting for legendary animals whose pelts can be turned into cool hats, and trimming my beard (something that must be done regularly, along with feeding yourself — this game isn't for slackers). Unfortunately, you may at some point in the game contract tuberculosis, but hey, at least Playstation comes with an off button. — Anna Silman, senior writer
Mario Kart
I grew up without a video-game console in my house, so the only one I really know how to play is Mario Kart. I haven't been able to stop thinking about it since I started working from home, so much that I'm this close to buying a Nintendo-whatever for that game and that game alone. I imagine myself (Yoshi, obviously) cruising through the Kalimari Desert, or playing that level where you ride around the beach. Whenever I'm stressed, I close my eyes and picture Yoshi (me) soaring through the waterfall shortcut and emerging on the other side, so close to the finish line … — Emilia Petrarca, senior writer
Zelda: Breath of the Wild
Breath of the Wild was made for the Switch, and it shows — I've never seen such a beautiful, vivid game. It's not trying to look "real," which is a video-game-graphics pet peeve of mine, but the grass sways in the breeze, and the sun sets, and the rain falls on a rock and makes it too slippery to climb. Playing this game was like Xanax to me. There are hard parts, for which I Googled tutorials, but nothing was so hard it wasn't fun anymore. It's exactly the right mix of challenging and exploratory. I am only sorry I finished it long before social distancing and that the sequel won't be out for ages. — Katie Heaney, senior writer
Donkey Kong Country
As the younger sibling who was always relegated to play Diddy and wasn't tagged in unless my sister deemed my contribution worthy, you can imagine my delight when I bought the Super Nintendo NES release to finally have the opportunity to play both Kong and Diddy as an adult. Now I can revel in the pure joy that comes with hopping on an ostrich and scoring as many ostrich-shaped points as possible (read frog, rhino, swordfish). The way these virtual siblings navigate underwater worlds and bop demon alligators in jungles and playact as Evel Knievel and barrel out of cannons makes Donkey Kong Country one of my forever games 20 years running.
— Whitney Kuo, account manager, tech enterprise
Harvest Moon
I've always found Harvest Moon to be one of the most comforting video games and one of the few that I'm decent at. I love this soothing farming game, in which I try to be a productive member of my community, have a successful farm, and wife up a lucky lady. A Stardew Valley ancestor, it should be available on all of your Nintendo products, and I couldn't recommend it more. — Kerensa Cadenas, culture editor
Animal Crossing: New Horizons
This game, which won't be released until March 20, is the one that inspired me to finally buy a Switch Lite. Unlike the original Animal Crossing, in which you're a human living among a bunch of cute anthropomorphic animals, in New Horizons you reportedly start on a deserted island, where you get to build your own community from the ground up. To me, this sounds just as relaxing as the original. Per the Verge, it "maintains the charm and style that have made Animal Crossing so beloved, but with a newfound sense of purpose: the satisfaction that comes from building something from nothing." I'm certain I'm not the only one who feels emotional after reading that! — Amanda Arnold, staff writer
The Witcher
Like Skyrim, The Witcher is largely a game of running errands. I got some angry Instagram DMs when I last wrote that, but it's true! Sorry! Yes, there's a backstory about rescuing a daughter figure from some bad guys, and lots of big, bad monsters to fight, but most of the gameplay here is like running back and forth between towns delivering messages or clearing out a haunted house or seeing if you can get the herbalist lady to sleep with you. You can even get haircuts and beard trims! Sometimes I find the story lines tedious (especially when you're just watching, not interacting), but amid those bigger quests, there's plenty of smaller, satisfying goal completions to be done. — Katie Heaney, senior writer
Skyrim
This is simply an amazing game. It has an incredibly expansive world in which you run around ransacking dungeons and fighting dragons, but my favorite quests were the ones where you meddle in townspeople's personal lives. Also it lets you marry a sexy werewolf, if you want. — Callie Beusman, news editor
Fire Emblem
Since the beginning of the year, I've been regularly canceling plans in order to play Fire Emblem: Three Houses, and that is (obviously!) not going to stop now that I am not leaving my home. It's the kind of game where time melts as you play, owing largely to its unique structure: As a new professor-slash-mercenary at a monastery–slash–officers academy, you operate on a monthly calendar, spending some of your time walking around talking to your students and peers (all of whom are wildly well-realized characters. Also everyone is hot and wants to flirt with you!), some of it teaching and some of it fighting battles. It's the sort of game that teaches you how to play itself, so even if you're brand new to the genre, the barrier to entry isn't high. If you're into Harry Potter, Game of Thrones, or One Direction fanfic, I highly recommend checking it out. — Alanna Okun, deputy editor, The Goods
Stardew Valley
The introduction of Stardew Valley is almost too on the nose, predicting a day when you feel crushed by the burden of modern life and in need of a desperate change. If you can't quit your job and take over your grandfather's farm, you can at least find escapism in playing Stardew Valley — a 16-bit farm in a 28-person town where your only goals are to revitalize your community and build a decent life. Meditation is clearing the weeds and tree stumps from your farm plot, adventure is defeating the little sentient balls of slime that run rampant in the mines, and your only antagonist is the corporate megabehemoth trying to overtake the town. — Morgan Cohn, senior product manager
The Sims
We don't need to convince you: This is a timeless classic, which seems especially soothing in this time of uncertainty. As Carragh Poh recently wrote on the Cut, The Sims is "about controlling your environment and the people in it, and nearly every action has a logical consequence." What better time to go through another all-consuming phase?
If you buy something through our links, New York may earn an affiliate commission.