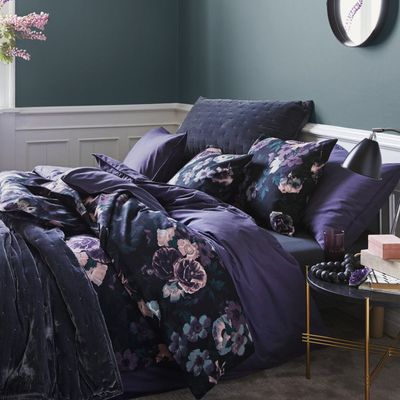 Don't you want to just stay here forever?
Get It Together is your weekly guide to organizing your entire life.
Your couch might be a good place to sit and binge Netflix on a cold, lazy Sunday afternoon, but for true coziness, nothing will ever beat a nice warm bed. Given that you spend at least 7 hours (hopefully!) in bed every night, why not make the best of the experience, especially during these bitter winter nights? We found the softest sheets, the warmest blankets, and the fluffiest pillows for hunkering down until spring arrives. Scroll ahead to optimize your hibernation experience.
The Coziest Sheets to Splurge On
When it's described as sweater weather for your bed, how can you resist?
The Coziest Affordable Sheets
Made of velvety flannel, this set is a good bargain alternative to Brooklinen.
Over 1,500 five-star reviews makes these the most popular choice, whether you're a side or back sleeper.
The baffle box design means the down won't shift over time, so you'll always have a fluffy blanket.
If You're Allergic to Down
This blanket made from an alternative fill is just as soft and warm.
A Relaxing Alternative to White Sheets
The minty green washed linen will look so soothing when combined with white sheets.
Because You Love Dark Florals
When You Want a Cheery Bed
The vibrant pattern will perk up even the oldest sheet set.
A Modern Take on Quilting
All the homespun appeal without the dated design. It looks especially inviting with the matching shams.
Original Price: $129
If You Love All Things Fuzzy
Use it on your sofa, your bed, or wherever you want to hunker down.
Dry air and overzealous heaters will parch your throat. Instead of dragging yourself to the kitchen, keep water nearby in a sleek carafe.
If your throat is dry, think of your poor skin. Add a humidifier to your room to moisten the air.
A Humidifier for Insomniacs
Too anxious to sleep? Try a humidifier that'll let you add essential oils like lavender to help coax you to bed.
If you buy something through our links, New York may earn an affiliate commission.