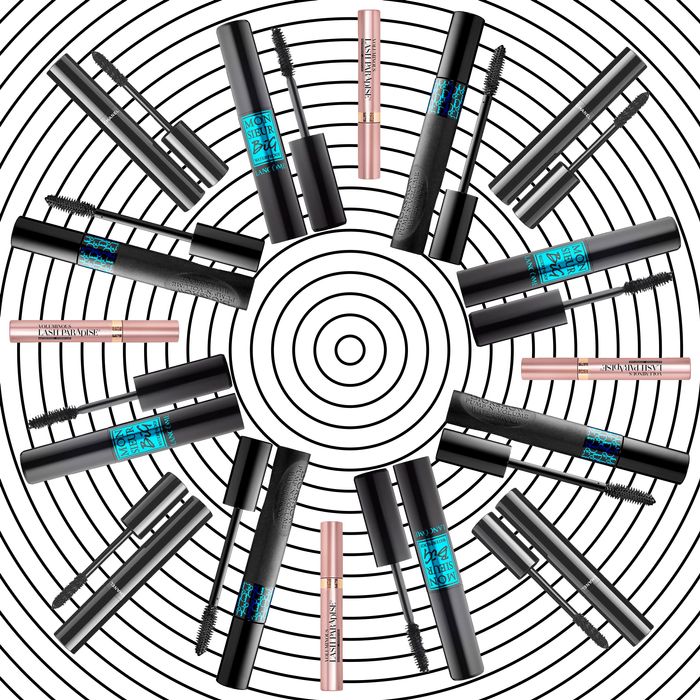 Photo: Provided by the retailers.
Whether it's for summer, rainy days, or sweaty situations, waterproof mascara tops the list of essentials. But it can be hard to find one that adds length, doesn't smudge, looks natural, and wipes off without pulling out half your lash line. Plus, waterproof formulas dry fast, sometimes leaving lashes stiff and clumpy rather than soft and fluffy.
To find the best waterproof mascara out there, the Cut tested many options (both luxury and drugstore), swiping and scrutinizing their performance. We also asked some experts about their favorites. We recorded notes on wand shape and bristle quality, formula texture, staying power, and the ability to volumize, lengthen, and curl lashes without looking like stubby little sticks. Read on for our findings, including one that definitely wasn't a favorite.
The Best Drugstore Waterproof Mascara
Like L'Oréal Paris's Lash Paradise, this drugstore option offers a good bang for your buck. Two coats darkened and volumized lashes, leaving them only slightly clumpy (a good clumpy — it made them look thicker.) The effect wasn't messy but deliberate, like a lash "look" you'd see on the runway.
The No-Mascara Mascara One
We can't say this one did much for lashes. Our reviewer tried a shade called Black Brown and the color barely showed. Yes, lashes appeared defined, and no, they didn't clump or smudge. But there wasn't much by way of volume or lengthening. It's a good option for makeup minimalists.
The Most Dramatic Waterproof Mascara
Dior's waterproof version of the Pump 'n' Volume mascara features a pliable, squeezable tube that allows you to warm up the formula using heat from your hands and prevents it from drying out. The fat brush contains ultra-soft bristles that only luxury brands at this price point can provide, and other than very minor smudging under my eyes, this mascara produced a dramatic, doll-like effect. While it went on smoothly, it was a little messy, so plan for a few extra seconds with a cotton swab to clean up your lids post-application.
The One Loved by Synchronized Swimmers
Mariya Koroleva, a two-time U.S. Olympian for Synchronized Swimming also recommends this favorite from Dior. She told told the Cut that she loves wearing this mascara for practices and competitions. Introduced to her by a friend, she loves that it makes her lashes look "full, long, and healthy," all without smudging.
The medium-sized wand features rows of microfiber bristles and a rounded tip that fattened up every lash on my lids. The formula is whipped and silky — especially by waterproof standards — so it glided on smoothly coat after coat (at least three or four). Lashes were curled, long, and defined. Our reviewer found that it was also fairly easy to remove, but at the same time didn't flake or smudge throughout the day.
The Best Waterproof Mascara for the Pool
This masacara didn't deliver much volume, but it went on without clumps and provided decent lengthening. As far as the removal process, it maintained an impressive resilience. Over time, it can cause lashes to clump up a little but it won't drip down your face. Despite removing with micellar water and makeup remover afterward, our reviewer warned that you might still feel the formula clinging to your lashes the next morning. If you like wearing eye makeup to the beach or pool where you will be getting in and out of the water, consider this one.
This one dries quickly, so you need to work fast. Our reviewer said that this caused her lashes to harden within seconds, making it tough to build upon once it set. It does achieve some noticeable volume and length, but there was slight clumping. The wand is good at coating the bottom lashes, too, but overall, we prefer the non-waterproof version of this mascara, even if that means a little smudging.
Like all things Chanel, this mascara will make your lashes look expensive. The stiff brush combines short and long bristles that work together to really lift lashes up, leaving our reviewer's curled with a fanned-out appearance. After three coats, she noticed significant impact — her lashes looked long, plump, and dense.
This silky formula wasn't too thick or too wet, which meant the soft, wavy bristles delivered a clump-free coating without any messy globs. Our reviewer said that this one made her lashes looked fanned out, longer, fuller, and darker over the course of the day, without any running or flaking. If you're a fan of Too Faced Better Than Sex mascara (the non-waterproof one), this is a close second — and almost three times cheaper.
It's also one of the few waterproof options out there that doesn't make lashes feel hard within ten seconds of using it. After applying, she noticed that her eyes had a softness and lifted appearance that even made her skip eyeliner. The only downside is that it smelled like a Sharpie marker.
The One Loved by Teary Actresses
Zoe Hay, Makeup Department Head for the tearjerker show, This Is Us, told us that this is the mascara she uses. "This is my go-to mascara on the show for all my leading ladies, because we know at some point throughout the day we will inevitably be shooting an emotional scene," she says. She praises this mascara's ability to define, lengthen, and separate lashes without clumpiness. Plus she adds, "the most expensive product isn't always the best."
The One Loved by Mermaids
Professional mermaid Linden Wolbert told the Cut that she loves the same mascara as Hay, but only in the shade Black Brown. "Oddly, the Carbon Black color of this brand totally runs and smears in water. The Black Brown does not! It's the only one that stays on and doesn't do crazy clumping; and it lengthens incredibly," she says.
For anyone who doesn't want to invest in an entirely new waterproof mascara, there's Clarins's water-proofing top coat. The clear formula promises to form a "watertight seal" around each lash. However, the brush shape, which resembles a small brow spoolie, is awkward to use on your lashes.
True to its name, YSL's mascara yielded false-looking lashes — separated, long, and volumized. The nylon brush coats lashes evenly and the non-drying formula was buildable and easy to layer, too. There were no smudges for the entire day. The removal process was simple, too: the color wiped away without lashes clumping together. It's expensive, yes. But our reviewer said that when she took a photo of herself wearing the mascara, she didn't have to do any sort of editing — her lashes look completely perfect.
This mascara doesn't give your lashes major drama, but will define them in a way that doesn't make them look stuff or stubby. It lasts up to twelve plus hours. But it's also not super easy to take off.
The One Loved by Spin Instructors
Emma Lovewell is a Peloton instructor whose classes get broadcast to thousands of at-home subscribers. She reaches for this mascara which "never runs." She also loves that it really holds her lashes' curl.
The Kim Kardashian West–Loved One
Mario Dedivanovic, otherwise known on Instagram as @MakeupByMario is responsible for the smudgeless faces of all the Kardashians. He told the Strategist that it's "waterproof but also curls, lengthens, and gives volume in just one coat. A lot of waterproof-mascara formulas tend to be drying, but this one feels soft and is conditioning."
You can decide for yourself if this mascara is better than sex, but what it's not is sweat- or waterproof. On an early spring day that was no more than 60 degrees, our reviewer found that this mascara smudged, giving her raccoon eyes by noon. And she didn't even work out!
She also wasn't a huge fan of the stiff bristles or the hourglass-shaped brush and found it clunky and hard to maneuver at times. While it will make your lashes appear darker and longer, the formula is wet and gloppy, and seemed to have weighed them down more than it lifted them up.
Additional reporting by Jessica Prince Erlich. This article was originally published July 27, 2018. If you buy something through our links, New York may earn an affiliate commission.