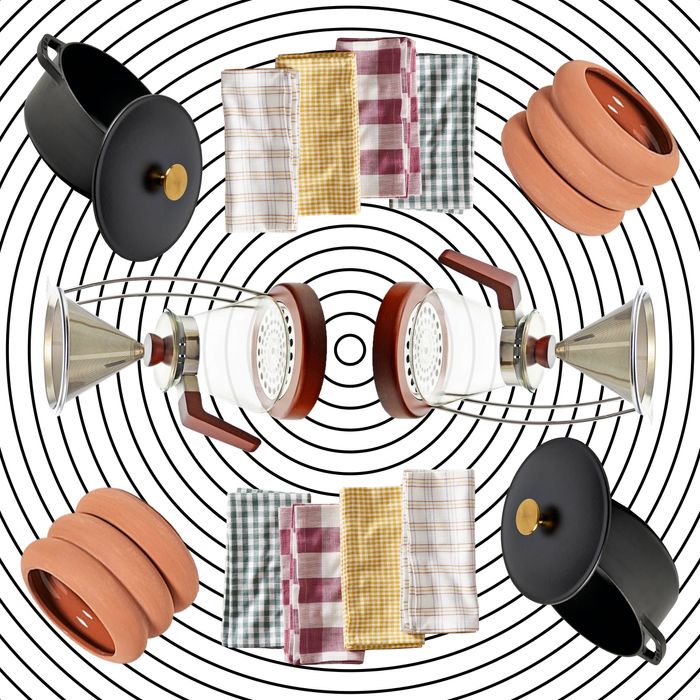 Photo-Illustration: The Cut; Photos: Retailers
Now that vaccines are widely available and the country is starting to reopen, it's time to celebrate all those weddings that were postponed in 2020. If the invitations are flying at you faster than a freshly launched bridal bouquet, you're not alone. For a lot of people, the next year is going to be flush with the simple glories of eating free cake, listening to emotional speeches, and watching entire families get down to Bruno Mars.
To help you shop for all of those occasions, we've rounded up 21 crowd-pleasing wedding-gift ideas. If you want to get something that's not on the registry but is still pretty classic, this is the list for you.
A Kit for Amateur Mixologists
If they love a classic cocktail hour, there's nothing better than this elegant set of tools for zesting, measuring, shaking, stirring, and more.
An On-Trend Planter
This curvaceous little pot comes with a built-in drip tray and has a bit of a cult following. Perfect for anyone who talks about their variegated Monstera like a member of the family.
A Minimal Dutch Oven
Sturdy and chic but less expensive (or expected) than a classic Staub or Le Creuset, this 5.5-quart Dutch oven is a great choice for the couple who spends their time bookmarking Rick Martinez recipes.
Some Timeless Linens
Luxuriously soft, designed to look artfully rumpled, and available in an array of gentle neutrals.
A Kettle for Coffee Nerds
Do they start their day weighing out freshly roasted Yirgacheffe beans? Try this handsome electric kettle, which comes with a gooseneck spout for controlled pouring.
A Bold Flatware Option
Slim and well balanced, this modern flatware has a timeless quality that will carry the happy couple through years of changing aesthetics.
The Toaster Oven of the Future
True toast connoisseurs are already coveting this meticulously engineered Japanese toaster oven. It's great for making melty sandwiches and warming up leftovers, and it includes a steam feature for evenly browned, crisp bread with a fluffy and moist interior. The fact that they would probably never splurge on one for themselves makes it an ideal wedding gift.
An Extra-Convenient Leftovers Solution
Set them up for meal-prep success with a sturdy, spillproof set of containers in all shapes and sizes.
A Favorite for Wedding Parties and After-parties
Taste buds deserve a big day, too. Give a celebration in a bottle with Johnnie Walker Blue, where a whirlwind of sweet vanilla pairs with velvety smooth spice for a strong finish to last a lifetime.
For the Couple Who Love Outdoor Concerts
This ingenious carrying basket transforms into a handy picnic table.
A Keeper of Kitchen Traditions
A modern spin on a classic recipe box, this leather card case will weather with age and comes complete with simple recipe cards. Bonus points if you add a few of your favorite dishes before wrapping them up.
The Solution for the Couple Who Hate Cleaning
Why give them a vacuum when you could give them the gift of time? This app-connected robo-vac does all the heavy dusting for them so they can spend more time enjoying newlywed life.
A Cozy Addition to Movie Night
A soft throw in crisp neutrals offers year-round snuggling power.
An Elegant Coffee Maker
The cantilevered pour-over design looks fancy, but it's even easier to use than a French press.
Sustainably Chic Napkins
West Elm's new collab with gingham queen Heather Taylor delivers on the designer's breezy L.A.-entertaining vibes.
A Groovy Bathroom Upgrade
Guest towels feel like a thing married couples need, right? There's nothing cooler than Missoni washcloths in a timeless zigzag pattern.
For Eclectic Homebodies
A thick and warm blanket featuring an unusual motif of wild lions and winding vines.
A Cute Condiment Dispenser
This ceramic soy-sauce dispenser is an elegant replacement for the store-bought bottle. And it lets them keep the condiment at the center of the table, next to the salt and pepper shakers.
The Timeless Knife
Whether they spend their weekends making homemade mole or are more of a sandwich couple, get them an eight-inch chef's knife that's reliable, impervious to rust, and designed to stay sharp.
A Versatile Glassware Set
Stylish but still neutral enough to fit pretty much anyone's aesthetic, this barely blue glassware comes in a variety of sizes and a satisfying tapered shape. It's ideal for everything from fresh juice to margaritas — and affordable enough that they can restock when they inevitably break a few in the years to come.
A Modernist Salad Set
A set of wavy stainless-steel serving utensils that's designed for salads but would look stunning dishing out everything from pasta to stews for decades of holidays and weeknight dinners to come.
Not Just Another Vase
Make even simple bodega flowers feel like a major bouquet.