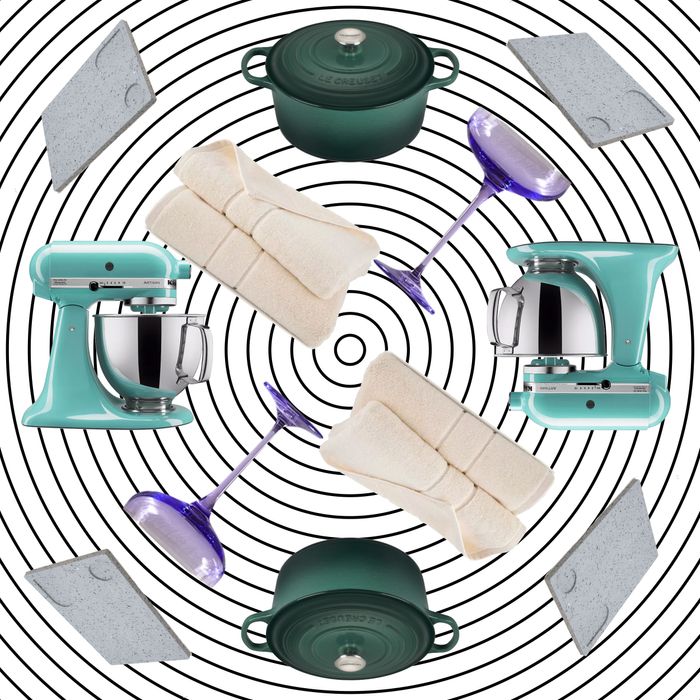 Photo-Illustration: by The Cut; Photos: Retailers
The only thing harder than decoding wedding dress codes and trying to figure out what shoes are "beach formal" is deciding what are the best wedding-gift ideas for newlyweds. Now that vaccines are widely available and the country is back open, some postponed weddings are still waiting to be celebrated. If the invitations are flying at you faster than a freshly launched bridal bouquet, you're not alone.
Since wedding gift giving also needs decoding, we reached out to an expert for guidance.
"It's always a safe bet to gift an item off of the couple's registry," explains Emily Forrest, the director of communications at Zola. "The registry really is a road map for the couple's newlywed home, and it's something that they spent time on together to decide what it is that they want and need."
If the couple is registered at Tiffany & Co. and your budget is more Bed Bath & Beyond, you might want to stray a bit from the registry, and that's fine. When in doubt, know that just like for recent grads, cash is always a good gift idea.
To help you shop for all those occasions, we've rounded up crowd-pleasing options. Whether you want to get something that's not on the registry but is still pretty classic, or you want to gift something they didn't ask for but definitely need, this is the list for you.
Best Wedding Gifts Under $100
The couple who has it all probably hasn't done it all, so what better way to treat the newlyweds than with scavenger hunts, cooking classes, and tarot readings. "Experiential gifts are great, whether it's an Airbnb gift card, certificate for a local date night, at-home meal-delivery service, or something else they can do together," Forrest shares.
Set them up for meal-prep success with a sturdy and spill-proof set of containers in all shapes and sizes.
Yes, towels make for a great wedding gift. Forrest wants us to remember that "giving a wedding gift is not just about giving the couple things they don't already have, it's also about upgrades to help them start off their newlywed life together." We're sure they don't have these Missoni towels in a timeless zigzag pattern.
This ceramic soy-sauce dispenser is an elegant replacement for the store-bought bottle. And it lets them keep the condiment at the center of their kitchen table, next to the salt and pepper shakers.
"If you know the couple's hobbies and interests well, opt for something more personalized, such as a gift card or subscription service for something like coffee or wine," says Forrest. Winc delivers curated wine selections monthly.
Blue Bottle's coffee subscription offers high-quality caffeine blends from all over the world so they can skip the Starbucks runs. If you're really close to the couple, spring for a fancy espresso machine.
For that coffee subscription you gifted them, this cantilevered pour-over design looks fancy, but it's even easier to use than a French press.
Make even simple bodega flowers feel like a major bouquet.
For the couple who loves to host: a very cool serving board for charcuterie and appetizers. It also makes a great cutting board for prepping meals. Either way, they'll get plenty of use out of it.
Forrest suggests making a personal gift like this monogrammed box even more unique by stocking it with things the couple will like. Something universally liked is cash.
Guests love to gift drinkware. It's pretty, it's easy, and everyone loves a nice set of glasses to display. However, Forrest suggests getting vibrant and colorful glassware instead of another set of clear glasses. We're sure they'd rather add some bright blue wineglasses to their bar cart.
Or you can opt for champagne coupes in a pretty shade, since the newlyweds will have more than enough opportunities to celebrate.
Foodies will appreciate any accessories to fuel their favorite hobby, like these cool blue bowls that are made for ramen.
Seriously, everyone wants an air fryer if they don't have one already.
Best Wedding Gifts Under $300
This ingenious carrying basket transforms into a handy picnic table.
Don't hesitate to give something extremely practical. Forrest notes that some couples are afraid to add these types of items to their registries. That said, why not gift a very fancy trash can instead of the standard plastic ones. This option features a liner pocket for easy replacement and opens hands-free for quick disposal.
Luxuriously soft, designed to look artfully rumpled, and available in an array of gentle neutrals.
If they love a classic cocktail hour, there's nothing better than this elegant set of tools for zesting, measuring, shaking, stirring, and more.
A thick and warm blanket featuring an unusual motif of wild lions and winding vines.
For pet parents, separation anxiety is real, so gift them this camera that lets them check in on their pets and give them a treat throughout the day.
This set of wavy stainless steel serving utensils is designed for salads but would look stunning dishing out everything from pasta to stews for decades of holidays and weeknight dinners to come.
Of course, luggage is always practical, especially for the honeymoon. Gift the couple this carry-on that will withstand the TSA and being thrown in the overhead compartment.
Best Wedding Gifts Under $500
True toast connoisseurs are already coveting this meticulously engineered Japanese toaster oven. It's great for making melt-y sandwiches and warming up leftovers, and it includes a steam feature for evenly browned, crisp bread with a fluffy and moist interior. The fact that they would probably never splurge on one for themselves makes it an ideal wedding gift.
Say hello to another practical item they might not ask for but will definitely need. This cordless vacuum is perfect for deep cleaning cars, carpets, and everything else.
Cookware is a given, and Forrest says it's always a top registry pick. Skip the basics and opt for this pretty non-stick ceramic set. Caraway Home's dishwasher-safe pieces are a favorite among couples.
Lots of couples ask for this multi-purpose kitchen staple, but this green is the color Forrest has been seeing a lot of on registries. With presents on the pricier side, she suggests making it a group gift, splitting the costs with your plus-one or a family member.
Even the most kitchen-avoidant couples have this stand mixer on their registry. We'll be honest; we would have it too. However, if they barely bake, this won't collect dust, since there are plenty of useful attachments you can gift, from spiralizers to food grinders.