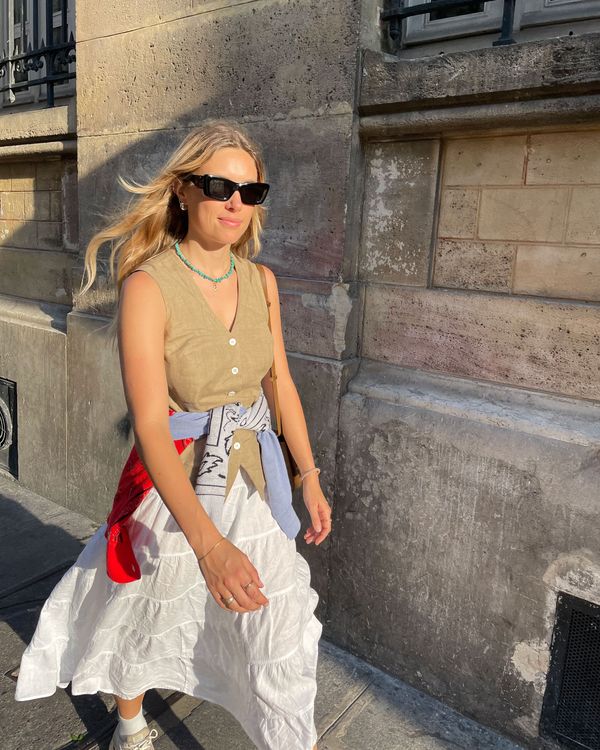 For more of the Cut's favorite fashion, beauty, and home finds, sign up for the weekly Cut Shop Newsletter.
White is the color of risk-takers. To wear white means leaning into the possibility of a drip of an iced latte, a splash of red wine, or in my case recently, the greasy black smudges of a bike chain. Yet, a risk taker I am. This summer, the siren's call of a billowy white maxi skirt has become all too entrancing.
If I had to pin my personal obsession with this humble piece of clothing, it might have to be sitting in the New York heat last September, watching the Maryam Nassir Zadeh show from a folding chair placed neatly around the edge of a handball court in the middle of the Lower East Side. As mini rivers of sweat ran their way down my back (why had I chosen to wear mohair??), I jealously fixated on the model wearing nothing more than a strip of fabric up top and a crochet skirt reminiscent of a grandma's tablecloth (in the best way possible).
While I don't see MNZ's skirt full of holes as the smartest summer investment (especially as I find myself often sitting on the subway), the white skirt was all over the spring and resort runways. At Peter Do, it was a sweeping pleated iteration. At Prada, there was a pencil silhouette. The best iteration I spotted was the light cotton of Ralph Lauren and Dior — a bit boho without ever steering too far into Woodstock territory.
My personal pick is under $100 and is from Aritzia. A tiered, slightly sheer iteration with a bit of flounce. I'd been eyeing pricier options from Attersee and Toteme for weeks but decided to bite the bullet and dive in first with a lower-priced style, with the option to upgrade later (potentially on sale, too). The Aritzia quickly proved its worth; I lounged in it at my boyfriend's parents' house upstate, styled with a baggy vintage tee and Birkenstocks. It also came with me on a trip to Paris, where I styled the skirt with a button-down vest and sneakers. Versatility, baby!
In fact, it was in Paris that I began to notice that I was not the only one heavily relying on a breathable white skirt for walking around town. It was part of that oh-so-effortless Parisian wardrobe, often styled back to a classic button-down and a pair of sneakers.
It's in this combination that I see one of the easiest ways to transition a white skirt into fall. By styling the lightweight skirt with oversized, tailored pieces, like a blazer or a trench coat, you keep the laid-back attitude of the outfit while also pulling in a bit of back-to-school prep that always seems to pick up come fall. By then, I'll have ditched my iced latte for a hot one, but I'll still be sporting my skirt with the utmost care.
Best White Midi Skirts
My white skirt of choice was this tiered style from Aritzia. It has an elastic waistband but also ties, so it can be worn low at the hips or up higher at the belly button. I'm five-foot-nine and the skirt hits me just at the ankle, which I love for showing off my sandals, sneakers, and boots.
This skirt hits mid-calf, so it's on the shorter side of options, but I like that it has an elastic waistband and a flouncy silhouette. Alex Mill's high-quality fabrics are part of what makes the brand a standout to me, and since this skirt is made of 100 percent linen, it will be lightweight and breathable for warm weather.
Pockets, a button closure, and a subtle floral print all make this white skirt feel unique from other favorite selections. There's a top to match, but it's a fit I can easily imagine also styling with a blazer for the office.
This slightly shorter style from Madewell is a favorite of mine because of the vintage feel added by the pin-tucking details. While this skirt is only offered up to an XL, I always look to Madewell for extended sizes, and the brand has a few similar skirts in sizes up to 4X.
New York–based Sea has been my go-to brand for understated cotton pieces for years. They always toe the line between classic and romantic in a way that makes them easy to wear every day.
Personally, I'm not sure that I'm ready to reembrace the scarf-hem trend, but knowing that the aughts remain top of mind in the fashion trend cycle, I'd be remiss to ignore this bohemian take from Free People. With the addition of cowboy boots and a vest, the look is playful without being too kitschy.
Doen is my go-to choice for days when I want to lean into the whole cottagecore aesthetic. The brand's pieces look amazing on friends of mine who span a variety of sizes and manage to feel gossamer and ethereal without feeling like they've strayed into overly saccharine territory.
I tend to think of a pleated skirt as something preppier, but this linen-blend style from Attersee manages to remain effortless and easy, making it my favorite choice for summer-to-fall transitional dressing. I'll be styling back to a ribbed white tank and a cashmere cardigan.
Toteme's smock-like skirt is my vote for tucking away into your suitcase for summer vacation. It's versatile and slightly sheer with apron pockets and a waist tie. It's the kind of skirt I'd style with a white tank, swapping daytime Birkenstocks for chunky earrings and block heels for the evening.
Chloé collaborated with one of my favorite luxury swimwear labels Eres for this summery option with delicate embroidery.
On the sleeker side, I like the timelessness of The Row's take on the cotton-poplin maxi. It's a silhouette I'd consider wearing to work or for fancier occasions.