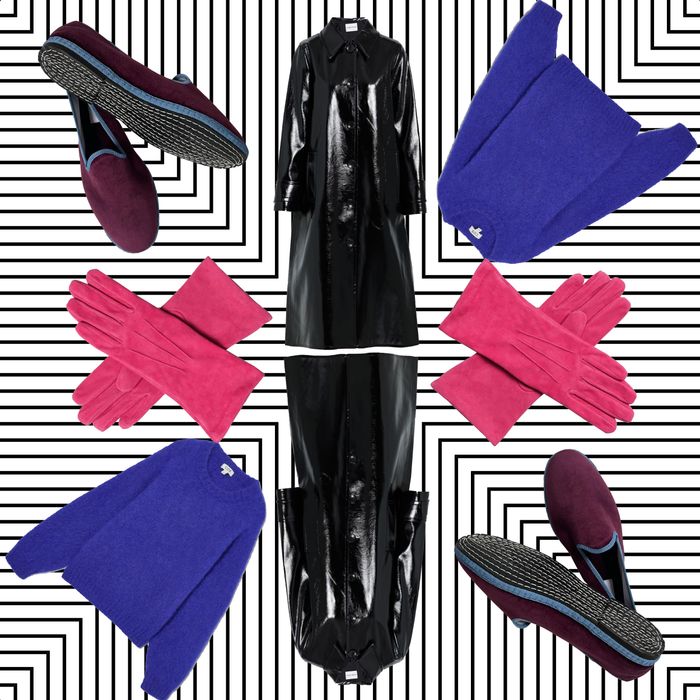 Photo-Illustration: by The Cut; Photos: Retailers
I have a theory that what jewelry is to summer, texture is to winter. In other words, it's the season's most relevant outfit accessory. Jewelry isn't completely obsolete when it's cold out. It just becomes slightly less apropos given all the extra layers and thicker materials, which are likely to overwhelm or even obfuscate a dainty necklace. That's why textures (like lush velvet, thick brocade, fuzzy mohair, and shiny patent leather) acquire a newfound pertinence, festooning outfits with a different yet equally powerful kind of decorative spice.
While layering scarves, gloves, and sweaters hinders the relevance of jewelry, it actually does the opposite for texture, enhancing its potential by providing the opportunity to combine a bunch of different textures in the same look. The visually interesting exchange between textures has a similar effect to that of a tangle of necklaces or a stack of rings — adding opulence, depth, and personality depending on the combination.
If you're on board with this theory and looking to up your texture game before the depths of winter are upon us, keep scrolling for a very ASMR-friendly shopping guide.
Festive Feathers
Technically pajamas, but I would 100 percent wear the tunic with black tights and kitten heels to a party or the silk pants with an oversize sweater and combat boots to a meeting.
A texturized spin on a classic wardrobe staple.
Your upper thighs will never feel more celebrated.
Lush Velvet
This soft, unstructured style from Universal Standard goes up to a size 40.
I'm loving pinafore silhouettes right now, and the fact that this one is green velvet makes it all the more compelling.
Handcrafted by Italian artisans with recycled materials.
Structured Brocade
These have just the right amount of metallic sheen.
For when you want to be the present.
Fill it with Werther's caramels and go dance on some tables.
Fuzzy Mohair
Fuzzy jewel tones! A feast for the senses.
So thick it might actually swallow your head (to be clear, that's the goal).
Picture these peeking out of a pair of gray New Balances.
Shiny Patent
Pairs well with a mohair sweater and crisp slacks.
The rounded toe is just the right shape.
The color of these pants is called potpourri, which feels important.
Ribbed Corduroy
There are almost too many good corduroy pants online to choose from, but these get points for the under-$50 price tag.
A dapper shirt-jacket hybrid for endless layering possibilities.
The cozy corduroy texture really ups the ante on this classic dungaree silhouette.
Buttery Suede
The price on these is really great, and so is the tonal stitching.
In many color options, but I'm partial to the hot pink.
A western-style fringe suede jacket is at the top of my current wishlist. This one goes up to a size 5X.
For more from the Cut Shop team, follow us on Instagram and Twitter, where we share our best new finds, favorite styling tricks, and more.