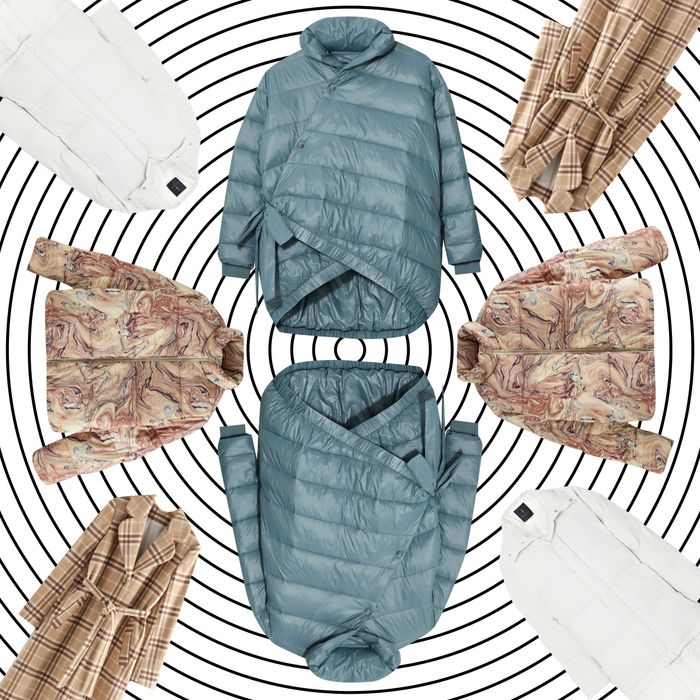 Photo: Courtesy of the Retailers
After months of enjoying nice weather, the cold chill of winter is upon us. While most of us will be spending most of our days inside our new offices (a.k.a. our homes), you can only stare at your apartment walls for so long before you need to get some fresh air and (safe) human interaction. As much as the idea of buying a new winter coat sounds impractical, it's the opposite: This is a year when, regardless of the temperature, outside is the place to be and a stylish, warm coat is your best friend.
Plus, a nice coat is a way to dress up without having to do much. You can throw on a leopard print wool coat over a sweatsuit for a midday walk around the neighborhood or swaddle yourself in a full-length puffer that makes you feel like you're still in the comfort of your own bed when you meet up with friends for an adventurous outdoor hangout.
With that in mind, shop the best winter coats including puffers, classic wool coats, faux furs, fun, fashionable prints, and more below.
The Puffer
A black puffer coat is essential for winter, especially one that is water-repellent.
Available in sizes XS–3XL.
Not into your typical puffer? This one has an asymmetrical cut and an elegant blue color that will instantly spice up your sweatsuit look.
Available in sizes 4XS–4XL.
This ultrawarm, thick puffer is as comfy as a marshmallow and will especially be handy during the first Arctic freeze.
Available in sizes XXS–XL.
Wear it short or long; it's like two coats in one.
Available in sizes XXS–L.
The Modern Classics
A classic camel wool coat to help you transition from fall to winter.
Available in sizes 0–18.
Festive, just in time for the holiday season.
Available in sizes XS–3XL.
Because a classic black coat is something you won't regret buying.
Available in sizes 6–16.
The Cozy Faux Fur
Trendy, affordable, and roomy enough to layer a sweatsuit under.
Available in sizes S–3XL.
This cropped jacket with a faux-shearling lining will keep you warm during one of those weird, warmer-than-normal winter days.
Available in sizes XS–XL.
Thick and fluffy, this teddy-bear coat feels especially nice and cuddly against your skin.
Available in sizes XS–XL.
Looking for something super practical and affordable? Here's a navy number that's on sale.
Available in sizes 2–12.
A cool option that has Scandinavian flair.
Available in sizes 14–28.
The Cocoon
Yes, it's that Amazon coat but in bright yellow, so you're not likely to bump into five other people wearing it on the street.
Available in sizes XXS–3XL.
This coat is fully lined and will have you feeling cozy in temperatures as low as 15 degrees Fahrenheit.
Available in sizes XXS–3XL.
Sleek, sophisticated, and meant for layering with stylish neutrals underneath.
Available in sizes 4XS–2XL.
The Fun Print
Photo: 20-09-09 chercobbold AM1 B2 alex/4854
Throw it over a sweatsuit to dress it up.
Available in sizes XS–L.
For when you need to be a little more formal, this neutral plaid wool coat can do the heavy lifting.
Available in sizes 0–10.
Marble is a subtle attempt at a statement print.
Available in sizes XS–XL.
The Fashion-Forward Coat
Because you'd never wear anything black and plain.
Available in sizes XS–XL.
Photo: 20-09-21 jaylincarlson PM1 B4 je/4860
The one and only oversize sleeping bag you can wear.
Available in sizes XS–L.
The only time you can wear a fresh off-the-runway look and still be outdoors appropriate.
Available in sizes XS - M.