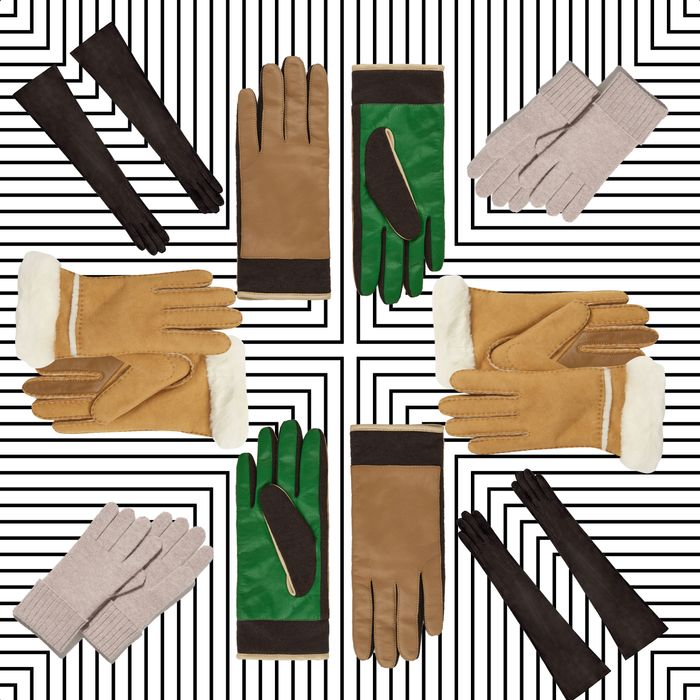 Photo-Illustration: by The Cut; Photos: Retailers
Whether you are an avid skier or just someone trying to survive a New York winter unscathed, we're getting to that time of the year when venturing outdoors with naked fingers is pure agony. Not only is it time to dust off your winter coats, sweaters, and boots, but also to start stocking up on winter gloves. It's a good idea to just go ahead and buy a variety of pairs so you're not caught bare-handed in the freezing winds.
To help find the best winter gloves out there, we spoke with stylists and outdoor experts to get their picks. From everyday wool pairs and leather ones for much needed drama to even a heavy-duty waterproof pair for snow-day activities and plenty that work with a touchscreen (of course, since we're all addicted to our phones), here are 21 pairs to consider buying before it's too late.
The No. 1 Best Seller
These gloves check all the boxes: comfortable, warm, touchscreen compatible, anti-slip palms, not too bulky, and a selection of colors. No wonder they're the top seller on Amazon with 35,000 reviews.
The Affordable Cashmere
If you're unsure where to begin when it comes to gloves, a solid cashmere pair will not steer you wrong. This pair features wide ribbing for easy styling and comes in eight colors for lots of options. The only downside with cashmere is that it requires dry cleaning, but your warm hands will thank you later.
The Heavy-Duty Ones
Outdoor writer Ebony Roberts loves these gloves for their practicality and warmth, plus they are tech-friendly. "They're a big step up from cheap knit gloves that are slippery, get soaked with wet snow, and leave your hands cold. The Etips are fleece-lined without being bulky, so they're perfect for chilly early-morning dog walks, running errands, or hitting up the playground with my son," Roberts says. "The partial palm grips are useful but not too sticky, and they can be clipped together when not in use, which is great because over the two seasons I've worn them, I haven't lost one yet." Deputy style editor Joanna Nikas also has them and agrees, adding that they are not too bulky and look sleek.
The Fuzzy Mittens
Apparis is known for the soft faux fur its products are made of, and these mittens are no exception. Equipped with a flip-and-fasten, these dual gloves come in neutrals as well as fun colors like hot pink and blue.
The Touchscreen Gloves That Actually Work
These gloves from Amazon feature touchscreen capability on all ten fingers (and it actually works) and a gripped interior to hold your phone — and they're made from micro-fleece for extra warmth. No matter the gadget, these gloves won't keep you from TikTok or your text messages.
For When It's Really Cold
Canada Goose is known for its luxurious puffer jackets, and its gloves are just as effective. These high-performance gloves are down filled, with a durable water-resistant shell that guarantees to keep you dry. Plus, they have adjustable locks at the wrist to seal in warmth and extra-long fleece storm cuffs.
For When It's Really Cold But You're on a Budget
It's a good idea to have some gloves that'll withstand below-freezing temperatures just in case. However, despite the positive reviews when it comes to comfort, reviewers do note that they are not phone-screen-friendly.
A Color-Blocked Pair
With their fall color palette, these gloves make the cold bearable. Crafted from leather, wool, and cotton, they're insulated with a cashmere lining so you don't have to choose style over function.
If You Love UGGs
If you're a fan of UGG boots, it's safe to assume you'll like its gloves just as much. "I love these UGG Shearling touchscreen gloves that match with everything, while keeping your fingers warm at the same time," says celebrity stylist Jasmine Caccamo. "They're durable, can withstand the flurries, and can pair with a camel jacket or your Prada puffer."
To Express How You Feel About Winter
If you hate winter and want everyone to know it, these gloves are the way to go. Made from over 90 percent wool, they're sure to keep you warm.
A Pair to Match Your Puffer
Puffers are a staple coat every winter because they're reliably warm, and your hands can enjoy the same thing, too. Made from an insulated material, these gloves are waterproof and breathable and have a soft lining on the interior to wick away sweat in case they are too warm. They also feature a band to secure the lining to the glove, as well as a clasp to attach them to one another in case you're forgetful.
For a Cold Run
For any outdoor activity in the cold, these are your answer. These polyester gloves keep you warm while maintaining full function, including being able to use a phone. Plus, they have reflective details that enhance visibility in low light and at night so you can stay safe and warm outside, even if the sun is setting at 3 p.m.
The Ones You've Seen on the Runway
While fashion editor Bella Gerard used to go out of her way to avoid gloves, she told the Cut that lately the aesthetic outweighs the impracticality and she's ready to lean all the way in. Her favorites? The Seymoure Classic Runway Gloves. "Sex and the City stylist Patricia Fields is a fan, and the supple Italian leather and great fit won me over the first time I tried them on," she says.
The Splurge-Worthy Ones
Stylist Tori López has been eyeing these Prada leather gloves for a while now and is almost ready to purchase. "The glove itself is very practical — made of lustrous nappa leather to keep your hands warm despite it also having an impractical pouch that might fit nothing but some loose change," she says. "This juxtaposition immediately had me sold. They come in multiple colorways, but the black will surely go with any coat of your choosing."
The Pink Ones
Made from leather, these light pink gloves from Zara will be the perfect statement piece of any outfit.
If Your Arms Get Colder Than Your Hands
Even if you aren't a glove person, your arms probably get cold during the winter months, making these chunky knit arm warmers the perfect compromise. They have ribbed detailing and thumbholes at both wrists, so you can wear alone or over another pair of gloves for extra warmth.
For Your Ski Trip
These metallic ski mittens will have you shining out on the slopes. Made with recycled polyester for extra warmth and padding, they feature a Velcro closing to keep them nice and snug. Even if you tend to watch rather than ski, these are still a great option.
If You Only Like Fingerless Gloves
If you're not a glove person but you just deal with cold hands, fingerless gloves may be the way to go. You can wear them without feeling like you're restricted, and even though the tips of your fingers will still be a little chilly, everything else should be warm. These classic black gloves are made from wool to keep you warm.
The Sustainable Fingerless Ones
If you're looking to invest in a fingerless pair of gloves, these are made from a recycled cashmere blend and are like a sweater for your hands (even if they're not covering your fingers).
If You Can't Make Up Your Mind
Sometimes you really need to use your bare fingers without the rest of your hand freezing, but you still want the option of covering your fingers up. This is where these convertible wool mittens come in.
For the Layering Lover
Made from wool, these double-layered gloves act as an insulator, making them the perfect pair for anyone who always has cold hands.
A Toastier Leather Pair
While leather gloves are warm, these give you the option to choose between a fleece or cashmere lining on the interior for extra warmth. The outer leather has a 360 touchscreen capability for any and all tech needs.
This article was originally published on November 21, 2019. It has been updated throughout. If you buy something through our links, New York may earn an affiliate commission.