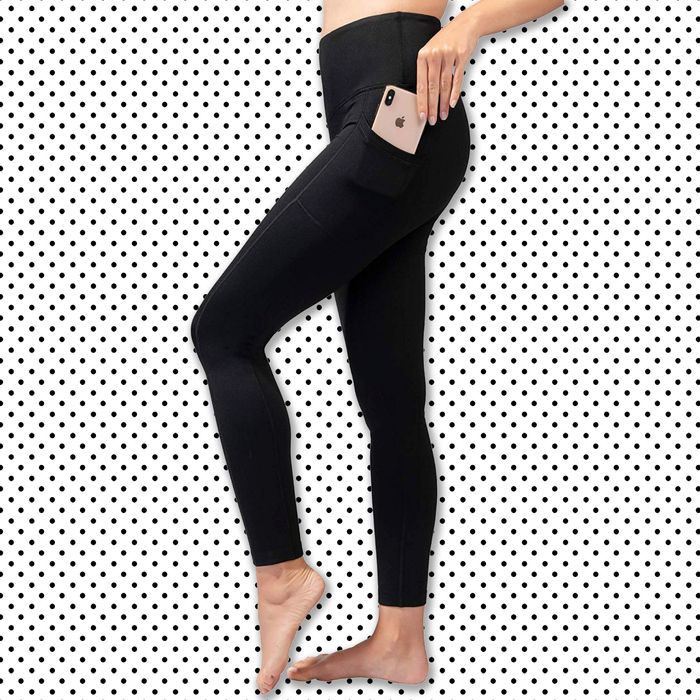 Photo: Courtesy of vendor.
Whether you love frigid morning runs or just want to be warm during the part of your commute when you're forced to be outside, fleece-lined leggings are a winter essential. You can layer them underneath pants or wear them under a skirt in lieu of tights on the coldest days. You can also wear them on their own, because leggings are, indeed, pants. From fun stand-alone pleather options to basic lounging and layering pieces, we've collected the best fleece-lined leggings and pants to help you get through whatever this winter throws your way.
The Best Performance Leggings
These leggings are sturdy enough that you can run in them on brisk days, but thin enough to layer under pants when the temperature dips below zero. Reviewers note that they run long, so taller wearers need not worry about chilly ankles.
Available in sizes XS to XXL.
The Weekend Warriors
These leggings come in six different colors — mainly jewel tones like "dark sea" and "fig sugar" — and five of them feature pockets. While they may not be office appropriate, they're definitely warm enough for lounging around or running errands on colder days.
Available in sizes S to XL.
If You're Feeling Festive
These might not keep you warm during a blizzard, but at least you'll feel cute thanks to the velour. The pants have a double-layered elastic waistband which smooths without digging into your waist. And they would pair well with an Ugly Holiday Sweater, if you're into that sort of thing.
Available in sizes XS to XL.
For Leather-Inspired Warmth
These pleather leggings from Plush can be dressed up or down, making them a versatile piece of your cold-weather tool kit. With a sleek nine-inch rise and subtle sheen, they'll keep you warm and make you look tough all winter long.
Available in sizes XS to L.
The Best Size-Inclusive Option
These active leggings are perfect for the gym, but warm enough to keep you cozy during bleak winter days. Buyers absolutely love these — one reviewer who bought a pair for a trip to Iceland says they lasted multiple days without stretching out.
Available in sizes M to 6X
An Ultrawarm Maternity Pick
Pregnancy can be full of things that are impossible to expect, but you can depend on these for comfort and warmth. One reviewer wrote that they kept her warm during a winter pregnancy in Wisconsin, which is as glowing a review as it gets.
Available in sizes XS to L.
An Affordable Staple
Every winter, people rave about Uniqlo's Heattech base layers, and for good reason. These are the warmest leggings in the Heattech line, with a brushed lining for extra softness. And at under $30 a pair, it's easy to stock up.
Available in sizes XS to XXL.
Jeggings Warm Enough for the Polar Vortex
No layering is required with these sleek jeggings — they're super-cozy and structured enough to wear on their own. They also have functional back pockets, which can be hard to find in a pair of jeggings.
Available in sizes XS to XL
A Classy Ponte Legging
These are a more office-appropriate fleece-lined pant that you can pair with your favorite chunky sweater. The wide elastic waist provides both smooth lines and tons of comfort.
Available in sizes M to 6X.
A Pair of Uggs. No, Not That Kind.
Ugg, the brand that inspired many memorable mid-2000s looks, also makes leggings! These are lined with double-knit fleece, but are still lightweight and not bulky.
Available in sizes S to XL. 
The Best High-Waisted Option
Wear these high-waisted leggings with a cropped sweater for an easy but polished winter outfit. Plush's matte fleece has a lower pile, so you get all the softness and warmth of fleece without feeling like your legs are inside an overstuffed pillow.
Available in sizes XS to L.
If you buy something through our links, New York may earn an affiliate commission.