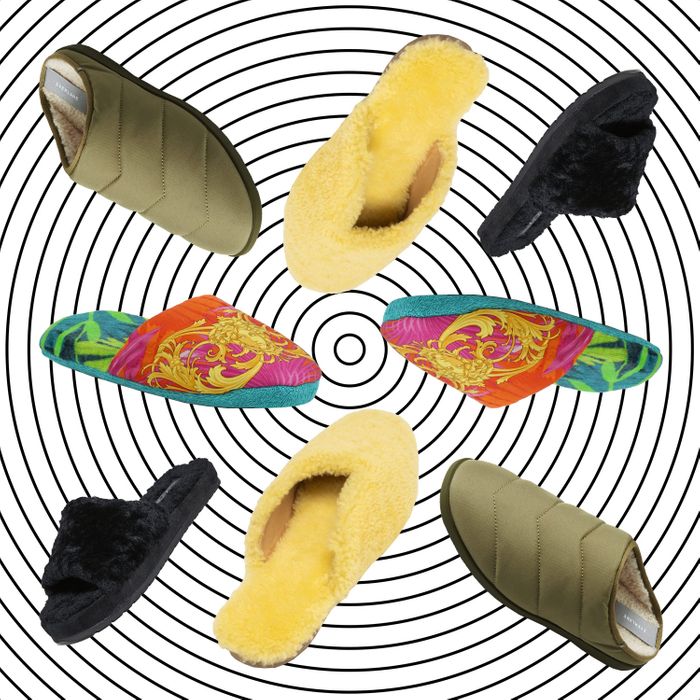 What's the equivalent of sweatpants for your feet? As the weather gets colder and we settle in for a long winter indoors, it's time to buy a good pair of house shoes. You could go the shearling-lined Birkenstock route, but if you're looking for something different, there are plenty of fuzzy slippers, cashmere-lined slides, and sleeping bag-like styles out there. Below, we've rounded up 20 pairs of the best, most stylish house shoes we could find. Added bonus: some of these can also be worn outside, even if the furthest you're going is to grab a delivery. Scroll ahead to shop our favorites.
If You Want One Pair That Does It All
Like the Cut's fashion writer Emilia Petrarca said, these fashion-world favorites can go from working from home to the grocery store. The soft shearling feels extra luxurious.
The Surprise Amazon Find
Reviewers praise how fluffy and comfortable these faux-fur slippers are — plus they come in a rainbow of colors.
If You're Nostalgic for the '00s
Yes, Uggs are cool again. These fuzzy slides can be worn at home or out and about. If you're heading outside in the cold, a pair of brightly colored, warm socks are a smart addition.
Because Crocs Are Cool Now
Christopher Kane put colorful rocks on Crocs, and Balenciaga made over-the-top platform ones, but you can have just as much fun with a classic pair from Amazon. They're ideal if you run hot or want a little extra support from your house shoes.
If You Want Spa Vibes
While you can't be at the Amangiri getting the best massage of your life, you can at least pretend you're relaxing in bliss with these spa-like slippers.
If You Love Cashmere
To go with your cashmere sweater and cashmere sweatpants, obviously.
If You Want Something Fancy
They're pricey, but you can wear these soft leather slippers out in the real world too.
If You're Looking for Something Simple
These are stretchy and feature cushioned soles. When it's safe to go on vacation again, just stash them in the matching travel bag.
If You Consider Leopard a Neutral
Fluffy and fun, they'll add some personality to sweatpants.
If Your Feet Get Really Cold
Lined in sheepskin, these are the ultimate toe warmers. They're also a great gift.
The Outdoorsy Ones
While they're not by Montbell, these slippers capture that cool camper aesthetic.
If You Miss Old Celine
These bring to mind Phoebe Philo's infamous Big Bird-esque heels.
If You Miss Old Celine, But You're on a Budget
These have all the same Philo-vibes, except they're affordable. If you really want to style them like she would, try it with silky pajamas pants.
If You Have Wide Feet
Reviewers love how roomy the toe area is and how lightweight these feel.
Because You Love Clogs
Squishy and supportive, they're also ideal for running quick errands.
The Minimalist Pair
All the better to match your closet of neutrals.
The Eco-Friendly Pair
Made from recycled materials, these slippers allegedly feel like a "duvet for your feet", which sounds pretty alluring to us.
If You Want Your Life to Be Soft and Soothing
Fluffy kitten? Check. Pastel decor? Check. Now all you need to compliment that aesthetic are these pale pink slippers.
If You Love to Be Flashy
As far as Versace goes, these are downright affordable. While they're labeled as men's, their sizing is unisex-friendly.
The Instagram-Ready Pair