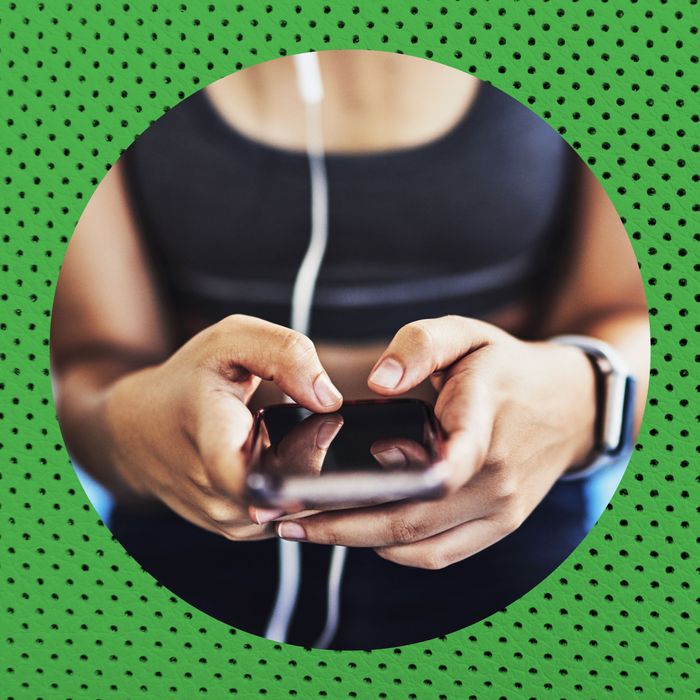 Photo-Illustration: by The cut; Photos: Getty Images
"Hot Bod" is a weekly exploration of fitness culture and its adjacent oddities.
Six years ago, I stumbled upon the first exercise app that I was ever truly loyal to. I used this "7-minute workout" app, generously made by the New York Times, almost every day for a year when I was biking all the time and doing little else. This app gave me my arm strength. It was super-simple, basically a timer with a cartoon of someone doing a triceps chair lift and then a cartoon of someone doing a push-up. But its simplicity demystified the entire concept of strength training for me. Its very existence reminded me daily not to be a human centaur and actually build some muscles outside of my legs. It was both low-fi and glitchy, but, crucially, it was also free. And then one day it was gone, disappeared from my phone and out of my life.
Things come and go in this world—and though I still grieve, I've had no choice but to move on with my heavy heart and restless limbs. There are hundreds of fitness apps, but here are a handful of good ones. If you like any of these as much as I once loved my low-fi workout app, I will know my heartbreak has been worth it.
For the Time-Pressed Minimalist: the be.come project 
I am a broken-record loyalist to the be.come project, but it's just got the alchemy. Its 30-minute strength-building stretchy movements are somehow both straightforward and engaging. If your fitness-app desire is to find one go-to routine on your phone, the be.come project is a simple, reliable choice. It's calm, no-frills, and graceful. Doing it regularly has reduced my general creaky-bones feelings to zero, and I continue to be tickled by the surprising music choices. There are some classes out there that make me feel more energetic and therefore a little chaotic, but the be.come project always just leaves me feeling more peaceful and streamlined.
$35/month after a ten-day free trial. 
For the Restless Variety-Seeker: JetSweat
The JetSweat platform is like a fitness Rolodex, and it has got the chic-sleek boutique contacts. There's never been a better time to take an isometric-stretching class based in Manhattan or an avant-garde yoga class based in Manhattan or a pilates class based in Manhattan or a high-intensity-cardio class based in San Francisco. The JetSweat platform hosts classes from 38 studios, including Stretch*d, Salt, Woom, and Hit House — with live stream options and on-demand. Get ready to start obsessing about the negligible architectural variety of trendy classes: It's high ceilings, blond-wood, and huge windows galore.
$19.99/month after a seven-day free trial.
For the Screen-Exhausted: Go
Go is peculiar in its simplicity: It's just audio. You can select your music genre (if your preferred genre is something like EDM or pop), which plays lightly in the background as a trainer guides you through an outdoor running workout or a plank core-strength series. My blue-light-battered eyeballs actually thanked me, as I did squat-jumps without training them on a screen. It's shockingly more commanding than a video, like a personal trainer/voice-of-God thing. It kind of changed my world that I didn't need to be looking and imitating. I could just be told to squat and then squat.
$7.99/month or $47.99 a year after a 14-day free trial. 
For the Hearty, Windblown, Outdoorsy Summer Child: AllTrails
In a poetic sense, all apps are portals, but this app actually is. It exists to get you out into the world. Yelp for the Earth, AllTrails reviews hiking trails. A community of hikers freely share their sagas, photographs, and reports of wildlife and weather. The crowdsourcing is great for things like trail maintenance (people will tell you if they got lost or got muddy) and animal encounters. "Three rattlesnakes," "our dog got ten ticks," and "aggressive mountain goats" have been some reports that influenced my personal choices. Think of the app as your friend who used to be a park ranger in whatever locale you're searching. They've been on every path, they know the details, they can tell you the views … but this friend is also slightly unreliable. The free version can glitch and sometimes go dark when you're away from cell service, a frequent occurrence while in that great out-of-doors.
Free; pro version is $29.99/year
For Jock Dabbler: Nike Training Club 
A very enviable compliment: While the Nike Training Club is free, it doesn't feel free at all. It's got all the standard options for strength and cardio. The app also has a slightly comical level of respect for me. It really treats me as if I am an athlete, training for a purpose. And I guess it doesn't know! It's possible it could be instructing an Olympian! Instead, it's just me, and I've probably run off halfway through the core work to open a birthday present from my mom's best friend. Thank you, Wendy, for the records!
Free
For the Party Girl: 305 Fitness
Recommending the 305 Fitness app feels a bit like recommending a pair of amazing frosted martini glasses in a list of necessary, workaday kitchen implements — as one should! Frivolity is how we show ourselves to be alive in this world! 305, named for the Miami area code, is dance-party cardio with lots of strutting, pink mesh, and girlish compliments on your popping peach. And in the end, it's bouncy cardio with extras (core work, stretching), which is all you need, really.
$10/month
For the Very Beginner with Room to Grow: Apple Fitness+
Apple's ambitious new digital fitness platform has an impressively welcoming attitude. Fitness+ classes include running, cycling, HIIT, yoga, rowing, and strength — and each category features exceedingly helpful introductory videos, in which patient, chirpy fitness instructors walk you through the basics, from how to hold a plank to fitting your stationary bike. An Apple Watch is necessary, as is bearing witness to the brightest, biggest smiles you've ever seen from someone who is helping you.
$9.99/month after a one-month free trial.
For the Retro Revivalist Who Likes Things Well Lit: obé 
Oh man, I am a sucker for an aesthetic. Not necessarily, like, a specific aesthetic, just any kind of aesthetic vision — and obé has it. Its instructors, each more glowing than the last, teach from what appears to be a Donald Judd–knockoff cube of light. There's something deeply satisfying about working out with obé. It's well produced and well organized, with creative, pleasing series to choose from like "Endorphins" and "Harder" and "Abs".
$27/month or $199/year.
For the Absurdist Fan of Celebrity Culture: FitOn
Wooed by an Instagram advertisement, like all suckers before me, I found myself enthralled by FitOn, a truly bizarre exercise app. If you also would like to do some deep squats with the best long-haired charmer from the neo-reality TV landscape (Queer Eye) or the most talented cheer choreographer from 2000's greatest cultural offering (Bring It On), guess what: Johnathan Van Ness is wiggling along to dance cardio, Gabrielle Union is leading a dumbbell routine. I did everything along with them! With no intention to! I got mesmerized. The routines are short, beginner-oriented, and hypnotizing in a slightly sinister way.
Free
For the speed racer: Strava 
Also popular with runners, Strava is the fitness app beloved by every cyclist I know, from racers to weekend adventurers (except me: I don't like that it ranks people by speed. I find it breeds unnecessary competition). Strava tracks your route and keeps your metrics (how fast you're going, how far you went, how many feet you climbed, etc.). As the app keeps your completed paths on a map — and you can see other people's as well, if they post them publicly — it's also a great resource for scouting routes, if you don't mind a little creeping.
Free; subscription version with extra metrics is $5/month when billed annually.