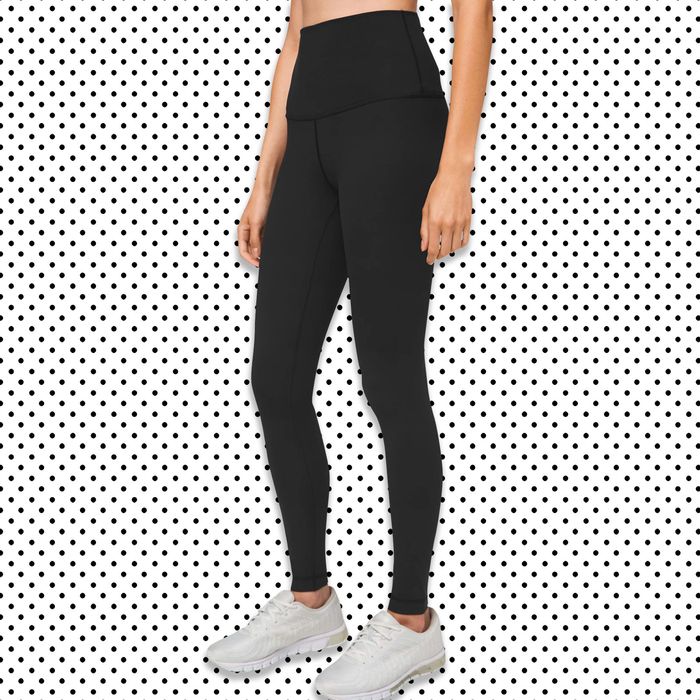 Photo: Courtesy of the Retailer
During the four years I worked as a rock-climbing instructor, I bought many pairs of leggings for my job. And after wearing them nearly every day, I feel well equipped to say this: Leggings can make or break a workout. A pair that fits well can literally support you and help you get hyped to exercise. On the flip side, nothing is more discouraging or distracting during a workout than ill-fitting clothes. I spent years searching for leggings that suited my needs (durable, easy to mix and match, good stretch) and to this day still own more leggings than "real" pants.
The perfect workout leggings should hug your curves without gaping and keep you comfortable. If you're doing super-sweaty outdoor workouts, you'll want a pair that wicks moisture and doesn't slip down as you move. For yoga or other low impact workouts at home, a stretchy, supportive pair without compression is ideal. Below, a list of the best 24 workout leggings perfect for your needs.
The Amazon Holy Grail
Reviewers really, really, really, love these leggings from ODODOS. There are more than 9,600 reviews for them on Amazon, with more than 60 percent five-star reviews. The top review is titled simply "BUY THEM!" The pants are comfortable for lower-impact activities, but might not stand up to a HIIT or boxing class.
Available in sizes XS–XXL.
The Ultrahigh-Waist Pair
It wouldn't be a workout legging list without Lululemon, would it? These offer super-high coverage and go all the way up past your belly button, making them perfect for pairing with crop tops or your favorite sports bra without worrying about exposing a ton of skin. As one reviewer notes, it accentuates your waist for a "snatched" look. The "Full-On Luxtreme" fabric is smooth to the touch and meant for lower-impact activities like yoga.
Available in sizes 0–14.
A Solid Mid-Rise Option
If you'd prefer a lower rise in the world of ubiquitous high-waisted pants, these gems from Amazon are your answer. They have a functional pocket, are "squat-proof" (meaning they won't suddenly become sheer or split when you squat down), and are just as comfortable for lounging as they are for working out.
Available in sizes XS–3X.
The Best Warm Workout Leggings
We wrote about these fleece-lined pants in our fleece-lined winter leggings round up, and we are still obsessed with them for wintertime workouts. They're lightweight and wicking enough for you to workout in them without becoming a living puddle of sweat, but warm enough to brave ever-dipping temps outside.
Available in sizes XS–XXL.
Best Animal Print
If you're only into wearing black or neutral-toned leggings, these snakeskin print leggings are a nice way to mix things up without being too splashy. With a crossover waist that's less likely to roll down, they're great for low- and high-impact workouts alike.
Available in sizes XXS–XXL.
Best Leggings for the 'Gram
These Instagram-friendly leggings can hold up for a wide gamut of activities (biking, yoga, rock climbing.) I use them as a base layer under jeans for the coldest months of the year because the shorter hem doesn't peek out. The textured compression smoothes over curves and feels like a firm hug. The material is made to last, but if you're going for a buttery feel, these will be a little too coarse to the touch. The three-quarters length hits just above the ankle for me, but if you're taller and want a similar cut, go for the seven-eighths version.
Available in sizes XS–XL.
The TikTok Trendy Pair
Like many of the trends from the '90s and aughts, TikTok influencers like Emma Chamberlain have rebranded and brought back flared yoga pants. If you're interested in trying them out, this pair features a cropped flare that can work for both running errands or light workouts like yoga or low-impact strength training.
Available in XS to XXL. 
The Sustainable Option
Girlfriend Collective's leggings are made with recycled water bottles — the entire production process was designed with sustainability in mind, from sourcing bottles to how the fabric is dyed. They're also super-cozy and have a soft, almost shiny texture to them. Since the fabric is tightly woven synthetic material, they tend to hold heat well. They're great for brisker activities, less so for super-sweaty ones. These have a super-high rise, too, making them ideal for when you want to wear a crop top but not show a ton of skin.
Available in sizes XS–XL.
Best Lightweight Legging
It was only a matter of time before Everlane got into the athleisure game. Made with 58 percent recycled nylon and 42 percent elastane, these are ideal for low-impact workouts while being gentle on the environment. They're also lightweight without being see-through and come in two lengths, especially helpful if you're on the petite side.
Available in sizes XXS to XXL.
The Budget Pick That's Not See-through
Buying cheaper leggings online is always a gamble because no one wants to be stuck with see-through fabric. Luckily, these leggings from Olacia have more than a thousand reviews, and fans say they're completely opaque. Reviewers add that these have a comfy, high rise and great quality for a sub-$20 price. There are also several colors options in both a full and crop length, so you can mix things up, too.
Available in sizes XS–XXL.
Best Pocket Leggings
These leggings are made with a blend of polyester and spandex to stretch and move with you during a workout. There are two pockets, which are just large enough to fit a phone. Smaller pockets are actually a good thing in a pair of leggings, because it holds your phone in place by your hip rather than sending it all the way down your thigh.
Available in sizes XS–XXL.
The Best Durable Leggings
Leggings are great for workouts like running or dance class because they move with you, but they can be trouble on hikes or adventure sports because the soft fabric is prone to snags and tears. These Carhartt leggings offer the best of both worlds. One reviewer wrote that they are "Magic Pants!" that were perfect for a day of hiking and horseback riding.
Available in sizes XS–XXL.
Best Leggings for Winter Running
Reviewers rave about these fleece-lined tights meant to keep you warm and dry during winter workouts. The waistband has an internal cord to keep everything in place during runs and there's a reflective logo above the left knee to help make you visible during early morning runs.
If other winter sports appeal to you more than running, reviewers said these leggings are also great for curling, snowshoeing, skiing, and snowboarding, either on their own or as a base layer underneath snow pants.
Available in sizes XS-XXL.
Best for Studio and Barre
When doing a barre-style class, you need something that stretches and can withstand movement without being too constricting. The Freeform leggings do all that and more. They're oh-so-soft and feel like a second skin. They have a high rise, and the wide waistband doesn't pinch at the waist.
Available in sizes XS–XL.
Best for Running
Strategist writer Karen Iorio Adelson wrote about these capri-length leggings in her Best Women's Running Clothes roundup last fall, and they're a solid buy. The light material fits snugly like a second skin while keeping you cool, and an interior waist drawcord prevents the pants from slipping down every few strides.
Available in sizes 0 to 14.
The All-around Classic
If you're looking for one pair of leggings to rule all workouts, these can withstand anything you throw at it. Lifting? Check. Running? Check. The fabric is made with sustainable materials, passes the squat test, and wicks away sweat to keep you dry and cool. Plus, it features a high-rise waistband that won't roll down during your workout.
Available in sizes XS to 3X.
Best for Yoga
If you're looking for buttery-soft leggings, these are the gold standard. The Nulu fabric with added Lycra is stretchy and supportive, moving with you even through extra-sweaty flows. The small pocket in the front of the waistband can fit an ID or credit card and lies flat with a high rise. The 25-inch length has the widest size range, but there are 28- and 31-inch options as well. And don't worry if they run too long: If your local store is open, they can hem or repair busted seams at no cost.
Available in sizes 0-20.
Best for Intense Training
When asked about their favorite leggings for HIIT or TRX classes, fitness instructors raved to the Strategist about the Nike Pros. There's plenty to love: The tights are moderately priced, hold up well to the constant moving and sweating required from high-intensity training, and spring back into shape wash after wash.
Available in sizes XS to 2XL.
The Just-in-Case Pair
Back when we worked in offices, I always tried to keep a spare pair of leggings in my desk or bag in case I decide to squeeze in a last-minute workout. This cropped pair doesn't take up much space in a tote bag and are really comfortable. You can wear these with different types of underwear but they aren't sweat-proof, so if you're doing hot yoga or spin, they're not as breathable.
Available in sizes XXS to XXL.
The Best Maternity Workout Leggings
These leggings are made to move and grow with you throughout pregnancy. The wide over-the-belly waistband can be worn up or folded down and is made from the same cozy material as the rest of the leggings for a sleek silhouette. The four-way stretch material is also UV protected.
Available in sizes XS-XL.
The Best Mesh-Panel Leggings
People will tell you that mesh panels in leggings help ventilate your body during a workout and better wick away sweat. These people are lying. Mesh panels don't really add functionality to workout leggings, but they do help to mix things up in the sea of color-block athletic attire. These are cute enough to wear outside of the gym, but can still withstand low-intensity workouts like a chill vinyasa flow. There's a small pocket in the back of the waistband that can hold a credit card or keys, but don't put cash in there unless you want to tip your yoga instructor with a sweat-drenched bill.
Available in sizes XS–3X.
Best for Lifting
Lightweight and breathable for your most intense training sessions, they also have plenty of support for weight training. Reviewers love the way it makes their butts look. This material is super stretchy, so If you think you might be between sizes, you can size down for a more compressive fit.
Available in sizes XS-XL.
The Do-It-All Legging
These tights can handle everything from a light jog to an intense CrossFit session and are made with recycled nylon that'll stretch without losing shape. They also feature functional details: a zippered pocket at the back for your phone, while additional zippers at the hem will make it easier to peel the leggings off after a sweaty workout.
Available in sizes XXS to 3X.
The Best for Your Butt
Sweaty Betty Leggings are known to be the leggings to make your butt look great. The Super Sculpt leggings have a near perfect rating on their website, with reviewers remarking that the fabric smooths cellulite and stays up during workouts. One reviewer writes, "I bought these for working out but I have been wearing them for everything because they shape my body and look so good."
Available in sizes XXS–XL.
If you buy something through our links, New York may earn an affiliate commission.