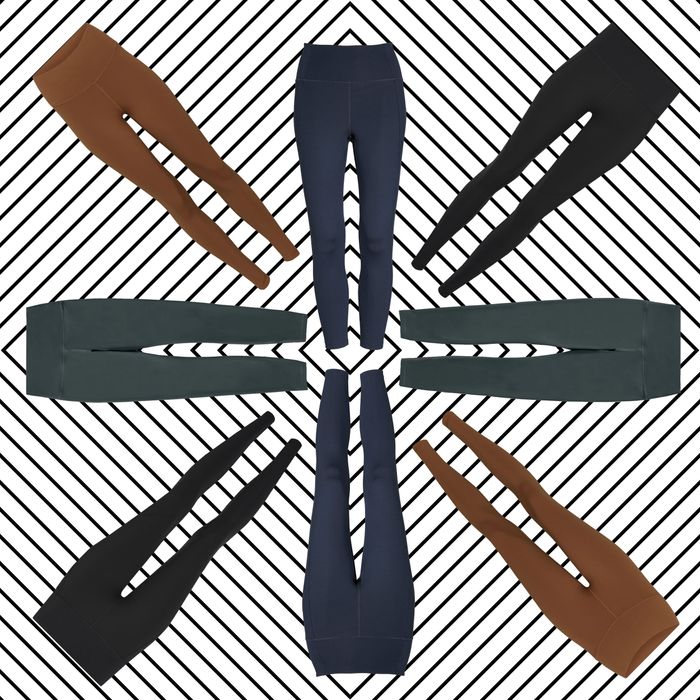 Photo-Illustration: The Cut; Photos: Retailers
During my six years as a shopping writer, I've reviewed many pairs of leggings for my job and for personal interest. And after wearing them for Pilates, Rumble, Monster Cycle (RIP), "hot-girl walks," running, trampoline classes, at-home workouts, dance classes, and many other workout options, I feel well equipped to say this: Leggings can make or break a workout.
A pair that fits well can support you and help you get hyped to exercise. On the flip side, an undesired wedgie or a waistline that doesn't stay put can discourage you. And as much as I would love a "one-legging-fits-all" approach, I struggle to say that exists.
That's why I've filled my closet with leggings for different types of workouts: high-waisted ones, ones with pockets, and even some that are fleece-lined. I've listed the best leggings for any type of workout below.
The Best Amazon Leggings for Low-Impact Workouts
Reviewers really, really, really, love these leggings from ODODOS. There are more than 5,900 reviews for them on Amazon, with more than 70 percent five-star reviews. The top review is titled simply "Love these leggings." The pants are comfortable for lower-impact activities, but might not stand up to a HIIT or boxing class.
Available in sizes XS–XXL.
The Best Leggings for Dance Class
Whenever I want to add one of Obé's on-demand dance-cardio classes into my workout routine, I like to wear my Zella leggings. Something about the blue hue makes me feel like I'm a professional dancer. Plus, they hold up well during the 45-minute sessions of cardio and whenever I just freestyle and make a complete fool of myself.
Available in sizes XXS–XXL.
The Best Leggings for Cardio Boxing Class
Photo: Nordstrom
If you're in the mood to punch a bag, wear these leggings. You won't have to worry about them moving around or being too tight. You'll have more time to release all that pent-up stress during your class instead of adjusting your leggings every so often.
Available in sizes XS–3XL.
The Best Leggings for Your Daily Walks
Aritzia fans know that their leggings are the best for running errands. They are buttery soft, hug your curves just right, and can withstand carrying your groceries up your walk-up and a full day of doing your laundry.
Available in sizes XXS–XXL.
The Best Leggings for Stretching
Recently, I took a somatic movement class where you lay on the floor and focus on your pelvis by doing subtle movements. These leggings felt so comfy that I forgot I had them on.
Available in sizes XXS–3X.
The Best Leggings for Pilates
Don't take it from me, but Hailey Bieber and Kendall Jenner also turn to their Alo Yoga leggings for a Pilates class. And while the Rhode founder likes to wear the high-waisted Alosoft Highlight leggings, I gravitate towards the 7/8 high-waisted Airlift because the double-knit Airlift fabric definitely works wonders. The moisture-wicking technology just soaks up the sweat, so I don't feel sticky at all.
The Best Legging to "Do It All"
It wouldn't be a workout legging list without Lululemon, would it? These offer super-high coverage and go all the way up past your belly button, making them perfect for pairing with crop tops or your favorite sports bra without worrying about exposing a ton of skin. As one reviewer notes, it accentuates your waist for a "snatched" look. The Everlux fabric is smooth to the touch and meant for lower-impact activities like yoga.
Available in sizes 0–20.
The Best Leggings for Squats
If you'd prefer a lower rise in the world of ubiquitous high-waisted pants, these gems from Amazon are your answer. They have a functional pocket, are "squat-proof" (meaning they won't suddenly become sheer or split when you squat down), and are just as comfortable for lounging as they are for working out.
Available in sizes XS–3X.
The Best Warm Workout Leggings
We wrote about these fleece-lined pants in our fleece-lined winter leggings round up, and we are still obsessed with them for wintertime workouts. They're lightweight and wicking enough for you to workout in them without becoming a living puddle of sweat, but warm enough to brave ever-dipping temps outside.
Available in sizes XS–XXL.
The Best Leggings for Cycling
These Instagram-friendly leggings can hold up to a wide gamut of activities, but I prefer them for cycling. The darker patch at the front of the leggings is perfect to hide any sweat stains during your biking session. The material is made to last, but if you're going for a buttery feel, these will be a little too coarse to the touch.
Available in sizes XS–XL.
The Best Sustainable Leggings
Girlfriend Collective's leggings are made with recycled water bottles. They're also super-cozy and have a soft, almost shiny texture to them. Since the fabric is tightly woven synthetic material, they tend to hold heat well. They're great for brisker activities, less so for super-sweaty ones. These have a super-high rise, too, making them ideal for when you want to wear a crop top but not show a ton of skin.
Available in sizes XS–XL.
The Best Leggings for At-Home Workouts
Made with 58 percent recycled nylon and 42 percent elastane, these are ideal for at-home low-impact workouts. They're also lightweight without being see-through and come in two lengths, especially helpful if you're on the petite side.
Available in sizes XXS to XXL.
The Best Leggings for the Gym
These leggings are made with a blend of polyester and spandex to stretch and move with you during a workout. There are two pockets, which are just large enough to fit a phone. Smaller pockets are actually a good thing in a pair of leggings, because it holds your phone in place by your hip rather than sending it all the way down your thigh.
Available in sizes XS–XXL.
The Best Leggings for an Adventure
The North Face is always the best brand for adventures. These leggings are quick-drying, high-rise waist, and have zipped and drop down pockets. Perfect for a weekend trip lounging and hiking in LA.
Available in sizes XS -XL.
The Best Leggings for Studio and Barre
When doing a barre-style class, you need something that stretches and can withstand movement without being too constricting. The FreeForm fabric leggings do all that and more. They're oh-so-soft and feel like a second skin. They have a high rise, and the wide waistband doesn't pinch at the waist.
Available in XXS - 3X.
The Best Leggings for Running
Strategist writer Karen Iorio Adelson wrote about these capri-length leggings in her Best Women's Running Clothes roundup, and they're a solid buy. The light material fits snugly like a second skin while keeping you cool, and an interior waist drawcord prevents the pants from slipping down every few strides.
Available in sizes 0 to 20.
The Best for Leggings for Yoga
If you're looking for buttery-soft leggings, these are the gold standard. The Nulu fabric with added Lycra is stretchy and supportive, moving with you even through extra-sweaty flows. The small pocket in the front of the waistband can fit an ID or credit card and lies flat with a high rise. The 25-inch length has the widest size range, but there are 28- and 31-inch options as well. That's all to say, yes, they are worth the hype.
Available in sizes 0-14.
The Best Leggings for Intense Training
There was a time pre-pandemic when I trained with Nike trainers. Since the workouts varied each time, these were my favorite leggings to wear because, despite the constant moving and sweating, these hold up well and spring back into shape wash after wash.
Available in sizes XS to 2XL.
The Best Leggings for Lifting
Our very own beauty writer, Asia Milia Ware, swears by Gymshark. Their leggings are lightweight and breathable for your most intense training sessions, and they also have plenty of support for weight training. The material is super stretchy, so if you think you might be between sizes, you can size down for a more compressive fit.
Available in sizes XS-XL.
The Best Leggings for Trampoline Workouts
Sweaty Betty Leggings are known to be the leggings to make your butt look great. You take that and pair it with a trampoline workout class? Your behind will look and feel great. Trust me.
Available in sizes XXS–XXL.
The Best Leggings Overall
If you're looking for one pair of leggings to rule most workouts, these can withstand anything you throw at it. Lifting? Check. Running? Check. The fabric is made with sustainable materials, passes the squat test, and wicks away sweat to keep you dry and cool. Plus, it features a high-rise waistband that won't roll down during your workout.
Available in sizes XXS to 2X.
This article was originally published on November 6, 2020. It has been updated throughout. If you buy something through our links, New York may earn an affiliate commission.