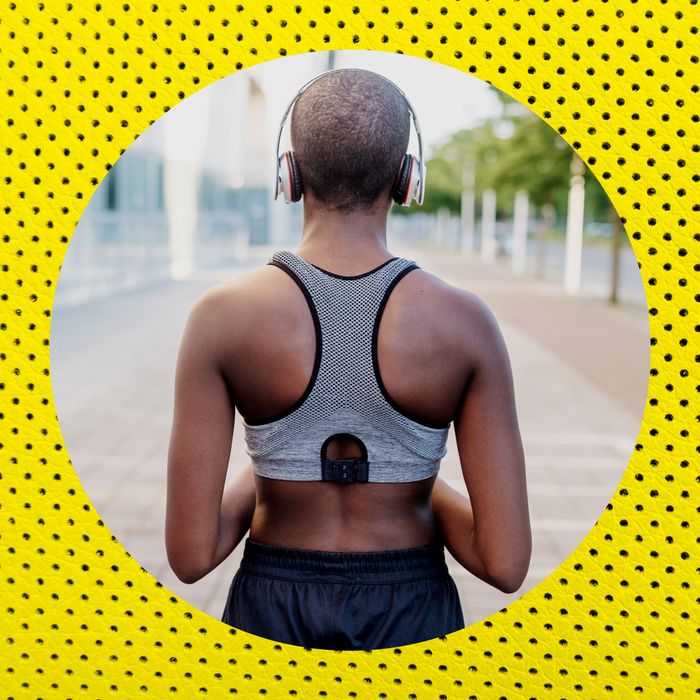 Photo-Illustration: by The Cut; Photos: Getty Images
"Hot Bod" is a weekly exploration of fitness culture and its adjacent oddities.
Several years ago, I biked across Montana. For three long days on my trip, I had an Adele song absolutely raging in my head the whole time, churning me through every pedal stroke. I have no idea where it came from. Like a spiritual epiphany from an airport memoir, it emerged like an angel from nowhere in my time of greatest need. I remember panting the lyrics at a friend, wheezing desperately, "Who sings this!?" It was in every heave, every steady push: "Rumor has it, dooo oooh. Rumor has it, dooo oooh. Rumor has it, dooo oooh." This song was in my brain, in my bones, in my muscles. It was an auditory theme, at once the sound of my tough-stuff stamina, a distraction from my tough-stuff stamina, and the necessary aid to my tough-stuff stamina.
You can find this song, and this song can find you. This song will also change— sometimes it will be very hip and aligned with the cultural moment, sometimes it will be confusing and slow — but you must get this song! I'm insistent that everyone finds this one song. It will be the thing that gets you up. It will be the thing that keeps you going. I am positive I misunderstand Pavlov and his dogs, but this song will be the bell that activates those twitch muscles and keeps them whirling. It will be the first song you put on the running playlist, the song you play on repeat during the hard middle of a HIIT routine, the track you hit when you are in a foul mood after dinner that then makes you jump around on your couch.
For the times in your life when an Adele song doesn't invade your being, and you're on the search for your sweaty anthem, I interviewed ten trainers and instructors about their one song that gets them going and keeps them going.
"Body" — Megan Thee Stallion
"Body" is fun and fast which helps you to push harder. It motivates me because the artist is confident in who she is. While working out, I like to listen to music that pushes me, especially at those times when I feel as if I'm not able to push anymore. — Latoya Julce, dance-cardio instructor at 305 Fitness
"YONCE Electric Bodega Trap Remix" — Beyoncé 
Each and every time the bass drops at the beginning of this track, I am UP. It's the drums for me. It's her lyrics. It's the bass. Not once have I skipped past this track if it comes on, not a once. — Kristin Sudeikis, founder, CEO, and creative director of FORWARD__Space
"Trophies" — Drake 
Always gets me hype. It reminds me that ordinary everyday accomplishments in life mean something and while there may not be "an envelope to open" or a "trophy," you should still cheer for yourself. I always say until further notice, celebrate everything. Getting out of bed some days deserves a clap. — Ashley Rockwood, founder of dance studio Free Mvmt Shop
"Level Up"— Ciara
Ciara is a queen. This song is iconic. It immediately puts a smile on your face, gets you more motivated, and pushes you to fight just a little harder. There's always room and time to #levelup, and this song inspires you to do just that!" — Alex Scolari, a cardio boxing and yoga instructor at obé
"City of Dreams" — Dirty South, Alesso, Ruben Haze
It has this kind of moody yet inviting EDM, electric guitar build up. You can feel the energy slowly and mysteriously build as if you are approaching something. Once you arrive at the beat drop, the energy quickly shifts to a high driving "all in" tempo. The juxtaposition of tenderness and high driving, motivating energy takes you on an unforeseen emotional and physical journey. — Lucy Sexton the co-creator of Bonded by the Burn
"Jump" — Armin van Buuren & Van Halen
Van Halen's first words, "I get up, and nothin' gets me down" make for the perfect opening line. This remix from Armin van Buuren takes this '90s classic to the next level, and it is the perfect soundtrack for your favorite workout. — Danielle Cote, director of training at Pure Barre
"Pour Some Sugar on Me" — Def Leppard 
Cuz who doesn't love a good old rock n roll song? It's sexy, it's loud, and it's a great pump up song. I play it often when I teach my strength workouts!
— Ana C. a dance and strength trainer with obé
"Boom" — Tiesto
I love "Boom" by Tiesto and generally anything that's house/electronic with strong beats. The song feels all-encompassing. As soon as I put my headphones on, I'm ready to take on the world with this one! — Sadie Kurzban, the founder and CEO of 305 Fitness 
"Pressure (Alesso Remix)" — Nadia Ali, Starkillers, and Alex Kenji 
My No. 1 favorite song to work out to. The build up and the drop are so high energy and put me in the best mood every time. When you're pushing hard through a sequence, music gives you something to focus on as the fatigue sets in! This is why I love working out to house music. The anticipation of the beat drop keeps the workout exciting. — Sydney Miller, founder of Housework
"Break Free" — Ariana Grande
Not only is it an upbeat song with an empowering tempo, but the lyrics make me feel like I can overcome any obstacle that comes my way. I mean, she starts the song by singing, "If you want it, take it," and goes on to sing: "This is the part when I say I don't want ya, I'm stronger than I've been before. This is the part when I break free, 'cause I can't resist it no more." While she might be talking about heartbreak on the surface, I take it as so much more. I want everyone to experience their break free moment! — Luis Cervantes, dance cardio instructor at STEEZY Studio
"Lose Control" — Missy Elliott (feat. Ciara & Fatman Scoop) 
The second I hear "music make you lose control" and wait for Fat Man Scoop's "let's go!" with the beat drop, I know it's on! This is a collaboration that after more than 15 years, I still never get sick of. — Danielle Cote, director of training at Pure Barre
"My Power" — Beyoncé
This is one of my all-time favorite songs to work out to. Everything from the instrumentals to the lyrics and the attitude of the song! You can't help but dance when you hear that beat drop. — Ana C. a dance and strength trainer with obé
"Disco Inferno" — 50 Cent
I have so much fun building playlists. It is truly one of my favorite aspects about teaching! There's nothing like hearing a throwback and having it transport you in time. That energy is priceless! — Alex Scolari, a cardio-boxing and yoga instructor at obé
"Maniac" — Carpenter Brut & Yann Ligner 
Carpenter Brut and Yann Ligner did a cover of "Maniac" by Michael Sembello from the '80s flick, Flashdance. It was originally performed live in Paris in 2016, and then they released a recorded version in 2017. When I hear it, it's hard not to want to hit the dance floor, or at the very least get a little amped up! — Danielle Cote, director of training at Pure Barre
"You Make Me Feel (Mighty Real)" — Sylvester
Music is the one thing that can turn me from "not a chance" to going for a run and running for an hour plus. The song that always seems to do the trick in getting me up and moving is "You Make me Feel Mighty Real" by Sylvester. The upbeat tune helps turn every run into a party. — Jennifer Bandier, founder of BANDIER