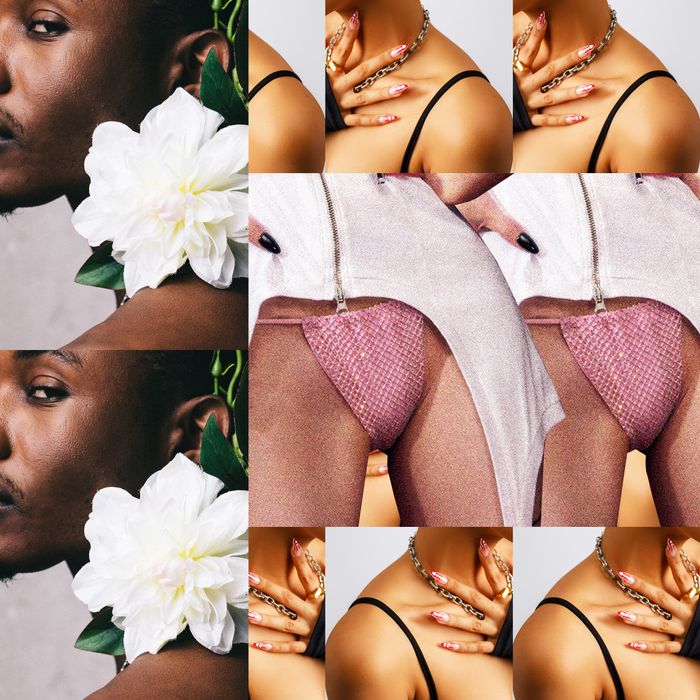 Photo-Illustration: by Marylu Herrera
New York Magazine's Sex Diaries series asks anonymous city dwellers to record a week in their sex lives — with comic, tragic, often sexy, and always revealing results. The column, which began in 2007, is the basis of a new docuseries on HBO.
This week, a landscaper meets a potential love interest at a flower show: 30, single, South Carolina.
DAY ONE
6 a.m. Wake up. I've always been an early riser. It's one of the reasons I'm so good at my job. I'm a landscape designer — basically a gardener. I moved to a little town in South Carolina after college to work on pretty yards, and now I own my own business. It's thriving and I love it.
7 a.m. Have two cups of coffee and head out to see a client.
8 a.m. I have a history with this client. She and I had a little fling last year. I'm bisexual, she's "straight" and married, but she flirted with me a lot while I was over, which was all the time since she and her family had just moved in and were doing a ton of home improvements. After about a year of flirting — always telling me I'm pretty, asking me about my love life — she asked me to have dinner with her while her husband and kids were away.
We drank a bottle of wine and ended up hooking up in her bed. It was really hot (lots of oral sex was given and received!), but then she wrote me a novel of a text saying it can't happen again. I was fine with that … I'm extremely independent and don't want a relationship.
1 p.m. She wasn't home. I head to a food truck for lunch.
3 p.m. Head to my next client, an older couple. They basically need a lawn-mowing person, not me. I refer them to someone and decide to call it a day.
6 p.m. Just lying on my bed wondering what to do tonight. I decide to text A and see what he's up to. A is straight and gorgeous, and I'm extremely attracted to him, but he's a self-proclaimed player. We have sex about once a month, and it's great, but I have to make sure to never catch feelings for him. It would only end in me suffering.
8 p.m. A's busy, but we make plans for tomorrow night.
9 p.m. Make a cocktail and sit on my deck. It's beautiful here. There's a sea breeze. I feel happy to be alive.
DAY TWO
8 a.m. Today I'm working at a mansion with a whole crew of people. It's one of those houses that always has workers everywhere. The family is white, blonde, and wealthy. They don't seem particularly kind or happy, but I keep my head down and get my work done.
11 a.m. Coffee break. I sit under a tree and check my emails. The wife walks out as I'm doing this and gives me a look. I immediately get the feeling that they're going to fire me. I'll get the text tonight. Typical.
4 p.m. I finish my day and head home to shower. What a great night to get drunk and fuck A!
5 p.m. I get the text! They didn't fire me but they acknowledged that I was "distracted by the phone," and maybe I should work "screen-free" from now on. Fuck them. I email them a version of this sentiment.
7 p.m. At the bar to meet A. I'm in a real state. I order a margarita and large plate of nachos for us to share and wait for him to roll in. When he does, he looks great and smells even better.
9 p.m. After a couple drinks, we go back to my place. It's a familiar routine. The sex is even the same each time: He goes down on me, I blow him, then we fuck against the wall in my living room that has the prettiest garden view. After that, we move into my bedroom and fuck really hard until we both come. It's glorious.
11 p.m. A has sweated out all his booze, so I'm okay with him driving home. It's about five minutes down the road, anyway. We kiss good night and he leaves.
DAY THREE
9 a.m. A and I talked about meeting at this dive-y outdoor breakfast spot this morning, but I get the feeling that he's not gonna show. I'm a bit hungover too, but feeling good, as I always do after being "freshly fucked."
9:30 a.m. I go to the breakfast spot and A actually does show up. He's looking at me with these puppy-dog eyes. We talk about how hot our sex is. I say, "If you weren't such a terrible person, I'd make you my boyfriend." He says, "If you weren't such a big slut, I'd make you my girlfriend." Believe me, it's actually sweet.
1 p.m. I'm working on my mom's house today. She's a widow and a bit of a loner but she's happy — she reads a lot, listens to NPR, and lives a quiet life. We're close but not; I see her almost every day, but we don't really talk about anything personal. I have two sisters and we talk about everything, so don't worry, I don't feel too alone in the world.
4 p.m. Leave Mom's and head to my next thing — I'm doing the flowers for a corporate event tonight. I've worked on this project for months, so it's exciting seeing it culminate. Plus, the event planner is hilarious, and I love working with her.
10 p.m. The evening was gorgeous. I feel proud. I didn't have to stay this late, but I wanted to hang with the event planner. After cleanup we start blasting music and smoking cigs. I love being part of the hospitality industry!
DAY FOUR 
9 a.m. I'm going to a flower show in a nearby city. It's something I do every year. Little traditions like this make me feel less lonely. I'm okay being single forever, but I need to have human interactions once in a while.
11 a.m. For some reason there are always so many lesbians here.
Noon Look around to see if anyone is attractive. I'm very femme, and I like very femme women.
2 p.m. I'm on the outside steps of the building just enjoying the sun when this woman sits next to me and introduces herself as Tanya. She's one of the chefs catering the flower show. She looks super-chef-y: tattoos, a bandana in her hair, zero makeup. She's pretty with an Australian accent. I watch a lot of Bravo, and she seems like she'd be the chef on Below Deck franchises.
2:30 p.m. Still chatting with Tanya. She asks if I know the city and if I can suggest somewhere to eat or drink later in the night. Then she asks if I'll join her. I'm all done here and ready to go home, but then I say fuck it … I say I'll meet her! She winks as she walks back into the building.
3 p.m. Buy a new outfit at the one decently cool store here because I'm sweaty and gross and want to look pretty for Tanya. I also buy a pair of underwear for $38, and it hurts my heart, but tonight could turn sexy.
5:30 p.m. At the Mexican restaurant I suggested. Tanya texts that she's on her way. She says she has a little crew with her. I feel good about that. Less pressure.
5:45 p.m. She comes in with a few other people and we all grab a table. She sits next to me, and I feel super-aroused being butt-to-butt with her. We all get to know each other. I like these people. They're funny and gruff and scrappy, but maybe too scrappy? Part of me wonders if they're all about to start doing drugs. I'm very much anti-drugs. It's just not my thing. But I know chefs love their weed and coke and whatnot.
7 p.m. Tanya and I go around the corner of the restaurant to have a cigarette. Before smoking we kiss. She's an incredible kisser. Honestly, I could come from just kissing her. But there's only so much we can do against the wall of a Mexican restaurant while it's still light out. We calm down and have our cigarettes. I honestly don't know what to do. I should just say good-bye and stay in touch, but I would also love to get naked with her somewhere and fuck all night.
7:30 p.m. I tell her that it kills me but I have to go home. I have a huge workday tomorrow. We promise to keep in touch. We kiss good-bye again.
9:30 p.m. I get home, shower, get into bed, and text Tanya that she's the hottest woman I've ever met and I need to see her again ASAP.
DAY FIVE
6 a.m. Slugging coffee.
8 a.m. Working for a couple who I really like today. They're super-generous and give me about $2,500 for the day no matter how much work I get done.
1 p.m. They order me lunch and set me up in their guesthouse to have an hour to myself. Such classy people. Tanya has texted a few times to meet up.
7 p.m. Stop by my mom's on the way home. We have sushi together on Wednesday nights. We talk about my sisters and our summer plans. She knows I'm bisexual but never really asks about my love life. It's fine.
DAY SIX
9 a.m. I'm flying to see my sister in New York today. She's engaged and wants me to help her pick out a wedding dress and obviously discuss flowers.
3 p.m. All settled at her place. It's so cute and Brooklyn-y.
5 p.m. I stop by a Korean fried-chicken place she recommended. It's to die for. I send pictures to Tanya, who of course knows the place and the chef. It's fun pretending to have a chef girlfriend. I could get into this!
8 p.m. I'm pretty beat so I drink my sister's wine and just sit around her place playing records. Still texting with Tanya. I debate sending her a picture of me in a bra, or less, but I'll make her wait a little for that.
DAY SEVEN
9 a.m. Big day with my sister. Every time we stop for food, I send food photos to Tanya. I tell my sister about our hot make-out the other night, and my sister gets really excited for me. I tell her to calm down, reminding her that I don't like to get too attached.
1 p.m. It's wild seeing my sister in a wedding dress. And quite emotional. We definitely cry a little as she tries on dress after dress. It's a good, cathartic cry, though.
6 p.m. Meet up with her fiancé at an Italian restaurant in Williamsburg. It's so great here. Tanya and I keep texting, and she says she's tempted to fly to New York and meet me for the weekend. I think about setting that plan in motion, but I really want to focus on my sister.
8 p.m. My soon-to-be brother-in-law asks if I want to meet any of his friends while I'm here. I've been pretty consumed by Tanya, but I tell him I'm open to it. After all, I am. I have an open mind and an open heart, and I hope it stays that way forever.
Want to submit a sex diary? Email sexdiaries@nymag.com and tell us a little about yourself (and read our submission terms here.)