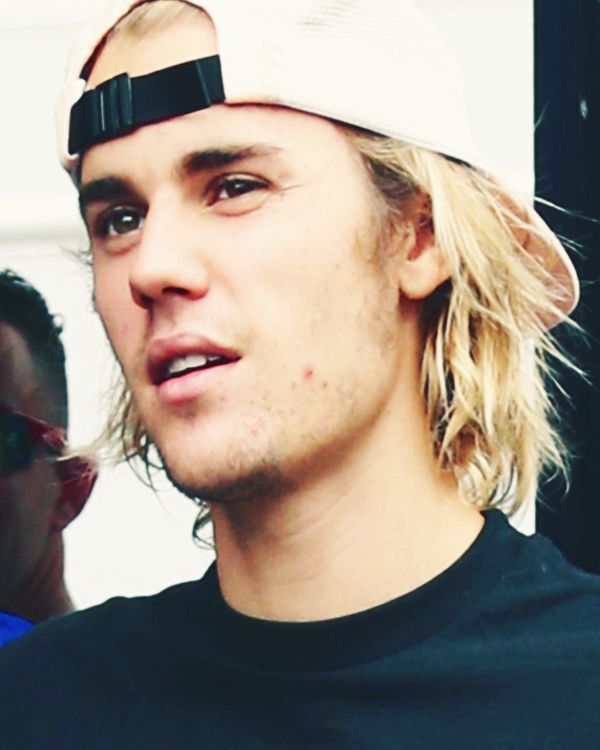 Let me help you with those frizzy, bleached strands!
Photo: Broadimage/REX/Shutterstock/Broadimage/REX/Shutterstock
Wedding planning is a trying time in any couple's life, so you can't blame Justin Bieber for stopping in the middle of a bike ride for a good cry recently. Stressful situations can lead to lapses in self-care, which might explain why Bieber's dyed platinum hair has been looking so much like crispy deep-fried ramen noodles.
Take it from another (extremely artificial) blonde, Justin: If you want your hair to look more Khaleesi than White Walker, you're going to have to commit to a few things other than Hailey Baldwin. Allow me to give you some suggestions from all the things I've learned in the past eight months, courtesy of Kirsten Stuke, my colorist at Sally Hershberger.
There might be other brands that claim to restore the sulfur bonds in your brittle hair, but Olaplex is by far the easiest to use. Stuke recommends pouring a generous handful in your palms and massaging it through freshly washed hair. When it dries, it'll give you beachy texture while protecting your delicate strands from breakage. Most of us can only afford to use it once week, but when you're worth $265 million, you can buy this by the vat and sleep in it.
2. Embrace Your Dirty Ways
Justin, my friend, here's an easy one for you: Wash your hair less. Shampooing every five to six days is enough to keep the itching at bay. And when you do get in the shower, be sure to use a lather-less, sulfate-free, color-safe shampoo like this delicious-smelling one from Christophe Robin. While you might want to get into your scalp and give it some relief with your nails, DON'T. You'll only destroy your fragile mane. Instead Stuke recommends gently massaging with the palms of your hands to work the product into your hair.
3. Purple Shampoo Will Do You Wrong
Conventional wisdom has it that platinum blonds should wash with purple shampoo, but Stuke advises that you stay far away. Much like your prior bad relationships, purple shampoo will leave you hurting for months to come — your hair is already dry from all of the bleach and toner, and you don't want to make it more parched. Instead, she suggests using a gentle shampoo before following up with this purple conditioner to neutralize those brassy tones. Smear it on, practice the lyrics to Despacito a few times, and boom — you'll be back to white blond.
4. Moisturize, Moisturize, Moisturize
Oddly, purple conditioner doesn't add moisture — the one thing you need to avoid ramen noodle crispiness. You'll need to apply some of this mask after you neutralize the brassy tones. Yes, it requires another few minutes of waiting, but you're good at that right?
If you're feeling really indulgent, get this mask and sleep in it overnight with a shower cap. It'll leave your hair baby soft and smelling faintly of flowers.
5. Use a Hair Cream Before Bed
You love showing off your nighttime skin-care routine, but have you ever considered extending that to your hair? Rub a quarter-sized dollop of this in before bed and don't worry about looking greasy. Come morning, it'll all be nicely absorbed.
6. Invest in a Ton of Dry Shampoo
There's letting you hair get a bit dirty, and then there's walking around with it all stringy and limp. You're at that tipping point, so pull yourself back from the edge and spray on some dry shampoo. This one is super-fine and will soak up all that extra oil while leaving a hint of gold shine. Plus, it smells amazing.
7. Brush Your Damn Hair
I get it, I never brushed my hair either. But bleached-blond hair gets more tangled than your love life. This natural boar bristle brush will set you on the straight and narrow, just like Hailey did. A few strokes every morning and night will work wonders in redistributing oils and making sure the back your head doesn't look like a bird's nest.
8. Sleep Only on Silk
Stuke told me that silk was best for my hair … and I took that to the extreme. Not only do I bring this pillowcase whenever I travel, but I also laid a silk scarf on the exact spot on my couch where my head usually rests. Justin, add this to your rider and have it at every hotel, private jet, and apartment.
9. Get a Fancy Hair Dryer
You know what you shouldn't be doing? Sleeping on wet hair. Bleach-blond strands absorb way more water than healthy ones, so air drying takes forever. This hair dryer lives up to its reputation and takes mere minutes. Plus, you can use it for a cozy night in making roast chicken with Hailey like Meghan Markle and Prince Harry.
If you buy something through our links, New York may earn an affiliate commission.