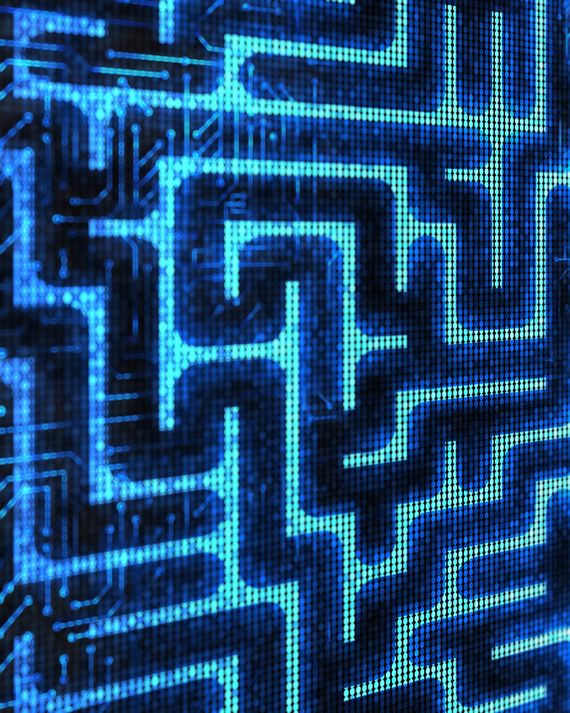 The child-support office was in the MetroTech complex, Brooklyn's first billion-dollar real estate development deal. It was May but freezing and blustery. Camila* came out of the wind and rain into the vast, marble-walled lobby, where an enormous flower arrangement towered over a reception desk for J.P. Morgan, one of the building's main tenants. Camila had a dull recognition of how out of place she looked in her sweatpants, her forehead broken out, her worn boots soaked through. The marble lined the softly lit elevator, too, but when its doors slid open on the sixth floor, fluorescent lights in a drop ceiling returned Camila to a more familiar reality: dark-skinned women behind strollers, waiting in line.
Back in October 2015, seven months earlier, Camila had begun child support proceedings in Manhattan, but since she had used the address of a Park Slope shelter for new and expectant mothers on some paperwork, she'd now have to open a new case in Brooklyn. Her baby, Alonso, now almost a year old, had spent his first six months in the shelter. Making things worse, it had been a month since she lost her welfare benefits and Medicaid, and she had no idea why either case had been closed. Her money was just about gone. But she'd sent the public-assistance office the requisite documents, followed up with them on the phone to make sure all was shipshape, and even received the letter she'd requested confirming her case was recertified, so, she thought, at least those checks would be starting up again.
When it was her turn, Camila recited her case number to the dreadlocked worker behind the counter, half-obscured by a massive computer monitor.
Silence. Clicking. "Your case is closed. You need to go to DeKalb to open it again."
"So I won't be able to be seen today?"
"No," the worker said. "Your case is rejected for whatever reason."
"Does it give you the reason?" Camila asked.
"No. It doesn't matter the reason. It's rejected. It just says you need to go to DeKalb."
DeKalb—officially the DeKalb Job Center—was the Brooklyn welfare office. Child support cases were connected to welfare cases for a reason poor fathers dreaded: once child support went into effect, they were required to repay previous public assistance checks received by the mothers of their children. Support reinforcement didn't exist on behalf of single mothers, but on behalf of the state. Camila's welfare case was still at the Manhattan welfare office; why would she have to go to the Brooklyn office? Would she have to start her welfare case from scratch, too? Consolidating social services by borough may have been an attempt to streamline bureaucracy, but it gravely underestimated the steady and far-flung migration of anyone with no stable housing. Camila had lived in all five boroughs, as well as New Jersey and Buffalo, in the past several years. Life without a regular change of address was an unknown privilege to her. At the moment, she was paying rent on a room in an overcrowded apartment in the Bronx, having been kicked out of the shelter months ago, after a bottle of Hennessy was discovered during a room check. She was no party girl; the bottle signified her right to have it, in her mind. If she could raise a child she should be entitled to the basic adult privilege of a bottle in her legal possession. The shelter staff had vehemently disagreed, citing a clear substance prohibition policy. It was one decision she knew couldn't use her skills of persuasive argument to overturn.
Downstairs at Au Bon Pain, Camila counted out packets of sugar for her small coffee. As she ripped them open one by one, she shook her head, dumbfounded. To go to the DeKalb Job Center, she would have to miss that entire day of classes at Kingsborough Community College where she was studying for a degree in criminal justice, and another day of her work-study job in the Political Science office. Her classes and her job were why, every weekday, she dropped Alonso off at the home daycare across the street from their place in the Bronx, a living-room setup where Nickelodeon blared all day over the telenovelas piping in from the kitchen.
She composed herself, looked up the DeKalb address on her phone, and braved the freezing rain to the subway. French tourists scrutinizing a guidebook blocked the exit of the G train in Bedford-Stuyvesant. Camila waited politely for them to let her pass and walked down Bedford to DeKalb. She was hungry. A sandwich board at the café next to the welfare office promoted a beef tongue confit on special. She decided she wouldn't be able to eat until she got back to the Bronx.
The DeKalb Job Center vestibule reeked of stale cigarettes and was tiled in nineteen-seventies gold and avocado. Wood-grained plastic paneled the elevator, the same untouched vintage as the entrance tiles. Inside, the air smelled of weed, urine, and the body odor of the man rocking back and forth in the corner.
"They don't care. They don't care. They don't care," he repeated.
In the waiting room one floor up, an automated voice competed with a television blaring news. "Now calling CA52401. Please go to window ten. Now calling CB902306. Please go to window two."
Camila got in line and waited.
The worker at the window wore a wavy shoulder-length wig and a polyester shirt printed with bright birds of paradise from another climate. She did not look up from her computer screen.
"What is your Social?" She barely opened her mouth to talk. Her words were almost indiscernible in the din of the room.
Camila recited the numbers.
"Your welfare case is closed," the worker said.
"Can you tell me why?"
Silence. The worker still had not looked up from her screen. "Do you want to reapply today?" she asked tonelessly.
Camila sighed in frustration and clenched her teeth for a moment to collect herself. "If I were to reapply today, I'd be submitting the same documents you already have," she said.
Silence. The worker continued to stare at the monitor. "Do you want to reapply again today?"
"A woman named Miss Selznick was working on my case," Camila said. "She sent me a letter that said she had all the documents. May I speak to her?"
"No, you may not. You may reapply and they will let you know the decision in forty-five days. So you want to reapply today?" she asked, finally looking up.
Camila clenched her teeth again and slowly nodded. The woman printed out a ticket and handed it to her. This sort of exchange was commonplace. Camila knew that. Anyone who'd been in the system knew it. But the stakes were dire: Nearly one-quarter of the families that applied for emergency shelter in New York had lost their public-assistance cases in the previous year. Cases were often closed for "noncompliance"— though she hadn't been told such, that was the vast, catch-all category Camila had just joined. Often the reason for noncompliance was mystifying. It could be something legitimate but unexplained. It could be a mistake on the part of an exhausted, underpaid worker, who was hardly motivated to ease clients' minds or help them through the system. Most welfare recipients reported hostility from workers, according to a recent study; one-third said they "always" experienced it at job centers like DeKalb or the one on Fourteenth Street. Most of these workers weren't paid enough to rent apartments developers had touted as "affordable" in exchange for massive city tax abatements, their lives only incrementally better than Camila's. 
I first met Camila at her Brooklyn shelter the prior year, as spring was turning into summer. With finishing-school posture, she walked into the weekly evening meeting for shelter residents in a fresh white blouse and a pair of twill short-shorts, slim but for her pregnant belly. She took a seat, surveyed the room, and began advising another resident on hospitalized pregnant women's rights and unmedicated birthing techniques. Camila, then twenty-two, "didn't look like she needed to be here," a new mother in the room muttered to no one in particular.
Camila's caseworkers would frequently marvel that they'd never seen anyone as knowledgeable about the system in which she was stranded. They marveled at how she kept policy and dates and addresses and caseworkers' names in her head like a savant, as she navigated waiting rooms and obtuse paperwork in her search for affordable housing, in her securing of public assistance, in her endeavors to establish legal paternity and procure child support, in her efforts to stay in school to finish her college degree.
Both of her parents were born in Corona, Queens, to Dominican parents. Camila grew up mainly in Corona apartments paid for by her mother's Section 8 housing voucher, back when a single mother could count on such support. No more: Section 8 hasn't offered support to new applicants since 2008, despite ongoing academic research and findings that housing vouchers were the best and cheapest prevention of homelessness. Camila's father had never lived in any of those apartments; he had his own life, and other kids, most of them with their own single mothers. Camila's mom had three other children of her own, too, and except for the two youngest, each had a different, usually absent father. Her unfinished college years offered a succession of dorms at first, and once she got pregnant, a succession of shelters.
Most people in poverty are women, specifically women of color. Most of them are single mothers. And many of them are homeless, which means their kids are, too. Even before the pandemic collapsed the economy, one in thirty children in America was homeless, a population of 2.5 million kids in total. In 2017 three-quarters of the shelter population in New York was made up of families, mainly mothers raising kids alone. Before the coronavirus epidemic and its consequent unemployment tore through New York, about 80,000 people were already homeless, the vast majority of them families, with many working parents. One out of three New Yorkers already living below the poverty line was a child. The vast majority of these New Yorkers were people of color.
During the year I spent with Camila, I was the only white person I ever saw in a waiting room at a welfare center, or a WIC office, or a child support enforcement bureau, or the Housing Authority, or in any other fluorescent-lit, linoleum-floored purgatory waiting for a number to be called. Since around that time, from fiscal year 2014 to the present, over $41 billion has been spent on police and corrections. Meanwhile, less than $17 billion has been spent on homeless services and housing development; the city spends more on policing than on housing, health, and youth services combined.  
What I witnessed has only gotten worse. This was before the crisis of COVID and its related economic fallout. Before nearly twenty percent of New Yorkers found themselves out of work. And of those vast numbers, those who can afford it the least have been hit the hardest. Since the pandemic hit, the city has lost two-thirds of its hospitality jobs; half the city's immigrants have suddenly found themselves unemployed. Nationally, the crisis of inequality in America quickly grows evermore cataclysmic. Just during the week ending July 18, the most recent for which data is available, 1.4 million people filed for unemployment. It was the eighteenth straight week that saw over a million applications. Another week in a new devastating era of economic fallout that will violently push millions over the poverty line.
In addition to its vicious stranglehold, poverty—on a day-to-day, hour-to-hour basis—is often numbingly boring. In New York, it means traveling miles of subway tracks stretching from one remote neighborhood to another to file and certify paperwork, meet with administrators, and follow byzantine procedures, part of navigating what public policy scholars call "administrative burden." Hours spent in crowded, cacophonous waiting rooms, only to learn an appointment has been canceled and you will have to feel time congeal in the same yellowed, brain-scrambling space again the next day.
Then the pendulum swing of evenings after shelter curfew, alone in a dark, silent room with a sleeping baby, with no voice but the one in your head. This life was familiar to Camila long before she arrived at the shelter where I met her; it was her mother's childhood, her own childhood, and now it was her child's childhood. As our economic catastrophe deepens, millions more women will, like Camila, come to know this labyrinthine dysfunction.
The clerk who told Camila that she had to reapply for welfare couldn't facilitate her reapplication; she would have to wait in another queue to do that. She sat down, but soon realized that there was piss puddled behind her chair. A tide of revulsion swept through her. She realized that she herself had to pee. But the bathroom was on the first floor; if she went downstairs, she might miss her next number being called by the automated voice. She'd have to hold it.
"Now calling PA50311. Please go to window number twenty-one." That was Camila's number.
Window 21 was a cubicle. The clerk had preppy close-cropped hair and a preppier brown argyle sweater. Mounds of dirt and dust were heaped under his desk, and the linoleum under his chair had been ground down to a thin layer of grime. He asked for Camila's Social.
"Your case is closed," he said. "Are you a citizen? Would you like to reapply today?"
"Yes," she said. "I also need to pay childcare." Childcare vouchers were linked to public assistance; you needed to prove that you were working or in school. Luckily Camila had the paperwork on hand in her backpack, in the tattered folder of documents she always carried, just in case.
"Then you've got to go upstairs." He handed her a ticket. "Go to the third floor and have a seat and wait. It might take a few hours."
The elevator doors opened on the third floor to a din of wailing babies, television at top volume, strangers yelling at one another. The air carried the same ripe scent as the elevator.
She picked up a thick application booklet and found a place to sit among the rows and rows of occupied seats. As she bent over the application, she began to list aloud all the dates she'd gone to the various offices. How many times she'd been to public assistance on Fourteenth Street. How many times she'd been to child support on the Lower East Side. How many times to family court in Queens. How many days of school lost. How many days of work lost. How many days of support unpaid. All while Alonso's dad was at school, classes uninterrupted by such concerns, posting Facebook pictures of his new back tattoo, crashing on his sister's couch because he had no crying baby to bring into the house with him. She felt a wave of revulsion just thinking about it.
Camila told me she felt like her chest was exploding. She closed her eyes, drew a breath, and stacked her spine. Methodically, she continued to fill out the application. She completed it. Time wore on. She chewed the red polish of her fingernails and examined bits of tinsel hanging from the stained ceiling. Next to her, a little girl in a stroller laughed happily and clapped her hands. In the chaos of the waiting room, Camila's eyes glazed over. She mumbled that she hoped Alonso—even inside, the unseasonably frigid weather made Camila nervous for the baby's health, especially with their mysteriously closed Medicaid case. Her thoughts trailed off. She was quiet. There was nothing left to think about; thinking didn't make a difference.
Three hours had passed by the time she was called into another cubicle, where at last she was told why she lost her welfare: she had failed to appear for an appointment with the Bureau of Eligibility Verification. The bureau was supposed to send Camila a letter informing her of the appointment. It appeared that they didn't. The purpose of the appointment that she'd missed was to show her birth certificate—that's how the bureau would verify that she was actually Camila Alvarez. Camila kept her birth certificate in her backpack, on hand at every appointment. It had been in her backpack when she'd come to recertify before. It was in her backpack now. She could verify herself to anyone at any time, except for this one time that mattered, at an appointment nobody had told her about.
In the cubicle, Camila also learned that she was no longer eligible for her childcare voucher, which was tied to her welfare case. She would need to make an appointment to reapply with new documents—ones from the Bronx daycare and her college that were more recent than the ones she had in her backpack today. She could expect that the earliest date to restart her child-support case would be in six weeks, in Brooklyn, assuming her public-assistance case was reopened by that time.
Mid-June. That's when she could expect her welfare checks to start up again. That was the best-case scenario—if they accepted her case, if she went to Midtown to check her post office box every day so she never missed a thing, if no clerk in any of these hazily connected offices made another mistake. Two and a half months after her case had been closed without warning. Over a year into her son's life.
Camila returned to the rows of chairs to wait for the printouts of each document she'd politely requested. There were just a couple of weeks to go until graduation.
The office was closing. It was the Friday before Mother's Day weekend. A woman her grandmother's age, with a blond weave and spidery fake eyelashes, called out to the waiting room on her way to the elevator. "Happy Mother's Day to all the ladies!" she said brightly. No one replied. It was the first time someone had ever wished Camila a happy Mother's Day.
*Names have been changed.
This piece is adapted from This Is All I Got: A New Mother's Search for Home, which was funded in part by The Reporting Award at NYU. Copyright © 2020 by Lauren Sandler. Published by arrangement with Random House, an imprint and division of Penguin Random House LLC.
If you buy something through our links, New York may earn an affiliate commission.