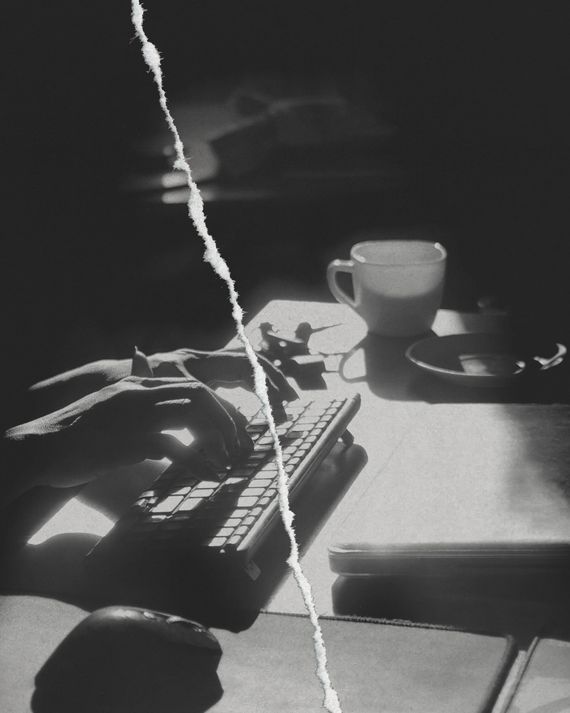 Photo-Illustration: by The Cut; Photo: Cavan Images/Getty Images
It's Over is a series exploring what divorce looks like now — from Instagram announcements to pet-custody disputes.
In the fall of 2015 I sat in a chair in a coffee shop and wrote a poem on a legal pad, which is where most of my poems begin. The first line came to me quickly — "Life is short, though I keep this from my children" — and over the next twenty minutes or so, the poem grew into a piece about the fears and hopes I have for my children, and the complicated world I brought them into, equal parts terrible and beautiful. It was published online the following June — the same week as the Pulse Nightclub massacre in Orlando and the murder of MP Jo Cox in England — and it immediately went viral. Reporters emailed, messaged me on social media, called.
Meanwhile, I was parenting two children, ages three and seven. I was their mom most of all — that was how I was known to people in my life, and that was fine with me. Even after my poem went viral, I was still hidden, cleverly disguised as one of the least visible creatures on earth: a middle-aged mother.
As I told a reporter from the Columbus Dispatch, my hometown paper, "I feel like I go into a phone booth and I turn into a poet sometimes. Most of the other time, I'm just Maggie who pushes the stroller." But my marriage was never the same after that poem.
One night, lying next to me in bed, my husband told me I was famous. He said it quietly in the dark. In his inflection, I heard sadness. I heard you're not the same anymore, you're gone somehow.
"I'm not famous," I said. "I just wrote a famous poem." It wasn't the same thing.
I said it as a kind of apology, as reassurance, because I felt like I'd been accused of something. In my inflection, I hoped he'd hear I'm the same, I'm just me, I'm right here.
In March 2018, three months before I knew my marriage was in real trouble, I attended the AWP conference in Tampa, Florida, with thousands of other writers and editors. My third book of poems had come out the previous October, so I had three full days of panels, readings, and book signings scheduled.
My friend Ann was there, and her husband, who was my husband's law firm colleague at the time, had come to the conference with her. I loved seeing the two of them at their company's Christmas parties and summer parties — and I loved that I wasn't the only poet spouse.
At the conference, Ann's husband walked up as I was signing copies of my book: "Let me take a picture of your signing line and send it to him."
"Please don't," I said. "It'll just make everything worse."
I was having a good time — it was work, but I enjoyed it. And he was home doing my work. To be fair, I treated it that way, too. I had internalized that. He was "covering for me," as if I were a coworker who'd gone on vacation and left my cubicle-neighbor with all my tasks while I was away. I should be thankful — and I was thankful! I should feel bad — and I did feel bad! I felt bad because I saw other women with spouses and kids, and their husbands picked up the phone with a warm "Hi, how's it going?" They asked about their wives' panel discussions, readings, signings. They put the children on the phone, then asked for the phone back to say "I love you!" before they hung up. Some of the husbands even came along. I envied that. I wanted what they had.
My mother didn't go to college, married at twenty, and had me at twenty-four. I went to college and graduate school, published my first book and got married at twenty-eight (at which age she already had three children), and had my children in my thirties. Still, my life looked a lot like hers. I don't say this with frustration because my mother's life isn't a good, beautiful life — it is! If you ask her, she'll tell you she wanted to be a mother more than anything else in the world.
No, I say this with frustration because I saw myself and my husband as different — more progressive, more equal in our household, both with graduate degrees, both respected in our fields — but were we? The division of labor in our home told a different story.
I was angry at myself, and more than a little ashamed, that I allowed this to happen, and that I had unwittingly modeled to my children what women's work was — the baking of class Valentine's treats, the pairing of socks, the buying and wrapping of gifts, the packing of school lunches and camp snacks, the applying of sunscreen. Caregiving.
Did my children see their father's job as more "real" than mine because it happened outside the home, and because despite my work, I was the primary caregiver? I felt that he treated my (writing) work like an interruption of my (domestic) work, and did they see that, too?
When my husband traveled for work, I looked forward to his return — especially if the kids were sick or I had multiple deadlines of my own — but the daily fires were ones I was used to putting out myself. On the other hand, when I would call home from a trip, I remember feeling like I was in trouble. I'd made his life more difficult, and I might pay for that with the silent treatment or a cold reception when I returned home. I didn't feel missed as a person, I felt missed as staff. My invisible labor was made painfully visible when I left the house. I was needed back in my post.
My occasional travel had been a sore spot in our marriage since before my poem went viral, but more and more requests were coming in to my speakers agency because of that poem. I'd spend two days here, four days there, and a couple of times a year I'd be gone for a weeklong workshop, but the bulk of my time was spent at home.
An invitation to give a reading or attend a conference or book festival meant I wouldn't be available. Even if I arranged after-school playdates for the kids, even if I planned for my parents to be available until he arrived home from work, who would pack the school lunches? Who would drop them off in the morning? Who was going to make sure the favorite pajamas
were clean for "PJ and Stuffy Day" at school? And — always a fear — what if one of them ran a fever and couldn't go to school? This was "extra work" for him — and extra emotional labor, too — because, as the self-employed parent, I'd always handled these things. And, meanwhile, what would I be doing for work? Reading poems, teaching workshops, going to dinners, giving talks, being interviewed in front of an audience? Maybe for business it sure sounded a lot like pleasure?
Once, in a meeting in my lawyer's office — my lawyer and I on one side of the conference table, my husband and his on the other — my husband's lawyer used air quotes when she talked about my work.
When you were "working," she said.
We were both busy, probably spread too thin, needing things from our lives — and from one another — that we weren't getting. I agreed that something needed to give. I disagreed that the something needed to be my work. In turn, me.
What would I have done to save my marriage? I would have abandoned myself, and I did, for a time.
After over a year of litigation, it took me just a few minutes to sign the divorce papers in my lawyer's office. When I walked in the door, I was married. Mrs. When I walked outside, I was divorced. Ms. That was it?
Afterward, because I was in the neighborhood, I drove to Pistacia Vera, my favorite bakery. Parking in that neighborhood is notoriously difficult, so the closest spot I could find was right in front of my old house, the brick Victorian with gingerbread trim where we'd lived when our oldest was born.
Sitting at a café table on the bakery's patio, I cried a little behind my sunglasses, drinking my coffee, picking at a flaky chocolate croissant. I wasn't sad because I wanted to be married to him, I just couldn't believe that all of it added up to … this? All of those years — gone. Poof.
I remember thinking, What now? What do I have now? What do I have to hold on to?
When I looked down, I saw the pen in my hand.
Copyright © 2023 by Maggie Smith. From the forthcoming book YOU COULD MAKE THIS PLACE BEAUTIFUL by Maggie Smith to be published by One Signal Publishers, an Imprint ofSimon & Schuster, Inc.. Printed by permission.