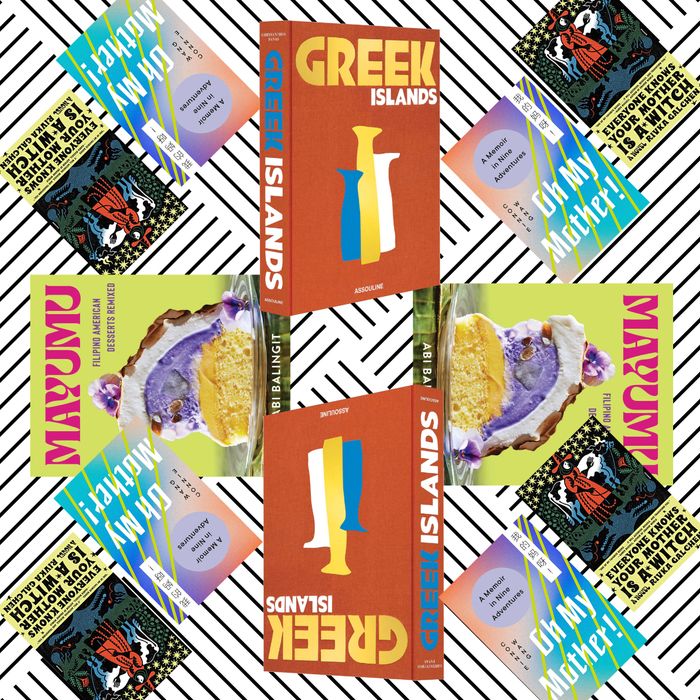 Photo-Illustration: by The Cut; Photos: Retailers
For more of the Cut's favorite fashion, beauty, and home finds, sign up for the weekly Cut Shop Newsletter.
This Mother's Day, skip the parenting books, self-help books, and children's books. From the onslaught of social media doling out tips on meal prep, what to wear, which children's books to buy, how to time-manage, how to emotionally manage, how to gentle-parent, how to maintain friendships, and so much more, mothers today are blasted with too many expectations. Modern parenting is saturated with advice and judgment. So for the mothers in your life, support them on Mother's Day by honoring them with books that give them the space to enjoy life, too.
Below is a list of 15 books that are indulgent, escapist, and captivating. Some have aspects of mothering in them, and others are just purely fun.
This book is pure Technicolor delicacies and delicious fun. Abi Balingit's debut, Mayumu, is an ingenious reimagining of Filipino American dessert recipes with essays about the Filipino American experience by the baker and author. Balingit grew up in California's Bay Area and Central Valley, in a diverse part of the state where she could explore her culinary tastes, from American junk-food staples like Flamin' Hot Cheetos to her local Mexican paleterias and Asian markets. And although her mother believed the American box-made desserts were "too mayumu," which in Kapampangan means "sweet," she did delight in sharing her own more traditional Filipino recipes of cassava cakes and maja blanca pudding among other treats. And there are several recipes in the book that are inspired by Balingit's mother, like her coconut milk and corn pudding recipe called Malted Milk Maja Blanca with Corn Chip Crunch, and another called Mommy's Ginataang Bilo-Bilo. "Writing these recipes down was an important way for me to talk to my mom in a way that I hadn't before. With the cookbook, I got an opportunity and an excuse to document these precious memories, ingredient lists, and directions. My mom rarely writes down her recipes and is much more of an intuitive cook at home, so to get her to tell me exact measurements here was a blessing," Balingit shared via email about the connection between her mom and those recipes in particular. Balingit's adobe-chocolate-chip cookie recipe from Mayumu is even gaining a cultlike status, with people sharing their attempts on social media and a New York Times coveted recipe spot.
Author Ajiri Aki has had an illustrious career as a style-maker: an American who, as a student, completed her thesis on the perfumer Jean Patou in the French capital, co-authored the New York Times best seller Where's Karl?, and worked as a fashion stylist on exhibitions for the Metropolitan Museum of Art and the Museum of the City of New York. Aki, who presently resides in Paris with her husband and two children, created the successful lifestyle brand Madam de la Maison, for which she designs and sells home accessories. Her second publication, Joie, is a stunning style, travel, and lifestyle book for the Francophile in your life. The editor of Vogue.com, Chioma Nnadi, has praised Aki's book: "More than being a terrific guide to the city, it's a thoroughly comprehensive guide to better living." This is an insider's guide to living the good life, the joie de vivre Parisians exude, and Aki doles out their secrets — from cheese etiquette to secret haunts for the best antiquing and more.
As of March 2023, the Marijuana Policy Project reports that 31 states and the District of Columbia have decriminalized low-level marijuana, so for the mothers in your life needing to dose their dough, they'll welcome Chris Sayegh's 50 treats. Sugar High's collection of recipes includes delicacies like Tart and Sweet Citrus Bars, a decadent Creamy Coconut Gelato, and the more traditional chocolate-chip cookie. Sayegh has had a longtime fascination with science and plant medicine. He's the founder and CEO of the Herbal Chef, a pioneering plant-medicine hospitality platform with a brick-and-mortar location in Santa Monica, and is well known in certain circles for his cannabis-infused dinner parties, according to a profile in Forbes. So his new cookbook isn't filled with your average schwag butter and funfetti cupcakes but is a more precise science with details on choosing the correct strains and doses of cannabis, along with tested and tasty recipes.
No one is calling your mother a witch, but plenty of people claimed Katharina Kepler, mother of the renowned astronomer and mathematician Johannes Kepler, was one. Everyone Knows Your Mother Is a Witch is an historical and fictionalized account from Rivka Galchen of an actual 16th-century witch trial against Johannes's mother, who was imprisoned in a small German town and accused of poisoning a man with a demonic potion. Her son, whose work is considered revolutionary in science and astronomy (discoveries by Johannes include a new telescope, optics of the human eye, and the Law of Continuity), came to her defense and eventually argued for his mother's freedom. Katharina was a widow in her 70s and considered by the town to be a brazen nonconformist in a time when widows were expected to be hidden and private. She was a woman with a job and a life who worked as an herbalist and healer, fiercely loved her family, and even had a cow named Chamomile. Despite the grim and gruesome details in Galchen's book, it's oddly funny in a macabre way (the trial was held while a deadly plague swept through the country, killing off several of her accusers by chance), and the author's background in psychiatry provides a deeper insight into mob mentality, the place of mothers and women in the social setting, and family dynamics. It's the perfect book for anyone intrigued by science and religion, and how society to this day can be uncomfortable with powerful women.
The Adventures of Amina al-Sirafi is the first installment in a new fantasy trilogy from Shannon Chakraborty (The City of Brass author) that spins a swashbuckling tale of magic and piracy on the East Indian Ocean. Take dark magic, lurking monsters, and a Muslim woman pirate captain (who is also a mother with a tricky knee), and add in a former demon for a love interest — these are just some of the wonderful aspects that make Chakraborty's latest an entrancing read. The protagonist, Amina al-Sirafi, has a reputation as a cutthroat pirate with a complicated past. When we meet her, she's recounting a past adventure and seems content in her newfound retirement alongside her daughter, but the chance of one more adventure promising unfathomable riches pulls her back to the sea. Amina and her motley crew of companions encounter monsters, magical beings, and even a former lover who isn't exactly human. Chakroborty has written a character in Amina that is not only funny in her irreverence, but also not the typical mother seen in most fantasy novels.
A winner of the Ken Kesey Award for Fiction from the Oregon Book Awards, Kesha Ajose-Fisher's No God Like the Mother is a series of nine chapters of self-contained vignettes exploring themes of motherhood and being mothered. The author's prose is lush and layered, expressing the multitudes of emotions that are tied up so closely and sometimes contradictory to one another when it comes to the roles of mothers and children. No God Like the Mother is triggering with loss and violence at certain points but also a beautifully written collection of the grief and ecstasy that mothers experience.
If your pockets run deep but not deep enough to send your mom on an island vacation, opt for this stunning tome from Assouline, Greek Islands. The publisher is the Chanel of design and lifestyle books. It excels at chic and stunning coffee-table books of hefty weight and plenty of glossy photos. The Aegean Sea islands is the central subject of  Greek Islands, with striking photos of shimmering blue waters and the relaxed yet glamorous Greek lifestyle. Each island featured offers a unique spirit, from Patmos (Aga Khan's favorite) to Hydra (beloved by icons like Henry Miller, Leonard Cohen, and Sophia Loren), and they exude a seductive sense of history, tradition, and adventure. The ancient ruins, cliffside monasteries, and volcanic rims are all must-see sights that have been sources of inspiration for millennia. In Greek Islands, the author and photographer Chrysanthos Panas embarked on an Homer-esque odyssey of his own, boarding a traditional Greek sailboat to capture the calming atmosphere, quintessential characters, and breathtaking architecture of these Aegean gems. It's a gorgeous book for a moment of escapism and beauty.
Upon becoming a mother, author and food writer Su Scott felt inspired to pass on her Korean cultural heritage and prized recipes to her daughter. Part memoir, part cookbook, Rice Table is a tender reflection on what it means to be a mother and immigrant, and the connections that food can provide to both nourish and connect on an emotional level. Scott presently resides in the United Kingdom, and after a loss of self (that can sometimes come after giving birth), she found her way back to her roots by cooking dishes from her Korean childhood, seeking out the flavors from her memories, which she hopes to now share with her family. Within the book are 80 recipes as well as reflections and a peek inside Scott's modern Korean pantry, with sauces, ferments, and pickled goods that frequent her recipes, like her stellar Korean Fried Chicken and Kimchi Fried Rice. Another mouthwatering dish is her sweet and savory Honey Panna Cotta with Instant Coffee Caramel.
There are so many reasons to love The Witch's Heart by Genevieve Gornichec, with its enchanting dive into Norse myth and lore, an unapologetically egotistical Loki, and the absolute badassery of the witch Angrboda, whom we first meet fresh from smoldering atop a fire. It's also a story that exquisitely and unerringly shows a mother's love. After several lifetimes of violence, Angrboda's life, for a moment, is peaceful after giving birth to three of Loki's offspring, each one a unique creature and each one completely loved by their mother. It's Angrboda's love for her children that drives most of the story forward, and despite their deviations from the human norm — her daughter, Hel, is of both of the living and the dead; one son, Fenrir, is a monstrous-size wolf; and the other, Jörmungandr, is the Midgard serpent — she is determined to protect them. Angrboda's refusal to see her children as anything but worthy of love will drive her to hell and back, damning anyone who dares harm them, and ultimately end in Midgard's final chapter — Ragnarök.
This coffee-table book from Apollo Publishers is for mothers who love a good pun, rescue animals, and all things pastoral . The sheep featured are rescues from the Hudson Valley–based Woodstock Farm Sanctuary, whose mission is to provide a sanctuary for animals while promoting veganism and animal rights, along with other social-justice movements. Over 200 photos of prancing sheep in various states of adorableness are paired with witty quotes from poets and comedians, like one from Zach Galifianakis, who provided a bit of life advice: "I have a lot of growing up to do. I realized that the other day inside my fort." Chapters cover putting your best hoof forward, managing fuzzy feelings, and much more.
Bursting in a delicious way (432 pages) with photos and accessible recipes, Pulp is not just a reference cookbook but a beautiful one at that. Abra Berens, author of Ruffage and Grist, is back with a must-have book offering 215 fruit-focused recipes to elevate any meal. From adding a fruity twist to roasted vegetables to enhancing the flavor of pork and brisket, Pulp showcases the versatility of fruit in both sweet and savory dishes. Home cooks and bakers will love the recipes, like Melon, Cucumber, and Chickpea Salad and Rum-Plum Clafoutis, along with the helpful Baker's Toolkit and over 100 beautiful photos. The book covers 15 fruit varieties, such as apples, blueberries, grapes, and more, with deep and authoritative info for each. Organized by fruit type, Pulp is the ultimate culinary reference book that empowers home cooks to experiment and trust themselves in the kitchen. This is an indulgent and fun cookbook that's also so pretty; even if your mom isn't a cook, she'll love the look of Beren's beautiful publication.
This powerful new novel from the award-winning author of Yellow Wife, Sadeqa Johnson, is set in the vibrant cities of 1950s Philadelphia and Washington, D.C. This is a daring and redemptive story, full of the complexities of motherhood and being a woman, that follows two young women on a quest to achieve their dreams and find their place in the world. Fifteen-year-old Ruby Pearsal is in high school and determined to make a life for herself away from poverty and the heart-aching abuse she's suffered from her biological mother. She's attempting to make her way to college when her world is turned upside down by a forbidden love affair with a Jewish boy. Meanwhile, Eleanor Quarles, who is attending Howard University, lives in Washington, D.C. and has a fierce ambition to succeed in life. When she falls in love with William Pride, she sees an opportunity to finally fit in with his wealthy Black family. But navigating the complexities of their world and having a baby proves to be more challenging than she anticipated. As their lives intersect in unexpected ways, both Ruby and Eleanor must grapple with the sacrifices they are willing to make to achieve their goals and find happiness. This novel exquisitely, and at times painfully, explores what it means to be a woman and a mother, and the boundaries of reproductive choices, color, class, and education are all themes in this emotional book.
Remind your mom that it's sometimes good to be naughty — with the gorgeously illustrated Bad Girls Throughout History: 100 Remarkable Women Who Changed the World. This is an empowering book for women and girls of all ages. It features revolutionary women who challenged the status quo, the rule breakers and rebels, from pirates to scientists to activists. This best seller, with its bold watercolor portraits and illuminating essays by Ann Shen, is a distinctive, gift-worthy tribute to renegades everywhere. The stories of these phenomenal women, including Joan Jett, Marie Curie, and Ada Lovelace, showcase the accomplishments of those who dared to push boundaries and celebrate their legacies.
Inspired by the Chinese exclamation wo de ma ya, which translates to "oh my mother," this memoir is broken into nine essays and explores journalist Connie Wang's complex relationship with her mother through their wild travels together. Wang and her fiery mother embarked on a global adventure in an Eat, Pray, Love–style journey, taking them from indulging in edibles in Amsterdam and dining at colossal restaurants in Jinan, China, to exploring Versailles and even attending a Magic Mike strip show in Las Vegas. Through it all, this mother-daughter duo proves to be an irresistible force, and their hilarious and moving escapades will have you rooting for them every step of the way.
I started writing this list the day the Covenant School shooting in Nashville happened. So, as someone who is a mother, I can tell you what I actually want for Mother's Day: To stop feeling absolute fear when I send my children to school and wondering if the guilt of working over keeping them safe at home is some sort of mental mind trick that I have to play every day. I want for the children who have died in the school shootings, parades, churches, and while out to play to have never met that fate. And for Mother's Day, I want you to know that the mothers of this world, in all forms and variations, exist and are screaming for change. Glimmer of Hope is an anthology that shouldn't exist but is powerful and needed today. It shares the stories of 25 students through personal essays, poetry, speeches, and conversations who collectively created the March for Our Lives movement and nonprofit following the Marjory Stoneman Douglas High School shooting in Parkland, Florida, in 2018. The book vividly describes the fear that enveloped the students on February 14 of that year, the grueling hours of work they put into their movement, and the lingering trauma that still haunts survivors long after the media frenzy has died down. These young activists have achieved extraordinary feats, yet their remarkable work is also a sobering reminder of the tragic circumstances that compelled them to act. Glimmer of Hope is a compelling tribute to these courageous students and the enduring legacy of their movement. All net proceeds from the book go to the March for Our Lives Action Fund.