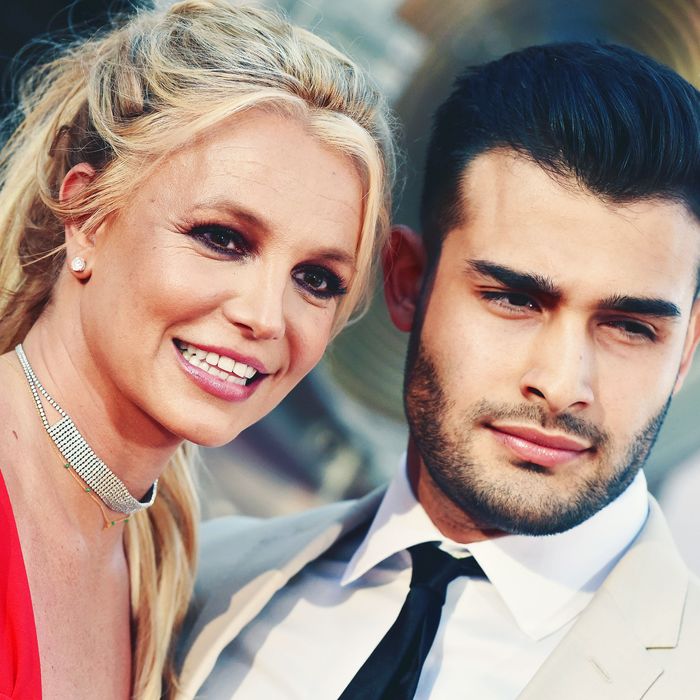 Photo: Axelle/Bauer-Griffin/FilmMagic
Sam Asghari and Britney Spears are going their separate ways after 14 months of marriage. As initially reported by TMZ and since confirmed by the Associated Press, Asghari filed for divorce on Wednesday, citing irreconcilable differences as the cause for the split. Asghari also confirmed the news via Instagram Story on Thursday afternoon.
Spears and Asghari — a model, trainer, and actor — met in 2016 on the set of her and Tinashe's music video for "Slumber Party." They got engaged in September 2021, just before a Los Angeles judge overturned her 13-year conservatorship, and tied the knot at their Thousand Oaks home last summer. The fairy-tale wedding felt special to fans not just because of the presence of a horse-drawn carriage, four custom Versace dresses, and a diamond thong, but also because it seemed like evidence that Spears was finally free to make her own choices after more than a decade spent having every detail of her life decided for her.
At the time of the wedding, it was reported by TMZ and People that the couple had an "ironclad" prenup, which would protect Spears's $60 million fortune in the event of a divorce. But now, some sources are saying Asghari isn't happy with those terms. One unnamed informant tells "Page Six" that the dancer is threatening to release embarrassing information about Spears if he isn't given more money than the prenup stipulates. The tabloid didn't say how much money he is supposedly asking for, but another anonymous source added that Spears has been "protected" and their "parting will be respectful." The Cut has reached out to reps for Spears and Asghari for comment. We will update this post if we hear back.
Often, in the aftermath of a high-profile celebrity split, we'll see a diplomatically crafted joint statement posted to social media expressing mutual respect alongside a request for privacy at this time. That's not the case here. As the tabloids worked overtime to assign blame and motives for the breakup, Spears offered her Instagram followers a life update on Wednesday evening. "Buying a horse soon," she captioned a photo of herself riding on the beach, which appears to have been taken during a July trip with Asghari. "So many options it's kinda hard !!! A horse called Sophie and another called Roar??? I can't make up my mind."
On Thursday afternoon, Asghari released a statement via Instagram Story: "After 6 years of love and commitment to each other my wife and I have decided to end our journey together. We will hold onto the love and respect we have for each other and I wish her the best always. Shit happens. Asking for privacy seems rediculous [sic] so I will just ask for everyone including media to be kind and thoughtful."
The following day, Spears addressed the news directly. "As everyone knows, Hesam and I are no longer together … 6 years is a long time to be with someone so, I'm a little shocked but … I'm not here to explain why because its honestly nobody's business !!!" she captioned an Instagram video of herself dancing. Adding that she "couldn't take the pain anymore," Spears went on to say that she's "been playing it strong for way too long."
"My Instagram may seem perfect but it's far from reality and I think we all know that !!!" the caption continued. "You're supposed to be loved unconditionally … not under conditions !!!! So I will be as strong as I can and do my best !!! And I'm actually doing pretty damn good !!!"
This article has been updated.