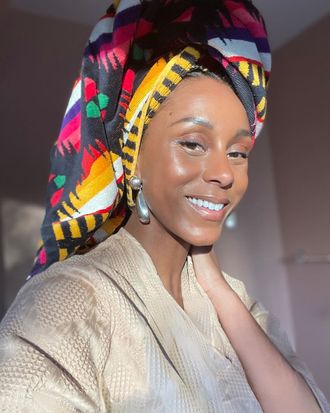 Photo: Courtesy of Brooke DeVard Ozaydinli
Want more skin care? Join the Beauty Group on Facebook.
Brooke DeVard Ozaydinli could spend hours talking about skin care — and she does. DeVard Ozaydinli is Instagram's product marketing manager, but she also hosts the Naked Beauty podcast, where she regularly interviews people like Danielle Prescod, Charlotte Cho, Hannah Bronfman, and Rio Viera-Newton about beauty trends, wellness, and, yes, skin care.
When it comes to her own skin, DeVard Ozaydinli likes to take a "more is more" approach. "I think of skin care like working out: If you do all the things — cardio, weights, stretching — your body is going to be in amazing shape," she says. "If you do a lot for your skin — face masks, proper nutrition, double cleansing, facial massages, hydrating treatments — your skin is going to be better off." Of course, she recognizes that there is such a thing as doing too much, and recommends taking it easy with products like acids and peels.
DeVard Ozaydinli tries to keep her skin care as "natural" as possible — a philosophy born out of her natural-hair journey. "I had a big awakening when I went natural, a term used in the black beauty community which means forgoing relaxers and chemical hair straighteners," she explains. "This was back in 2012, and I was learning about all of these amazing treatments that came from natural ingredients — shea butter hair masks, argan oil to seal your ends, rosemary essential oil and castor oil for your scalp — and the results were just incredible to me. I began to give all of my store-bought, chemical-laden products the side eye and applied the same ethos to my skin-care products."
She started experimenting with moisturizing her skin with grapeseed oil, making her own exfoliating body scrubs, and creating her own face masks with turmeric and yogurt. Over time, she learned which ingredients her face loves (oils, like avocado oil, moringa oil, and jojoba oil, in high concentrations are at the top of the list) and which to avoid (parabens and synthetic fragrances).
The self-described "DIY queen" went so far as trying to re-create Vintner's Daughter's Active Botanical Serum, which retails for a hefty $185. "I love a luxury product, but some of these price tags are outrageous," she says. "I interviewed April Gargiulo, founder of Vintner's Daughter, for Naked Beauty, and told her how I tried in vain to create her Active Botanical Serum — I failed, BUT in the process, I did discover the magical benefits of sea buckthorn oil (it smooths skin and gives it an instant glow)."
Below, a full look at DeVard Ozaydinli 's full nighttime routine, including the one product she applies when she isn't up for doing her whole routine, the eye cream she's used for three years, and why she always lights a candle when she's applying her night products.
The Oil Cleanser
"I'm a makeup wearer. I'm a sunscreen wearer. I have to get everything off at night, and I love Fancy Face. This has sunscreen oil, organ oil, and camellia oil. It's so nourishing. This is my very first step, and it makes taking off my makeup so easy. You do three pumps of this with a cloth, and everything is gone. It takes off mascara, my brows, all of my foundation — all in one go. The best part is that it doesn't leave your skin feeling stripped or dry, and it smells heavenly — it has a floral, spalike scent."
The Essence
"I had a chance to interview April Gargiulo, founder of Vintner's Daughter, for my podcast, and this line is truly worth the hype. There's so much care put into how they choose each active botanical to deliver a truly effective but all-natural product. I started incorporating this into my routine about a year ago. I use a dropper of the essence. It has matcha, hyaluronic acid, marshmallow root, dandelion, moringa, apple cider vinegar, and lots of other active botanicals. I do see a big difference in terms of how my products absorb after application. My skin feels more hydrated and nourished when I use this."
The Face Oil
"I love a good facial oil, and this one feels so luxe, and the cost is pretty reasonable. It has buriti oil (which is great for inflammation), jojoba, and rose hip oil. It feels like heaven the moment it hits your skin, and I feel like it gives my skin an extra level of moisture and bounce. I recommend this to everyone looking for a great facial oil, and they all can't believe how soft their skin feels after using it."
The Serums
"Vitamin C is great for improving texture of the skin and treating hyperpigmentation. I've tried every vitamin C serum on the market. This is the best one I've used. I do three drops. I especially love his formula because it has hyaluronic acid, too, which helps hydrate and plump the skin. It's true that vitamin C serums don't tend to smell amazing, but this is effective and helps to even my complexion, so I don't mind.
I discovered this serum through Dr. Chaneve Jeanniton, who's brilliant and cares deeply about skin. She's actually based here in New York — in Brooklyn. Her practice Brooklyn Face & Eye is incredible, and she just launched Epi.Logic. It just really delivers."
"This stuff is magic in a bottle. It's the most experimental product I own, because it's formulated with growth factors derived from human stem cells (there are no actual stem cells in the serum, though). Dr. Jeanniton is behind it too. Apparently, the growth factors help to regenerate skin and assist in cell turnover. It also has collagen-boosting peptides and gives an instant glow. It's meant to decrease fine lines, increase firmness, and improve skin texture."
The Gua Sha
"This was gifted to me, and it's just a joy to use. I follow my cheekbones and run it along my jawline. I'm not really pressing hard when I do this, but I feel like a little bit of gua sha at night helps to calm down any inflammation. It's great for lymphatic drainage. I probably use it once a week, and I don't keep it in the fridge, just because, for me, out of sight means out of mind — I'd never use it if it lived in my fridge!"
The Eye Cream
"This has been my go-to eye cream for three years because it's so moisturizing. I do a few pats of it on my eyes, and I feel like it really moisturizers and plumps the under-eye area. It's definitely worth the cost."
The 3-in-1 Serum
"This is one product I picked up from my dermatologist Dr. Elena Jones (she is a Naked Beauty podcast listener fave and treats Pharrell — anything he uses is worth trying, in my opinion), and this did not disappoint. It has melatonin in it, which acts as an antioxidant. It's actually meant to be used at night to basically work with your skin's chemistry. This is one of the products I've seen the biggest difference in my skin. Your skin just glows so much more in the morning. I wake up, and my skin is plump and soft. When I don't feel like doing my full routine, I just apply this. It's definitely worth the cost!"
The Moisturizer
"This is a cannabis facial moisturizer. It has 20% cannabis sativa oil in it. It's a lovely and thick, but still natural, moisturizer that really calms my skin and plays nicely with everything. My skin feels really soft and healthy after I use this. If my skin has been acting up, I notice this helps. I use an oil before this and the moisturizer after."
The Body Oil
Photo: © 2016 Products On White Photography
"My absolute favorite body oil of all time. I make a lot of my own body oils at home in my kitchen, so I'm not easily impressed with commercial options, but this is lovely. I could make it, but this is just a nice treat because it's already mixed. It has rose, neroli, and jasmine — the most sumptuous blend of oils. Once I apply it to my décolletage at night, I truly feel ready for a blissful sleep."
The Lip Mask
"I swear by this lip mask in colder months. It totally eliminates any dryness, and you wake up with soft and supple lips."
The Candle
Photo: michel cecconi
"Diana Vreeland said the way you go to bed at night is how you wake up feeling. I like to set the mood for my nighttime skincare routine, and I keep a candle with me always. I've tried dozens of candles, but I always come back to Diptyque. I think they make the most gorgeous, fragrant candles in the world, and I reuse each container as a makeup brush holder, so it's a multipurpose purchase.
I always have one of these burning as I do my routine. Treat yourself. You should be excited about doing your nighttime skin-care routine. It's a moment. Honor that moment with a candle."
If you buy something through our links, New York may earn an affiliate commission.