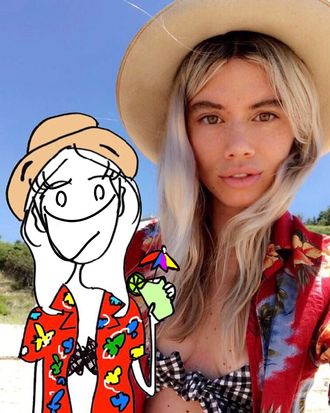 Photo: Courtesy of Arianna Margulis
Want more skin care? Join our Facebook Group, the Beauty of It All.
If you don't know Arianna Margulis, you might recognize her alter ego, the ever hopeful and self-deprecating cartoon she draws for "But Like Maybe." You wouldn't know by looking at her now, but Margulis's bright, clear skin is only a recent development.
"I had pretty bad acne when I was a teenager, so bad I would beg my mom not to go to school," she says. "I would wear hats and got bangs because most of it was on my forehead. It simmered down for a while but has since reemerged as what my dermatologist told me was 'adult acne.' I always thought not having zits was one of the benefits of being an adult?"
These days, Margulis has found a better solution to acne than hats or a hair cut (not that we would ever discourage bangs). "About a year or so ago, I started noticing some fine lines when I was tired or hungover, and had a bit of a meltdown. I had been using the same soap to wash my face since I was 12, and the only 'products' I used were for my acne." Cue a crash course in skin care. She admits, "I kind of used to roll my eyes at expensive products … and now I'm kind of eating my words."
Her routine now relies on vitamin C, hyaluronic acid, and a French skin-care product many have deemed "Jesus in a Bottle" for its powerful effects, all strategically deployed to compensate for her ever-changing sleep schedule and "the occasional margarita." Scroll down for her favorite products, complete with illustrations.
The Exfoliant
"I bought this originally because a friend convinced me it would change my life, and it did. It's completely regulated my face: my pores are smaller and squeaky clean, with way fewer blackheads. It balances the skin's pH levels so all that oil and sebum doesn't build up and lead to pimples. It exfoliates, but not in the scrub way, which I never understood was even possible. I had never used a toner or anything like that before and didn't really believe in them, but I cannot stress to you enough … P50 is magic!"
The Eye Cream
"I've been using this for YEARS ever since I got it in a gift bag once at a party. One of these babies will last you six months, maybe longer. It is the first thing I do in the morning, and has saved my eyes. Those pesky under-eye wrinkles are something that personally drive me insane, so this little guy is very important to me. It uses caffeine to help with puffiness and malonic acid to stimulate cell turnover, producing more collagen and elastin. It makes you look awake, doe-eyed and fresh as a daisy."
The Serum
"I was introduced to this by Glo Skin and Laser NYC when they used it on me after a facial, and I am now hooked! It uses vitamin C and just seriously makes you glow. This is my all time favorite serum. It makes my face happy. You'll get that all-around-bright, just-came-back-from-vacation look, no joke."
The Moisturizers
"The moisturizer of the summer! It feels like actual silk, and I can touch my skin hours later and still feel the moisture. It's got hyaluronic acid too."
"This is just my overall feel-good cream. I tend to get reddish or pink, and this soothes and calms my skin, getting rid of any irritation. It is super deep moisturizing, great for winter months and bans those flakys! I generally use this all winter until spring when I can feel more moisture in the air, and my skin feels less tight on its own."
The Peel
"I didn't know what a glycolic peel was, but a friend introduced me to these babies on a long flight home. It's another way to exfoliate and make it so your pores are able to be moisturized. For so long, I was slapping all these products on my face that couldn't penetrate because I had not properly exfoliated. It uses a 20 percent complex of glycolic acid, which is fairly strong, so I'd recommend this as a weekly treatment. It's like a mini-facial and super cleanse. I usually use it on Sundays after a looong weekend of margs, to refresh myself and fool everybody that I wasn't out all night."
The Facial
"This amazing procedure I discovered at Glo Skin and Laser. It's a form of microdermabrasion, but while it's removing all the bad stuff, it's infusing your skin with these amazing serums simultaneously. It resurfaces the skin, and they offer a couple different serums based on your needs. This is great as a refresher after a trip, stressful week, or seasonally for skin maintenance."