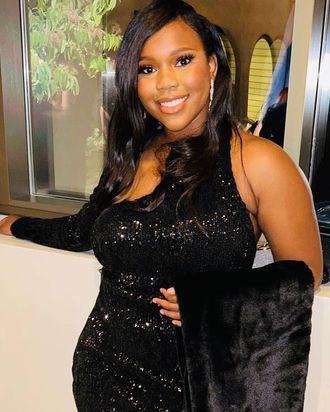 Photo: Hoover Police Department
On July 13, 25-year-old nursing student Carlee Russell called 911 to report seeing a toddler walking along the side of an interstate in Hoover, Alabama. According to a police statement on the incident, Russell told a dispatcher that she would pull over to help the child; she then proceeded to call her brother's girlfriend, who heard Russell scream down the line. Russell then vanished for 48 hours.
When Russell finally showed up at her family's door, she was, according to her parents, "not in a good state" and claimed to have been abducted. Police say Russell told them she went through a harrowing ordeal involving an 18-wheeler truck; forced, nonconsensual nude photography; and multiple escapes. Initially, police weren't able to verify Russell's story; they said surveillance video of the interstate didn't show a man or a toddler on the roadside around the time of the alleged incident, and that Russell's internet search history showed some "strange" activity. Now, Russell's lawyer has said in a statement that "there was no kidnapping" and parts of his client's story were untrue. Here's what we know so far.
Russell disappeared after calling 911, ostensibly to help someone else.
The Hoover Police Department says that on July 13, Russell left the Birmingham spa where she works part-time with a brown robe, a roll of toilet paper, and other items belonging to her employer all "concealed" on her person. She stopped at a Mediterranean restaurant and made a snack run at Target before driving home on I-459. At 9:34 p.m., she called 911 and told a dispatcher that she had seen a toddler walking along the interstate alone. After hanging up, she called her brother's girlfriend and kept her on the line as she pulled over to check on the child. According to the New York Times, which spoke with Russell's mother, Talitha, the girlfriend heard Russell get out of her car, address someone, and then scream. After that, all she could hear were traffic sounds from the highway.
When police got to the location, they reportedly found Russell's car still running. They found her wig and some other belongings scattered on the ground nearby, but no sign of Russell, nor of a toddler. Notably, while her purse and the food she'd picked up were still sitting in the abandoned vehicle, the items she took from the spa and the snacks she got from Target were gone.
Video footage from the interstate appears to show Russell flashing her emergency lights and stopping her car at the time she called 911, while police said a witness thought they may have seen "a gray vehicle with a light completed male standing outside of Carlee's vehicle." But the footage, though grainy, doesn't seem to show anything like that, and 911 received no other calls about a solo toddler wandering alongside the interstate. As Police Chief Nicholas Derzis observed, per the Times, that feels "a little unusual," given the reported circumstances.
The search garnered interest across the country.
As Russell's disappearance became national news and a top trending topic on social media, people unrelated to the case started getting involved — one purportedly offering a $20,000 reward. Within a day and a half, the reward had risen to $60,000, Crime Stoppers of Metro Alabama told AL.com. On Twitter, Instagram, TikTok, and Facebook, users circulated her photo and story, while on the ground in Alabama, law enforcement agencies, her friends, and her family all launched searches trying to find her.
Russell returned to her family's home two days later.
Those efforts came to a close two days after Russell vanished when she returned to her family's home alone on the night of July 15. Police said in a statement that medics arrived and took Russell to the hospital for evaluation and that they would continue to investigate what happened.
The day after Russell's return, her mother wrote on her Facebook that the family had not slept for three nights. "Just as we made a commitment to not entertain negative thoughts during the time our daughter was missing, we surely will not entertain negative thoughts/statements, unvalidated opinions, or sheer ignorance at such a joyous time," Talitha said in her post.
In an interview with the Today show , Russell's parents spoke on the struggle of the previous four days, noting that police are still investigating the disappearance. Talitha said that when her daughter got home, "We tried to hug her as best we could, but I had to stand back because she was not in a good state." Although Russell's parents said that they could not get into the details of their daughter's disappearance because of the ongoing investigation, her mother said that she had been abducted and reiterated that she had "fought for her life." Carlos Russell, Carlee's father, said his daughter has been having "bad dreams" and "moments where some things make her cringe, afraid." He also explained that "different things," like loud noises, have been a "trigger" for her.
Police have not been able to verify Russell's story.
On July 19, police chief Derzis said in a news conference that detectives had only interviewed Russell once, briefly, after she returned home. During that conversation, she allegedly claimed to have been taken by a man who appeared from the woods after she approached the toddler. The man picked her up, she told police, made her go over a fence, and forced her into a car; after that, she somehow wound up in the back of an 18-wheeler truck. Russell believed there was a man and a woman in the truck, based on the voices coming from the front seat, Derzis said. She also said she could hear a baby crying. Russell claimed to have escaped from the truck, but reportedly said she was captured, then taken by car to a house where her alleged kidnappers forced her to undress. She reportedly expressed concerns that these people took pictures of her naked body, but didn't remember any "physical or sexual contact," Derzis told reporters. After holding her overnight, her alleged captors purportedly put her back in the car. That's when she said she escaped a second time, running through the woods until she eventually reached her neighborhood.
In their press conference, Derzis said that detectives have not been able to verify Russell's story. They said they have not found evidence of a missing child, nor did they receive any other calls about a toddler on the interstate, despite several cars driving along the road at the same time. Their investigation purportedly shows that, while on the phone with the dispatcher, Russell would have been following the child for a distance equivalent to the length of six football fields. "To think that a toddler, barefoot, that could be 3 or 4 years old, could travel six football fields without getting in the roadway, without crying, it's very hard for me to understand," Derzis, the police chief, said.
Derzis added that Russell's internet-search history turned up a number of "very strange" entries in the days and hours leading up to her disappearance. She apparently looked up whether or not people have to pay for Amber Alerts, and if there is a maximum age for such notices. She also wanted to know how to take money out of a register without getting caught and looked for a one-way bus ticket from Birmingham to Nashville for the date that she went missing. She also Googled the movie Taken — about a father who searches for his daughter after her kidnapping by a ring of human traffickers. The investigation is not over, but police would like to speak with Russell again. Derzis said their request hasn't yet been granted. "There are many questions left to be answered, but only Carlee can provide those answers," he noted.
In the wake of updates from the investigation, Russell's employer, a spa in Birmingham, reportedly fired her amid what the owner described as a huge influx of negative comments on the business's social-media accounts.
Over the weekend, Thomar Latrell Simmons, Russell's boyfriend, asked the public to stop bullying her online. Shortly after Russell returned home, Simmons claimed on Instagram that she had been "fighting for her life for 48 hours." In an interview with the New York Post a week later, he said, "I know what it seems like what she did. Just stop bullying on social media." He added, "Think about her mental health. She doesn't deserve that. She doesn't. Nobody deserves to be cyber bullied." Simmons appears to have removed all images of Russell from his Instagram account, while she is reportedly refusing follow-up interviews.
Russell admitted through an attorney that parts of her story weren't true.
In a July 24 news conference, Hoover police chief Nick Derzis read a statement from Russell's attorney that admitted multiple claims Russell previously made were untrue, including that she was kidnapped. Derzis told reporters that Russell's lawyer, Emory Anthony, emailed the statement to him ahead of a second scheduled meeting between Russell and investigators. "There was no kidnapping on Thursday, July 13, 2023," Anthony wrote. "My client did not see a baby on the side of the road. My client did not leave the Hoover area when she was identified as a missing person."
Anthony added that Russell wanted to "apologize for her actions to this community, the volunteers who were searching for her, the Hoover police department, and other agencies, as well as to her friends and family." Finally, he wrote, "We ask for your prayers for Carlee as she addresses her issues and attempts to move forward understanding that she made a mistake in this matter."
Simmons, the boyfriend who'd spoken out in her defense earlier in the week, reacted to the statement on Instagram, where he referred to Russell as his ex. "Carlee's actions created hurt, confusion, and dishonesty," he wrote, adding that he and his family are "disgusted" by the news that she was not kidnapped. "I strongly feel exactly like you all," he said, "blindsided with Carlee's actions."
Russell has been charged with filing a false police report.
On July 28, the Hoover Police Department announced that Russell had turned herself in and was charged with two misdemeanors: filing a false police report and filing a false statement to law enforcement authorities. Each charge typically carries a penalty of less than a year in prison and a $6,000 fine. Russell was released on a $2,000 bail shortly after turning herself in.
Derzis expressed "frustration" that the charges were so light, telling reporters that "existing laws only allow the charges that were filed" and claiming that he plans to push Alabama lawmakers to make the consequences of falsely reporting a kidnapping more severe. He added that his department still has no intel on where Russell went while she was missing and has still not ruled out the possibility that she acted with someone else.
This article has been updated.