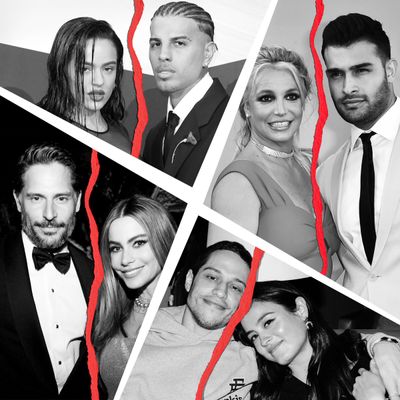 Photo-Illustration: by The Cut; Photos: Getty Images
Something is in the air. Sure, the weather is never not wreaking havoc on our love lives — there is the animalistic horniness that strikes us all at the first sign of spring and the frantic hunt for a committed sex buddy that suddenly sets in come late fall — which is to say nothing of the erratic astrological calendar. (Venus is retrograde right now, maybe you've heard of it?) But this summer, during the sweatiest months of the year, a new seasonal phenomenon has developed. Everyone is breaking the hell up.
The first spasms of breakup season made themselves known in early spring, which saw the end of some relationships many of us thought were a forever kind of love. Taylor Swift parted ways with her long-time boyfriend and muse Joe Alwyn, immediately rebounding with a widely disliked musician who shall not be named (thankfully, they too have reportedly since called it quits). Reese Witherspoon announced a Big Little Divorce from her husband, Jim Toth, for some reason setting off false rumors that she was suddenly dating the most divorced quarterback in the NFL. And then, of course, there was Tom Sandoval's ratings-shattering affair with Raquel Leviss, rendering his breakup with Ariana Madix all but inevitable. They weren't the only Bravo couple on the chopping block: Beverly Hills Housewife Kyle Richards has spent the past month denying rumors that she and her husband of 27 years, Mauricio Umansky, have separated.
Not that we need to believe Richards's breakup to dub our current moment the summer of splits. We have Kevin Costner and Christine Baumgartner for that. Perhaps feeling inspired by all these famous men and women falling out of love, a whole slew of other celebrities have promptly followed suit, and now the floors of our mind palaces are littered with dead relationships. While we mourn their passing, we also celebrate the arrival of good things to take their place: an unusually active celebrity rumor mill, endless possibilities for new unexpected duos, and the all-too-rare reminder that, actually, being single is fun.
Bill de Blasio and Chirlane McCray
New York's former mayor and his wife are on a trial separation, did you hear? They broke the news in a deeply weird New York Times profile that reads like a couple's therapy session transcript, in which they also revealed that they're still living together and asked their interviewer to publicize their info for prospective dates. I wonder how their setup is panning out?
Billy Porter and Adam Smith
Shortly after de Blasio's announcement, Billy Porter separated from his husband of six years, swimsuit designer Adam Smith. Representatives for Porter confirmed that the former couple planned to "end their marriage," telling People that "the decision was an amicable and mutual one made after much consideration. They continue to love and support each other as they embark on this next chapter." It's not clear if they've officially filed.
Sofia Vergara and Joe Manganiello
In mid-July, Sofia Vergara and Joe Manganiello announced via "Page Six" that they'd "made the difficult decision to divorce" after seven years of marriage. Two days later, Manganiello officially filed the documents, and since then the former couple has allegedly been debating who gets to keep their dog, Bubbles, who is for some reason not included in the prenup. Even more concerning than sweet Bubbles's nonexistent custody arrangement: "Page Six" claims that Tom Cruise is "ready to pounce" now that Vergara is available. They dated in 2005 but broke up, reportedly because Vergara was "fundamentally terrified" of Scientology, which is correct.
Ariana Grande and Dalton Gomez
Strap in, this one is messy. It started, as chaos rarely does, at Wimbledon, where Grande was spotted taking in a tennis match without her wedding ring or her real-estate husband, Dalton Gomez. Also gone: the wedding photos that used to live on her Instagram page. Since then, a wave of confusing rumors and statements indicated Grande is dating one of her Wicked co-stars, Ethan Slater, a.k.a. SpongeBob SquarePants from SpongeBob SquarePants (the musical). Slater very recently (like, very recently) had a child with his soon-to-be-ex-wife, who called Grande "not a girl's girl" in "Page Six" in the wake of rumors that Grande and Slater had an affair. More rumors emerged, including the Daily Mail's claim that everyone on set knew they were hooking up, and they were "all over each other at Michelle Yeoh's Oscar party." Rude!! Anyway, it feels safe to say Grande and Gomez are most definitely broken up. Rumor has it the ponytail is in escrow.
Rosalia and Rauw Alejandro
The hottest couple you've ever laid eyes on recently become the hottest exes you've ever laid eyes on. Things seemed to be on the up and up for these two, who got engaged in March after dating for two years. They got matching tattoos and recorded a sexy album together. But in late July, People claimed their marriage plans had been called off, along with their general plans to stay together, life-wise. I will miss walking around with the knowledge that, somewhere out there, these two beautiful faces are smooching. RIP.
Tina Knowles and Richard Lawson
Irreconcilable differences abound. At the end of July, the most talented matriarch in the world filed for divorce from her husband of eight years, actor Richard Lawson. You know when you celebrate your divorce by going to your daughter's sold-out MetLife concert with Gayle and Oprah? No? That's what Tina did, at least. Cheers to her.
Justin and Sophie Trudeau
Earlier this month, Canada's Prime Minister Justin Trudeau announced on Instagram that "after many meaningful and difficult conversations," he and his wife, Sophie, a retired television host, "made the decision to separate." He also posted a French translation, because Canada. Still, per Trudeau's office, they are about to embark on vacation with their three kids. How do you say "conscious uncoupling" in Quebecois?
Sophia Bush and Grant Hughes
To clarify, Sophia Bush has not been quietly married to legendarily charming rom-com star Hugh Grant, which is how I read this headline upon first glance. She is, however, divorcing a much less famous entrepreneur and investor named Grant Hughes, whom she married last summer in his home state of Oklahoma. People reported that, although Bush filed for divorce in early August, these two "remain good friends" (at least according to one source) and plan to keep running their nonprofit, the Bush Hughes Foundation for Progress, together. That's all well and good, but what happens when she chases him down in a private helicopter after he tries to kidnap their kid and escape his murder trial? Just wondering.
Britney Spears and Sam Asghari
Just as important as a woman's right to get married once freed from a restrictive conservatorship is her right to subsequently get divorced. Britney Spears and Sam Asghari met in 2016 on the set of Spears and Tinashe's music video for "Slumber Party." In 2021, the singer expressed a desire to get married while petitioning to end the 13-year legal arrangement that allowed her very little say in her own life decisions. The following year, with the conservatorship finally lifted, Spears and Asghari got married at their home in Thousand Oaks, California, in the presence of Madonna and Drew Barrymore (and some other people, I guess). In March, rumors of separation swirled after both parties were photographed without their wedding rings. At the time, a rep for Asghari told People that his ring was off because he was filming a movie. But now, 14 months after their wedding, TMZ reports that he's filed for divorce, claiming (without confirmation) that the couple had a huge fight after Asghari accused Spears of cheating on him. A concerning missive from "Page Six" also proposes that Asghari is asking for more money than was outlined in the prenup and is threatening to release "extraordinarily embarrassing information about Britney unless he gets paid." Please give this woman a break!
Pete Davidson and Chase Sui Wonders
Given the ebb and flow of Davidson's dating life, the fact that one of his breakups just so happened to fall within the bounds of summer 2023 is more likely a coincidence than a sign of cosmic significance, but we're counting it nonetheless. Davidson and his Bodies Bodies Bodies co-star, Chase Sui Wonders, enjoyed a "very sacred" several-month relationship (in Wonders's words, at least) involving several of Davidson's favorite sexy activities: watching ice hockey, going to a theme park, taking a tropical vacation. In June, the couple was involved in a car crash that resulted in Davidson being charged with reckless driving, and he checked himself into a mental-health center for treatment soon after. A few months later, People reported that our denim-robed Casanova is "out and about and doing really well" and also "single again." God bless.
Kelis and Bill Murray
As summer comes to a close, so too has Kelis and Bill Murray's summer fling. After a two-month "whirlwind romance," as one U.S. Sun source called it, the two have broken up. The publication, which alleged that the unlikely duo started dating back in June, reports that Kelis, 44, and Murray, 72, are still "very fond of each other but things just ran their course." The actor and singer reportedly connected in London while Murray was filming a Ghostbusters reboot and attended Kelis's performance in the city. Later, they were spotted at the same hotel. Kelis and Murray kept their relationship quiet, but the singer reportedly told fans on an Instagram Story over the weekend that she and Murray were not dating.
Lindsay Hubbard and Carl Radke
Toward the end of August, a freaky blue supermoon emerged just in time for the very last breakup of the cosmic season: Summer House's resident "babes" Lindsay Hubbard and Carl Radke. The couple, who got engaged almost exactly a year ago, called off both the wedding and their relationship sometime toward the end of August, as reported by "Page Six" and Entertainment Tonight. Apparently, we will be able to watch their breakup play out on the next season of the show, which is expected at the beginning of 2024. It seems breakups spread like wildfire in Bravo Land. I wonder who's next.
This article has been, and will probably continue to be, updated.