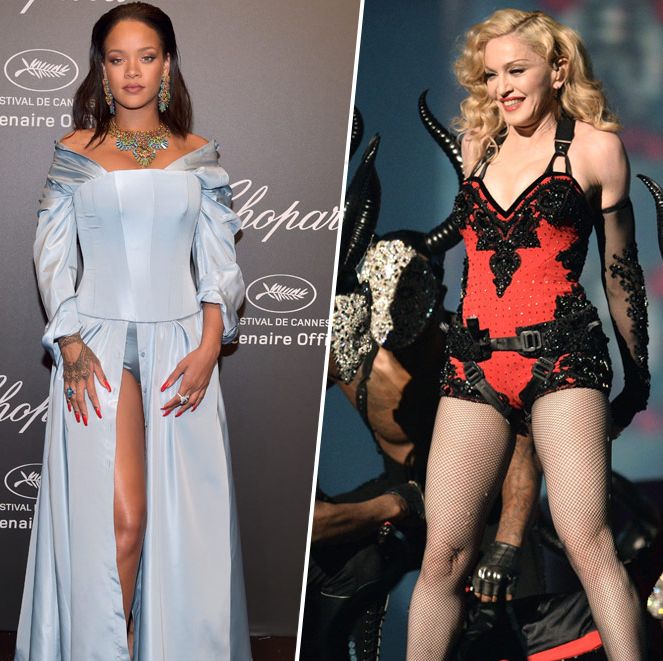 At the Cut we're both fascinated and disturbed by the lengths celebrities will go to look the way they do: We've analyzed the science behind Pippa Middleton's SirtFood diet, discovered that Jennifer Aniston considers kale chips a cheat-day snack, and balked at the fact that Kate Bosworth's only indulgence is ketchup. We've also tried many celebrity diets ourselves. Our own Rebecca Harrington has attempted to eat like Beyoncé, Rihanna, and Taylor Swift — all in the name of journalism. Here, for your reading pleasure, is a guide to what we've learned along the way.
1. Beyoncé
After Beyoncé gave birth to Blue Ivy, she went on a weight-loss plan that helped her lose 60 pounds in three months. It's the strictest one Beyoncé has ever followed and aptly named the Herculean Diet. It's very rich in protein and lots of acidic foods like lemons, jalapeños, and wasabi. Sweets are scarce in this eating plan, but sometimes you can have frozen yogurt.
Rebecca Harrington ate like Beyoncé for a week. Her review: "This is the most effective regimen I have ever undertaken. Between the master cleanse and Beyoncé's post-pregnancy diet, I have lost ten pounds."
2. Rihanna
Generally, Rihanna does what she wants when it comes to food. Sometimes she eats at traditional Italian restaurants, sometimes she has her chef cook for her, and sometimes she just drinks beer. But when she does want to diet, she goes on the 5-Factor Diet by Harley Pasternak. The basis is pretty simple: Eat five meals a day, and make sure each of those meals include five "essential" ingredients.
Harrington ate like Rihanna for six days. Her review: "I for one am impressed. Her plan has variety and truly delicious meals from amazing Italian places."
3. Gwyneth Paltrow
Gwyneth Paltrow's brand is built on wellness and healthy eating, so it's no surprise that her various cookbooks also work as diets and eating plans. One specific regimen outlined in her It's All Good book is the seven-day detox diet. Every morning starts with a green smoothie, followed by a whole lot of fish.
Harrington ate like Gwen for ten days. Her review: "If I wasn't going to go bankrupt to do it, I would follow the Gwyneth diet to the letter every day," she says.
4. Taylor Swift
Similar to Rihanna, Taylor Swift also takes a loose approach to dieting. She drinks Pumpkin Spice Lattes on the weekends, eats crêpes for breakfast, and generally has a normal eating habits. But rumor has it than when Swift does want to follow something a little more regimented, she goes on a raw-food diet.
Harrington ate like Swift for nine days. Her review: "Taylor's diet is so normal — like what a nutritionist would tell you to eat. It is like no diet I have ever tried, in my entire history of trying the diets of famous people as a job."
5. Pippa Middleton
When Pippa Middleton was preparing for her sister Kate's wedding, she followed the Dukan Diet, which is a really popular French program that's most similar to Atkins. But for her own wedding, Middleton was on the SirtFood diet. It's extremely restrictive, and focuses on foods that are high in polyphenols — micronutrients found in plant foods — which supposedly help activate a person's sirtuin (or "skinny") genes.
While we've never tried Pippa's diet ourselves, we did analyze the science behind it and why it might not be the best method to lose weight.
6. Madonna
With the exception of weekends, Madonna follows a strict macrobiotic diet that eliminates meat, dairy, wheat, and eggs. The star foods in this eating plan are "sea vegetables," which are in the seaweed realm, but rich in minerals and dietary fiber. Some other staples include tofu and sauerkraut. The lack of actual food in this diet explains why Madonna can still pull off leotards.
Harrington ate like Madonna for ten days. Her review: "I feel like I am starving but I am definitely not. I am eating food. I am just hungrier than I have ever been."
7. Tom Brady and Gisele Bündchen
Everyone knows that Tom and Gisele don't eat strawberries, but they also don't eat white sugar, white flour, tomatoes, peppers, mushrooms, or eggplants. So what do they eat? According to their chef, Alan Campbell, "80 percent … vegetables … and whole grains: brown rice, quinoa, millet, beans. The other 20 percent is lean meats: grass-fed organic steak, duck every now and then, and chicken."
Harrington ate like Tom and Gisele for four days. Her review: "Living like Tom and Gisele is hard. You have to live in Boston and you have to eat nothing."
8. Mariah Carey
In an interview with E!, Mariah Carey revealed that she only eats two foods: Norwegian salmon and capers. That's it. Just protein, with a salty topping.
We've never tried to eat like Mariah, but it doesn't sound like the worst food to consume for a week.
9. Carmelo Anthony
During his stretch as one of the best point guards to ever play for the Knicks, Carmelo Anthony has been known to cleanse. Specifically, he's taken part in a 15-day spiritual cleanse called "the Daniel Fast" (reports say it affected his game). Foods you can't eat: meat, carbs, dairy, coffee, alcohol, and sugar. Foods you can eat: vegetables, whole grains.
Harrington ate like Melo for two days. Her review: "Men are babies and when it comes to diets NBA superstars are less hard core than the average American teen girl in the week before prom."
10. Rosie Huntington-Whiteley
It's no surprise that Victoria Secret models follow some strict diets, and Rosie Huntington-Whiteley is no exception. She follows a plan by Dr. Nigma Talib, who practices naturopathy, which is a system of treatment that focuses on diets, herbs, vitamins, and natural agents to heal, rather than surgery and prescription drugs. Dr. Talib doesn't let you have sugar, dairy, gluten, or alcohol.
We haven't tried to eat like Rosie, and based on what she has to say about it, we're glad.
11. Hillary Clinton
Reports have said that Hillary Clinton follows a diet invented by Dr. Mark Hyman, the director of functional medicine at the Cleveland Clinic and author of New York Times best-selling book Eat Fat, Get Thin. He believes you need to eat lots of fat in order to lose fat. But the catch is that it's only healthy fats — you can't have sugar, gluten, grains, dairy, and most fruits. While following this eating plan, you essentially live off avocados and lettuce.
Harrington ate like Hillary for eight days. Her review: "The whole thing did kind of make me feel bad for H. … And all day, every day, she is drinking Bulletproof coffee and reading dossiers on arctic char."
12. Jackie Kennedy
While Jackie Kennedy didn't follow an official diet, she did coin the "caviar diet" because of the sheer amount she ate. Rumors say that she used to only eat one meal a day, which was one baked potato stuffed with Beluga caviar and sour cream. She was also known to go on fruit fasts after periods of heavy eating.
Harrington ate like Jackie for 11 days. Her review: "In the end, Jackie had impeccable taste, even in diet food."
13. Marilyn Monroe
Marilyn Monroe was known most notably for her breakfast selection: two raw eggs whipped in warm milk. She also skipped lunch regularly, and ate either liver, steak, or lamb for dinner. Her one indulgence was a hot-fudge sundae. When she wasn't creating her own eating plan, Monroe followed the diuretic diet. It features foods with high potassium and diuretics, and is used to decrease fluid retention.
Harrington ate like Marilyn for ten days. Her review: "I have stayed basically the same weight and have a huge cystic pimple on chin. But my breasts seem — slightly? — more firm, and I don't have to drink raw eggs anymore."