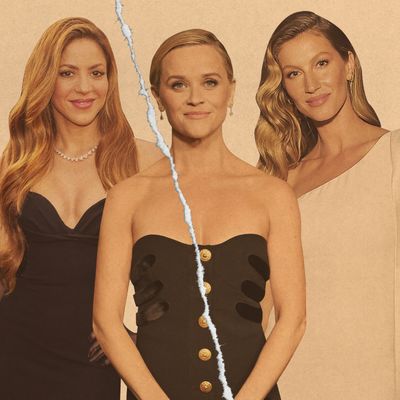 Photo-Illustration: by The Cut; Photos: Getty Images
It's Over is a series exploring what divorce looks like now — from Instagram announcements to pet-custody disputes.
When Reese Witherspoon announced that she was divorcing her husband of 12 years, Jim Toth, on Friday afternoon, she did so in the manner we have come to expect from A-list celebrities facing such a challenge. She posted a brief, conciliatory, joint statement on Instagram and asked for privacy.
"It is with a great deal of care and consideration that we have made the difficult decision to divorce," the statement read, which was dropped just before the weekend — no doubt in order to minimize press coverage. "We have enjoyed so many wonderful years together and are moving forward with deep love, kindness, and mutual respect for everything we have created together."
The post, naturally, was closed to comments.
These days, this kind of statement is expected from celebrities going through a separation. But the Instagram divorce announcement has become so de rigueur that it is no longer limited to just celebrities. Influencers, business leaders, and even non-famous "normal" people have typed up statements on the Notes app to tell their followers about the end of their marriages. The tone of these statements varies, of course, but the sentiments are usually the same: The estranged couple is always moving forward with respect and love and, if there are children involved, committed to amicably co-parenting.
The trend started with Gwyneth Paltrow and Chris Martin's "conscious uncoupling" in 2014 and has become even more prevalent with the rise of social media — Instagram, specifically. Now that celebrities can address fans directly on their own accounts, they are more likely to break divorce news themselves rather than leak it to the tabloids.
As expected as these statements have become, they are still open to interpretation by fans attempting to read between the lines to find out what really happened behind the scenes. Did the celebrity leave comments on? How long did they keep the post up before deleting? Did they use a somber, black-and-white color scheme or something brighter? What about emoji? 
The statements themselves exist on a spectrum that runs from anodyne to incredibly revealing: On the more conservative end, you have one like Witherspoon's, and on the juicier end, you get something like Kate Bosworth's prose poem about whiskey that she posted to announce her divorce from director Michael Polish in 2021 (she is reportedly now engaged to Justin Long). Fans will note if both halves of the estranged couple release identical statements or slightly different ones. When Tom Brady and Gisele Bündchen announced their separation last fall, they released statements that were similar in content but vastly different in tone (Bündchen's had a much sunnier outlook).
Sometimes, the shortest statement says the most: When Shakira announced that she was separating from her husband Gerard Piqué last summer, her announcement was brief and brutal, foreshadowing the bitter divorce battle to come. "We regret to confirm that we are separating," she said. "For the well-being of our children, who are our highest priority, we request respect for our privacy. Thank you for your understanding."
Then, of course, there are the celebs whose breakups are so acrimonious that they can't manage to make a statement at all: Kim Kardashian and Kanye West, Emily Ratajkowski and Sebastian Bear-McClard.
With so many examples to draw inspiration from, it is only natural that social-media influencers have adopted the same kind of language to announce their own divorces. Whether they have 5,000 followers or 5 million, in the last few years, it has become normalized for influencers to release Instagram divorce announcements just like A-list actresses and pop stars do.
The posts themselves are more likely to be revealing, however. Whether they gained followers for posting about fitness, family, or beauty products, influencers are much more likely to go into detail about their breakups than traditional celebrities. Even those with relatively small followings are apt to update their fans on developments in their personal lives. While A-list actresses might feel that a divorce is something to be suppressed, striving influencers see that it can be a big opportunity for personal branding.
For some, divorce is just another part of the "personal-growth journey" they share with their followers. When Alessia Scauzillo, a fitness influencer with 25,000 followers on Instagram, shared the news of her breakup last month, she did so with a stitched-together video of her crying, leaving her partner, and ultimately getting stronger with the caption "i chose me 🤍"
"At some point, we realized that we were holding each other back," Scauzillo says in voice-over in the video. "On my end, I was on a path to becoming my most authentic, genuine, and pure version of myself that started with my career change from finance to fitness and then blossomed into a full shift into how I want to live my life in an open, vulnerable, deep, loving, and adventurous way. And he's on his own epic growth journey too."
This is a far cry from Witherspoon's request for privacy. Instead, Scauzillo invited her followers to relate to her struggle and even be inspired by it. (Whether this attempt at motivational branding was successful is up for debate: One follower commented, "This is not inspiring… Who cheated?")
Lauren Chan, a model and influencer with 83,000 followers on Instagram, took a similar tack when she announced her divorce last month on Valentine's Day. Alongside a carousel of professionally shot photos of her wearing white lacy lingerie while looking at herself in a mirror, she wrote, "This Valentine's Day has given me an impetus to think deeply about self-love—and I think that this is the right moment to share that I'm going through a divorce. It's a very odd feeling to feel like I need to share such a personal update with over 80,000 of you…but I can tell that I've been withdrawn from people, both in real life and on social media, because of it and I want to get reconnected."
Chan went on to share that her breakup involved a "process of emotional growth," adding, "I have never been more proud of myself and my ex-husband for being so vulnerable, self-aware, and caring towards ourselves and each other. IMO, we've been brave to embrace the fact that we need futures for ourselves that are different from what was."
In influencer-speak, divorce is an almost spiritual experience. But are these kinds of posts really necessary? For most influencers with small-to-medium followings, probably not. The average follower may not even clock the influencer's marital status to begin with. But some have such engaged fans that sharing a life update like a divorce may not feel like a choice.
When Joanna Goddard, founder of the wildly popular Cup of Jo blog, announced her divorce on her website last month, she noted that she was sharing, in part, because "some readers have sent messages and emails noting that Alex hadn't been mentioned lately and wondering if everything was okay."
In a follow-up interview with the Cut, Goddard explained that she worried how divorce would fit with the stories she had been telling about her life on the blog for years: "If you're a really longtime reader, you've seen the whole story: I met Alex, we fell in love, he moved in, he proposed, we planned our wedding, we had a honeymoon baby. It's this whole narrative that's been going on for so long. Will this disappoint people? Will it hurt the site in some way?"
Probably not: Followers immediately started sharing their own divorce stories in the comments, illustrating that this is just one more relatable element of Goddard's life.
For some influencers, however, divorce is not that deep. It may even be the perfect segue to announce a new venture. In January, Victoria Jameson, a TikTok beauty influencer with almost a million followers, announced her divorce in a direct, borderline sassy manner on the platform. She posted a six-second video with the voice-over, "I just want to get one epic photo so that my ex-husband knows that I'm having a better life without him." The caption? "Hard launch: I'm divorced. Tune into my second chance at love on The Bachelor 🌹 Premieres Jan 23 on ABC."
Jameson ultimately only lasted two weeks on the classic dating show, but her announcement gave her some public interest going into it. Now, she posts short recaps of her limited time on the show on TikTok, where she has garnered even more followers with her new brand as a single woman looking for love.
Whether divorce is a painful excavation of the self or simply a pretext to sign up for a dating show, for influencers, it's almost always worth sharing. And as more and more "normal" people live their lives online, sharing marriages, babies, and everything else, the Instagram divorce announcement is bound to start showing up on the pages of friends and family members who don't have much of a following at all. Everyone loves a rebrand.