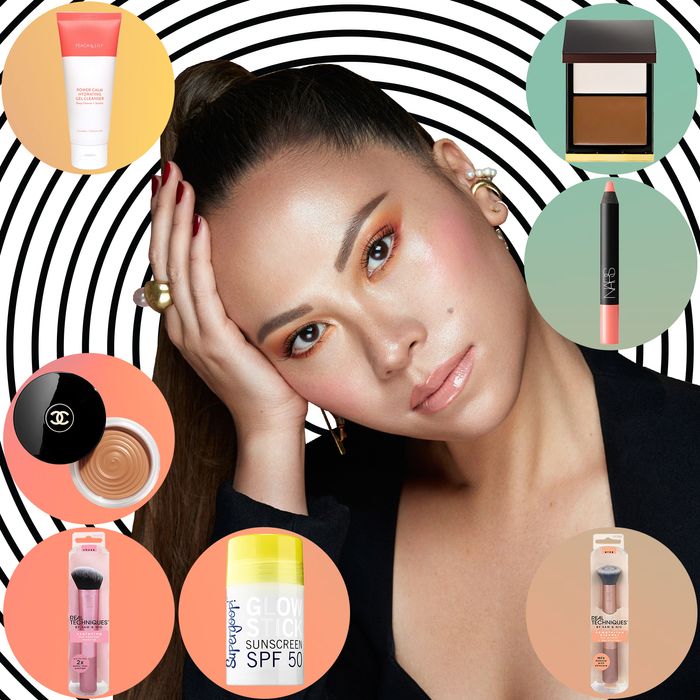 Photo-Illustration: The Cut; Photos: Retailers, Portrait courtesy of Nam Vo
On the Beauty Group, a Facebook community co-founded by the Cut and the Strategist, people chat all day long about the products they love — the ones so good they'll make you hit that little "auto-refill" box at checkout. Below, we asked one of our favorite beauty pros to share her own selections.
Nam Vo calls herself the "queen of glow jobs." She's known as the makeup artist behind the "Dewy Dumpling" look, a technique that creates radiant and glowing skin, complete with ultrahighlighted cheekbones that could rival even the most reflective dolphin skin. Rosie Huntington-Whiteley, Kylie Jenner, Michelle Phan, and Chrissy Teigen have all become #DewyDumplings over the past few years.
But although her signature look is all about makeup, Vo says it's worth investing in your skin care first. "I could recommend the best concealers, the best foundations, the best coverage, and as a makeup artist, I could create the illusion of beautiful skin. I could handpick your makeup, and you'll look lit on camera, but rather than creating the illusion of beautiful skin, I say you take your money, your pennies, your stimulus check, and invest that in skin care."
Specifically, Vo wants you to consider what she calls the four pillars of great skin care: microneedling, microcurrent, radiofrequency, and LED. "Microneedling helps with scars, and it helps to stimulate collagen. Microcurrent is like working out a muscle. Like, I could do tricep and bicep curls and my muscles are going to lift and tighten, but it's harder to get ahold of those muscles underneath your skin. I have a theory — if you want to avoid Botox, and all those fillers, I say start microcurrent as early as possible. But remember: It's not going to help with pigmentation, and it's not going to help with texture," she explains.
As for the other two pillars: "Radiofrequency helps stimulate collagen, and it's actually tightening the skin. And lastly, LED — the Rolls-Royce of LED is the Celluma, and I'm obsessed with it. It helps to heal, it helps to regenerate, and it helps your skin to strengthen over time."
Vo is the official makeup artist for Real Techniques, and she recommends its makeup sponges and brushes as an area where you can save money. "I'm usually a little bit more bougie, but when it comes to brushes, most brands, even some of the high-luxe brands, are going synthetic in regards to animal cruelty. I love working with Real Techniques because it's a save-money-honey product, but they're actually very well-crafted and very well-thought-out."
Below, she breaks down more of her essentials, including the $6 brush she always keeps in her kit, the SPF that doubles as a highlighter, and the texturizing hair spray she's used for five years.
The Sculpting Brush
"This brush is great for contour, foundation, cream blush — it's so multipurpose and a staple in my kit."
The Cleanser
"I like this cleanser because it's a lightweight gel that takes every ounce of makeup off, and it doesn't strip the skin. I know the founder, Alicia Yoon, and I really respect her product-development process. I use so many different oil balms and do double cleansing, so when it comes to the gel cleanser, I want to keep it really clean. There's no scent, it's light, and does the job. It's just a really nice deep cleanser."
The Lipstick
"This is the perfect beige-nude. It brightens up any look. You could use concealer to neutralize the lip and create a blank canvas, but I feel like this has something spicy. It's almost like a hypernude peach — I blank out my lips with it, but it has a little bit of kick to it. I can do a Popsicle lip on top or light it with different colors, and it gives a really nice base. It's not drying at all."
The Essence
"I've been using this for ages — I put it on my face and my neck and chest, too. It's a great antioxidant; it brightens the skin, it grabs moisturizer, and it's just overall a Dewy Dumpling staple. I know I am really high-maintenance, and there's a big debate if people like essences, but I've found over the years that my skin drinks it up, and it makes my skin really spongy and plump. I also feel like it makes all of my serums perform better after I use this. It's definitely a winner chicken dinner."
The Mist
"I've been using this for ten years. It gives the skin a sheer veil of moisture and dewiness without looking greasy. It's almost like liquid moisturizer, so no matter what look, I always spray a little touch of this."
The Bronzer
"Another Dewy Dumpling staple. There's something about this one — it's matte but glides on like butter, and it gives you a very beautiful, sheer glow. I feel like a lot of people are intimidated by cream bronzers and prefer powder bronzers, but I think cream bronzers look a lot more healthy and hydrating. If you use a nice synthetic brush and spread it on in a beautiful way, it's actually a lot easier, and it looks like it's coming from the skin. Cream formulas blend with the skin and powder formulas sit on top of the skin. I don't think one is better than the other, but my personal preference are cream bronzers and cream contours because I like everything to look creamy and skinlike. I often do cream and then do powder, too."
The Sunscreen
"I use this not only as an SPF but as a highlighter, and it gives you a dewy look. Even if I'm just running out the door and I don't have any makeup on, it gives a dewy look to my skin. I am an SPF-crazy person, and I think I get this from my roots because my mother is also SPF-crazy. I grew up in a family where we were more scared of sun damage than anything else. If I'm walking around NYC and getting sun exposure, I try to apply every two hours. I get freckles near my eyes and on top of my cheekbones, so this stick is perfect for creating a dewy glow and protecting this area that I'm most concerned about."
The Blending Brush
"This brush is ideal for laying down foundation, blending foundation, as well as your bronzer and your contour."
The Contouring Compact
"I love this because it's a contour, but it's dewy, and then there's two colors. Together or separately, it's just the gift that keeps on giving — I can create more intense contour, I can use as a bronzer, a highlight … the list goes on. I can't even remember how I heard about this product, but I have always been excited about everything Tom Ford launches. It has been a Dewy Dumpling staple for ages. "
The Bodywash
"I like this bodywash because I'm not big on fragrance on the body, but it gives you this invigorated, fresh burst of eucalyptus, and it feels really fresh and clean."
The Texturizing Spray
"This is probably the one hair product I've been using the last five years consistently. It fluffs up the hair, it gives it texture, and it holds your curl. It does SO much."