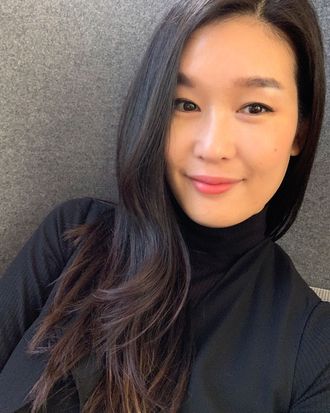 Photo: Courtesy of Charlotte Cho
Charlotte Cho likens skin care to wearing a face mask to mitigate the spread of COVID-19; it's about common sense informed by science. "What excites me about skin care is that there is a lot of science behind why we use different steps and ingredients," she says. Also exciting: "The results you see after investing in a consistent routine." This evidence-based approach is the founding principle behind Cho's online Korean-beauty shop Soko Glam, her skin-care line Then I Met You, and her most recent venture, Soko Glam's in-house brand Good (Skin) Days. Somewhere between launching these projects, she also found time to write The Little Book of Skin Care, which guides readers through a ten-step K-beauty skin-care routine.
Cho didn't always enjoy skin care. Before she moved to South Korea after college, she saw it as a chore. "I joke that I was 'essence-shamed' while living in Korea," she says. "The native men and women were just so skin-savvy, and they were shocked when I didn't have an essence in my routine and teased me for not knowing what one was." She's never looked back. Her current routine stands at seven steps — six were it not for the time she spends slathering her pregnant belly with oils and creams — and yes, includes an essence, sometimes in the form of a sheet mask.
"I'm constantly reminded that skin care is a journey, not a destination, and it takes constant research to treat your skin in the best way as it changes," she says. When she turned 30, painful and recurring acne suddenly appeared on her chin. Cho became "obsessed" with finding a solution for it, later detailing her search for clear, bump-free skin for the Cut. Now, pregnancy has presented a new concern: persistent dark spots on her cheeks. "Melasma, also known as chloasma, is when pigmentation becomes more pronounced due to fluctuating hormones during pregnancy." She's been tackling it with vitamin C and other brightening ingredients.
Through it all, she's learned to rely primarily on founder-led brands that are not acquired or led by larger parent companies, for the same reason that she prefers to dine at mom-and pop-restaurants. "The food tastes so delicious and authentic when you have someone who puts their whole livelihood and passions behind the food that they prepare for their customers. A little bit of the magic goes away when it's a franchise or operated by a source that only cares about the bottom line," she says. "It's a big misconception a product might not be as high quality if it's not coming from a big-name brand."
Cho also warns of misinformation, pointing to studies that don't paint the full picture, causing people to turn to extremes. "There are plenty of coconut oil products that are formulated to work well with skin, but most people think it is comedogenic and will make you break out," she says. "The use of essential oils and preservatives are also a big controversy, because most people see it as sensitizing for your skin, when it's actually a matter of how it's formulated in the product. The details and nuances matter, but we tend to gravitate towards blanket statements."
Read on for her approved skin-care products, including the toner that got rid of her persistent acne, her two-in-one sunscreen-moisturizer, and DIY solution for stretch marks.
The Double Cleanse
"I'm a big fan of the double cleanse because I credit this technique with giving me clearer, glowing skin by thoroughly removing stubborn impurities like makeup and pollution. Starting off with a clean slate allows the rest of my products to work better, too. I need a huge bottle of this cleansing oil from Hanskin — it's that good. It's a nice lightweight texture that emulsifies beautifully and smells slightly citrusy. It's especially great to use during the summer when we're a little bit more oily and wearing a lot of sunscreen, because the best way to gently remove oil is with more oil. I've found this cleansing oil to be even gentler than others I've tried because it has fruit enzymes instead of acids. They digest the proteins between skin cells, which loosens up the dead cells so you can sweep them away."
"Love the exfoliating effects of the crushed green tea leaves in this cleansing stick. Not having to fight through a layer of dead cells, your products can go straight to the epidermis, which ultimately means your skin will retain more moisture — and it smells so good. When I use both of these in my double cleanse routine, my skin never feels dry or stripped, just soft and clean.
Note: Physical exfoliation can irritate skin. If you have active pimples, it's better to avoid it as you don't want to spread bacteria to the surrounding area."
The Toner
"This is my holy grail toner that got rid of my persistent hormonal acne. I created this to minimize my pores and smooth out fine lines with the 1 percent chemical exfoliants, including an optimal blend of pore-refining AHAs and PHAs and natural skin hydrators like marshmallow root extract and squalene. But it also saved my chin from getting breakouts and curbed my hormonal acne. After five years of acne, this was what changed the game for me."
The Face Mask
"Instead of an essence, since a lot of us are working from home or just have more time on our hands to self-care, how about a sheet mask? This mask is made out of natural fibers from banana leaves (though it doesn't smell like banana!), and it's drenched in an essence that's very popular and Korean celebrity-approved."
The Vitamin C
"Now that I've 'handled' my adult acne, I'm more concerned about pigmentation, which is becoming more pronounced during pregnancy. Due to fluctuating hormones, it's common for pregnant women to deal with darker pigmentation, and you're more susceptible to it when you have sun exposure. So I'm using 10 percent pure vitamin C on the spots to even out my skin tone. With a blend of ingredients, including 10 percent pure ascorbic acid, mushroom, ginseng, camu camu, vitamin E, and licorice extracts added for anti-aging benefits, this serum is powerful against hyperpigmentation yet has a lightweight, nonsticky texture so it's super-gentle on the skin. We were able to develop a proprietary formula that keeps the vitamin C more stable and less sticky!
When creating Good (Skin) Days, I worked with our team of experts at Soko Glam Labs to focus on approachable, clean, and cruelty-free skin-care products that merge both Korean beauty concepts and innovations with what our Soko Glam community wants and needs. We based this on eight years of feedback, focus groups, one-on-one skin consultations, reviews, and testimonials directly from the Soko Glam community. It's approachable and accessible, with everything in the collection under $26."
The 2-in-1 Moisturizer and SPF
"You can put on a moisturizer here to lock everything in. I love the creamy, nonsticky, lightweight texture of this sunscreen, because it serves as a moisturizer and sunscreen in one. We're going out more, eating outside, and social distancing outside. To protect myself from melasma during pregnancy, you bet I'm slathering this all over — including my belly — and reapplying as often as I can several times a day. To prevent stretch marks, you need to moisturize religiously!"
The Belly Treatment