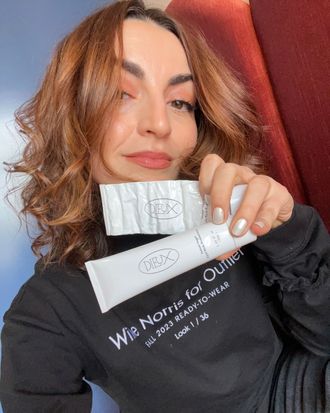 Photo: Charlotte Palermino
Dieux founder Charlotte Palermino always knew she would end up in the beauty industry. When she graduated from McGill University in 2009, she applied for a job at an ad agency and another at L'Oréal. "The acceptance letter for L'Oreal went to my junk mail, so by the time I understood I had gotten the job, I was working full-time at the ad agency," the Brooklyn-based beauty guru explains. "It's funny how fate will come back to find you."
After almost a decade of working at Cosmopolitan magazine, where she launched its Snapchat Discover, and later on a tech role at Snapchat, she began dreaming up the concept of Dieux. "I saw how there was transparency needed not only in the tech industry, but also when it came to products," she says. "My curiosity about all things cannabinoids, and what they can do for the skin, kicked off Dieux," Palmerino adds.
When she isn't creating viral TikToks and Instagram Reels on topics from debunking natural-deodorant myths to French pharmacy obsessions or launching best-selling products like the Forever Eye Mask, Palmerino makes sure to set aside time for self-care. For her, that means meditating, listening to podcasts, and moisturizing her face and body. "Things that don't really have to do with consumption or output are incredibly important to me because instead of the ephemerality of adding to my cart or keeping my brain constantly distracted with creating content, I'm engaging with my community or creating something that's feeding me mentally or physically," she says. "That grounding is key to staying in a happier place."
.

Here, Palmerino's A.M. routine:
7:00 – I wake up and meditate for 20 minutes.
7:30 – I have coffee as soon as I leave bed. I usually bring it to the bathroom with me and sip on it while I get ready.
7:35 – I start by splashing my face with water or using an essence. Right now, I'm using regular water, as New York tap water is elite.
7:36 – I follow with a serum while my skin is still slightly damp. I use Deliverance from my brand, Dieux, as it's calming but also has great peptides to plump out skin and niacinamide.
7:38 – For my eye serum, I use Jordan Samuel's eye gel. I like eye gels, as I think they hydrate the area well.
7:39 – I like using the Violette_FR Boum Boum Milk. I'm all about thirst-trapping hydration into the skin. I like how it makes my skin look and feel. It's a bit rich for an essence (it has oils and emollients), so I like to use it after my serums.
7:41 – For moisturizer, I like using Instant Angel! It's my favorite. While my skin is still damp, I'll go in with it.
7:43 – I love Korean sunscreens like Beauty of Joseon. I'm also a fan of Krave's relaunched Beet the Sun and Black Girl Sunscreen. I usually rotate among these.
7:46 – I usually put on the Talika Lipocils water-resistant mascara. It's a constant in my routine because it makes my lashes look long and stay curled all day. For my brows, I usually use Half Magic's incredible brow gel. Also, Glossier's Boy Brow is a classic for a reason!
7:47 – For a skin tint, I like using Rose Inc's Tinted Serum.
7:48 – I'm obsessed with Violette_FR's Bisou Blush in Louise. To finish, I love using Merit's highlighter in Lush.
.

Palmerino's P.M. routine:
8:00 – Usually, I'll turn on a podcast and clean up my apartment, prep anything I need for the next day, and shower.
9:00 – For shampoo and conditioner, I'm obsessed with JVN's hydrating line .
9:20 – After showering and slathering myself in a glycerin-and-rosewater mixture I make, I put on a rich cream and then Vaseline on top where there are dry spots.
9:26 – I'll then go under a red light mask for 20 minutes — love my Dermalux and Celluma Pro. While I'm doing this, I usually listen to some podcasts. A few I'm into right now are the Food Heaven podcast, Reset With Liz Tran, Noble Blood, Maintenance Phase, The Ezra Klein Show, Hard Fork … The list goes on. This is my time to catch up on anything I wanted to listen to that day.
9:47 – After this, I'll do my skin care, which is just Deliverance, eye gel and then Instant Angel with Vaseline on top. A few times a week, I'll do tretinoin either before or after Deliverance. On the weekend, I'll typically do a glycolic-acid peel, usually Dermalogica. 
.

On the hero product in her routine:
Instant Angel, for my skin type? The perfect moisturizer. Obviously, I have bias. My co-founder Joyce de Lemos made it, and I am incentivized to sell it, as it's my brand, but prior to this, I was using Skinceuticals Triple Lipid, and Joyce did the patent on that moisturizer too. While our moisturizer is not the same as Triple Lipid, the way it uses fatty acids, lipids, ceramide analogues, and humectants to quench the skin … It's my everyday product no matter what. I'm currently egg freezing, and my normally resilient skin is temperamental and prone to sensitivity. (A tip if your moisturizer doesn't seem to sink in: Dampen it slightly prior to application. It helps tremendously, especially when you have dry, husky skin.)
.

On the beauty marketing ploy that makes her cringe:
Greenwashing and the idea that a product is more "safe" because it's natural or has a designated marketing term. If you aren't doing additional testing or clarifying why your products are more safe, it's misinformation.
.

On how she'd like to see it change:
More transparency across the industry, whether it be filters used, transparency around cosmetic work done with models and influencers, or just the reality of what skin care and beauty can actually do so people who participate in the industry don't feel like they're failing for being human. A cream won't "turn back the clock" 20 years; why are we setting that up as the standard of success? In short, more honesty generally would be appreciated.
.

On beauty and TikTok:
I can't stand the filters. It's so normalized, and we're comparing ourselves against an augmented reality that we can't achieve in our day-to-day life. The long-term implications concern me. But aside from this, I love the creativity of makeup creators and the genius of science creators. I learn so much on that app, but you also have to be discerning (and sometimes check sources and citations!).
.

On the ingredient that's overhyped:
Anything that's positioned to "add collagen" to the skin but doesn't get past the stratum corneum or that first layer. Collagen doesn't add collagen, it just moisturizes. You need to protect or stimulate collagen in order to have an effect. Also, I find anything that positions itself as a retinol alternative, like Bakuchiol, is not comparable (this isn't to say it isn't a great ingredient, it's just not retinol and brands are trying to market it as a gold-standard ingredient). Lots of skin-care products are overhyped. The exception is sunscreen — that one can't ever be hyped enough!
.

On the ingredient she avoids at all costs:
Essential oils that are too strong. Again, it all depends on the dose. Unless you have a true allergy, most of the reactions you'll get in skin care are because of the combination of ingredients or because something was too strong. If something has a lot of lavender, my face turns into a rash.
But if it has a tiny amount of lavender? I should be fine.
.

On the ingredients she gravitates toward:
I love a keratolytic and anything that chats with receptors to boost collagen and elasticity. I adore an over-the-counter petrolatum or sunscreen. While petrolatum has gotten so much hate these past few years, it's peak greenwashing to say it's bad for the environment. All the replacements are typically castor-oil-derived. And where does castor oil come from? How is it farmed? How is it processed? While I want to divest from fossil fuels, it's madness to throw out the by-product of something our society is reliant on and increase use of fossil fuels to produce plants (and hurt biodiversity). Another love? Retinoids, niacinamide, ceramides, glycerin, and some peptides/humectants and emollients.
.

On how she decides what's worth testing:
I look into the science behind it, and if the founder is someone who has a lot of experience in the industry, I always will give it a go.
.

On the beauty services she swears by:
Even though I'm a licensed esthetician, I'm traveling so much and have had a few health issues (all on the mend, thankfully), so I don't dabble much in treatments. I may love my red-light mask, but for now, I don't make frequent dermatologist or esthetician visits. One thing I tried last year for the first time was microneedling. I went twice last and will likely try again this year. I'd like to try it with PRP or PRFM. I haven't dabbled in any injections and am not sure if I ever will — check back in five years.
.

On the beauty item she must grab in a rush:
Sunscreen. Ideally, one I picked up in Europe or bought from Korean online retailers.