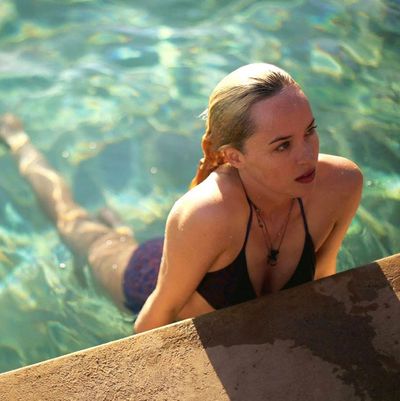 Photo: Twentieth Century Fox
Are you boiling in the New York City soup yet? Do you dream of the beach when you're waiting for the train, dripping in sweat? Then you've come to the right place. Whether you're fantasizing about an extended vacation, a quick trip to the Rockaways, or a jaunt to Montauk, you'll find the perfect cheap swimsuit below. Read on for 16 of our favorite under-$35 suits on Amazon.
The Top-Rated One-Piece
Customers love this super-sexy bathing suit for its flattering fit and low price — and there are over 1,000 reviews to prove it.
Available in sizes S–XXL.
The New Classic
The tie-front and high waist offer a flattering take on your basic black bikini.
Available in sizes S–XL.
The Baywatch One
The only accessory this needs is someone to capture your beach jog in slow motion.
Available in sizes 16W–24W.
For the Girlie Girl
Polka dots are always fun and flirty, plus you can always mix-and-match the pieces with solid-colored bikinis from your closet.
Available in sizes XS–XL.
Because Swimsuits Can Be Bodysuits Too
Leopard is everywhere this summer. Wear this one as a bodysuit with some denim for an easy city-to-beach look.
Available in sizes S–XL.
The Supportive Bikini
The halter neckline and wide elastic strap are super flattering while offering support for your chest.
Available in sizes L–4XL.
For the 'Gram
If you don't have a swimsuit in gingham (the official print of summer), what are you even doing?
Available in sizes XS–L.
If You Don't Want to Be Too Naked
The halter neckline cuts at exactly the right spot to flatter any kind of arms, and the mesh cutouts are revealing in all the right places — without being too revealing.
Available in sizes 12–20.
The Active One
This one isn't going anywhere, no matter how big the waves might be. Available in sizes 2–24.
The Strappy One
The adjustable straps and ties give you options to play around with.
Available in sizes XL–4XL.
The Sexy One Piece
The plunging neckline greatly flatters, and there's a ton of colors to choose from — if red isn't your shade, try black, blue, or green.
Available in sizes S–XL.
The Very On-Trend One
Neon green isn't going anywhere anytime soon, so get yourself a swimsuit that practically glows in the dark.
Available in sizes S–XL.
The Preppy One
Just add a straw hat.
Available in sizes S–XXL.
The One That'll Make Any Butt Look Good
The tie-up and ruched details are cute, and the low-cut legs hit the right spot to lift and flatter.
Available in sizes M–4XL.
For the Vintage Lover
Live your best pin-up fantasy with the halter neck, ultra high waist, and polka dots.
Available in sizes M–5XL.
An Easy Two-Piece
Reviewers love this one for its adjustable straps and high-waisted bottom.
Available in sizes M–3XL.
If you buy something through our links, New York may earn an affiliate commission.