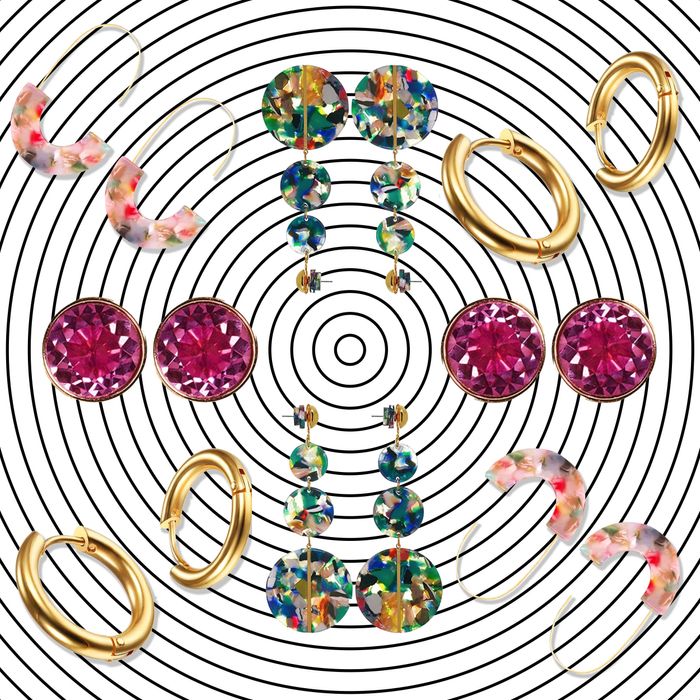 Now is the perfect time of year to buy fun new earrings. It's fall, but it's not real fall, when you can wear sweaters and boots and all those new things you're currently browsing when you're bored at work. But you're also probably totally sick of your summer clothing, since you've been wearing it since May. If you feel the profound need to switch up your look, try one of these 16 options from Amazon. They're all under $50, and some of them are under $15.
A Floral for Fall
These are grandmotherly in a cool, counterintuitive way.
If You're More of an Ear-Cuff Person
If You're Longing for Summer Again
If You Have a Secret Punk Streak
The diamond studs say "I'm a functioning adult," but the little dagger whispers, "But I have a dark side."
If You Like to Combine Trends
Pearls are having a moment, shells are having a moment. Put them together and you have this earring!
If You're Attracted to Classics
Nothing wrong with a shiny little stud. It's even better when it's in a bright color like magenta.
If You Like Hoops but Also Like Being Different
Introducing the double hoop.
If You're a Preppy at Heart
If You Want Something Simple but Not Too Simple
The texture on these studs adds that little something extra.
If You Love Color
Wear 'em with a black turtleneck, wear 'em with a colorful, maximal rainbow outfit. Either way, they'll add a bit of sunshine to your look.
If You Need a Basic
You can actually wear these every single day.
If You Need a Basic but Prefer Silver
Speak for themselves. Plus, unlike small, dainty hoops, these have a nice heft to them.
If You Haven't Let Old Céline Go
If You Like to Buy in Bulk
Or if you can't decide whether gold, rose gold, or silver is really your color.
If You're Into the Memphis Design Revival
The color scheme and the nontraditional post (no earring backs!) make this feel like it's an extension of what Ettore Sottsass & Co. have wrought.
If You Really Loved the 'Lover' Video
Taylor wears a pair of sunshine-y drop earrings in her "Lover" video. If you love the look, these are a good dupe.
If you buy something through our links, New York may earn an affiliate commission.