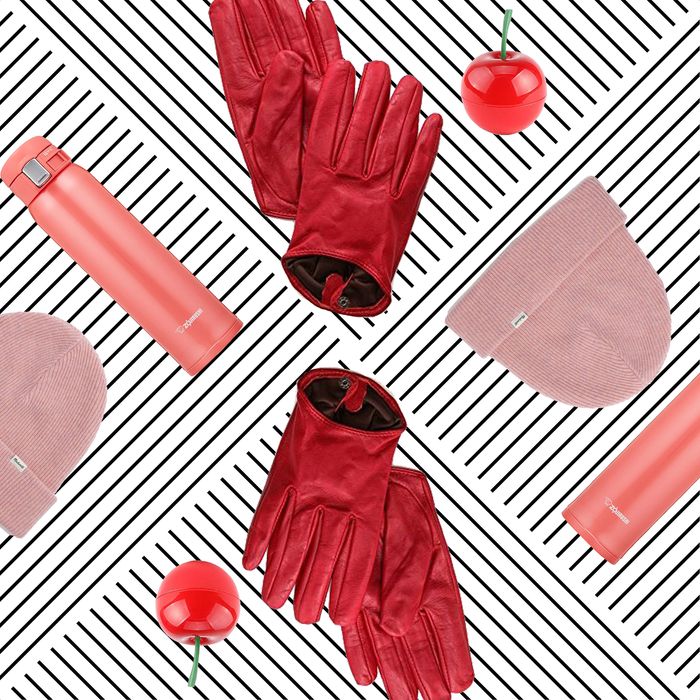 Did you just look at a calendar and wonder where the time went? You're not alone! Despite the countless helpful gift guides, we're just like you — massive procrastinators who are currently cursing ourselves for our lazy ways. But don't worry, 2-day shipping is here to rescue us all. And because we know budgets are tight at this point during the holiday season, we decided to keep all of our last-minute ideas to $50 or less. Scroll ahead for the best fun, cheap ideas for everyone on your list.
For the Person Who Loves Itty-Bitty Things
It's tiny and cute and will make her lips look nice.
For Your Friend Who Likes Kooky Old-Lady Fashion
Photo: Brown, Indya
These Picasso-inspired earrings are under $10.
For Your Favorite Cat Owner
Photo: Brown, Indya
This refillable lint roller will fit into any bag so she'll never show up covered in fuzz.
For the Compulsive Organizer
Photo: Brown, Indya
This teeny toothbrush stand is unobtrusive but still stylish.
For Your Friend Who Always Carries a Gigantic Bag
This cute cherry shape will never get lost in her purse, no matter what other junk is in there.
For the Person Who Loves Sweating But Hates the Gym
This 'facial sauna' will let you steam your face to loosen dirt and impurities. Karrueche Tran is a fan.
For the Friend Who Recently Discovered Matcha
Photo: Brown, Indya
You can also use it as a milk frother to add some pizazz to your morning coffee.
For You Aunt Who Loves a Hot Drink
At $10, this pretty mug is a great stocking stuffer, especially if you add in some hot chocolate or tea bags.
The Easiest Gift on This List
A sheet mask that actually anticipates what January 1 is going to feel like.
For the Woman Who Loves to Bake
The psychedelic swirls will showcase her perfect cupcakes.
For Anyone Who Wants Baby-Soft Skin
Reviewers rave that this Japanese exfoliating towel is better than a loofah or sponge for getting rid of rough winter skin.
For the Person Who Loves to Host
Use it for water, orange juice, or flowers.
For the Person Who Loves Traveling, But Not Planes
This soothing eye mask won't give you claustrophobia, but will de-puff your eyes and block out light.
For the Neat-Freak Home Cook
Made with binchotan charcoal, these towels won't stink no matter how many wet spills you wipe up.
For The Person Who Secretly Read All the Twilight Books
This lip product was created to capitalize on the vampire frenzy of several years ago. Regardless of whether you think Robert Pattinson was hot, it's still a favorite because it goes on like a balm but looks like a pretty lip stain.
A Good Mom Gift, Especially If She Has a Long Commute
Our friends at the Strategist love this brand for their ability to keep drinks perfectly chilled or hot.
For the Perpetual Traveler
For Your Sister, Who Never Carries Cash
Just enough room for all of her cards.
For the Iced-Coffee Addict
Photo: Brown, Indya
Just add your favorite coffee grounds to the chamber with cold water and leave it in the fridge overnight, and you'll have delicious cold brew waiting for you in the morning.
Corgi-imprinted emery boards: a much more low-maintenance gift than a new puppy.
For Your Dad Who Loves Gadgets
He'll get a kick out of asking Google the most mundane questions. And if he has an Alexa, he can listen to them converse, which is always fun.
Everyone needs a classic, well-reviewed chef's knife.
For the Teen Who Loves Millenial Pink
Photo: dbottom
The better to coordinate with her Glossier pouch, of course.
Original Price: $35
For the Person Who Loved Running Into the Sprinklers as a Kid
This spray lets you hydrate your face without ruining your makeup.
For the Person Who Isn't Afraid of Snails
If gastropod slime doesn't turn them off, this Korean beauty eye cream is for them.
For the Person Deeply Committed to Cuteness
What's cuter than a beauty blender and just as effective? This guy.
In a pretty emerald green, it's a nice reminder of her favorite grandkid (you, obviously.)
Original Price: $40
We've always loved this Japanese mascara, and so will whoever you get it for. It never flakes, never smudges, and lasts until you choose (via a lot of elbow grease) to take it off.
For the Everlane Superfan
The Japanese gold standard for anyone who appreciates a good pour over.
A sheer, glossy, barely-there lipstick in an easy "you can't mess this up" pencil.
For the Casual Coffee Snob
Don't want to fuss with an elaborate set-up? It doesn't get easier than a French press.
For the Teen Discovering Jewelry
These cute little hoops offer just enough sparkle to dress up her school outfit.
Because Everyone Loves a Good Robe
We've written about this robe a few times for good reason: it's hands down the favorite on Amazon for its warmth and softness.
The Best Travel Pillow, Ever
Another Cut favorite, this memory foam neck pillow will make even an 16-hour trip in economy class tolerable.
A Cozy Turtleneck for Mom
She'll get a ton of wear out of this dark green sweater.
Original Price: $70
If You Want a Personal Touch
Photo: Brown, Indya
A delicate initial necklace is something she can wear every day.
For Your Sister in College
Good for late nights studying in her dorm room.
Original Price: $122
For Your Workaholic Brother Who Lives in Suits
A classic cashmere scarf will match his work clothes perfectly.
Original Price: $145
For the Person Who Has Cold Hands
Photo: Brown, Indya
Cropped, red leather gloves will keep 'em nice and warm.
She'll be posting this hoodie on Instagram the second she opens the box.
Editor's note: It's on sale today for $33 but only for another 12-hours so act fast!
It's not Le Creuset, but it looks close enough to win over the most discriminating home cook.
If you buy something through our links, New York may earn an affiliate commission.