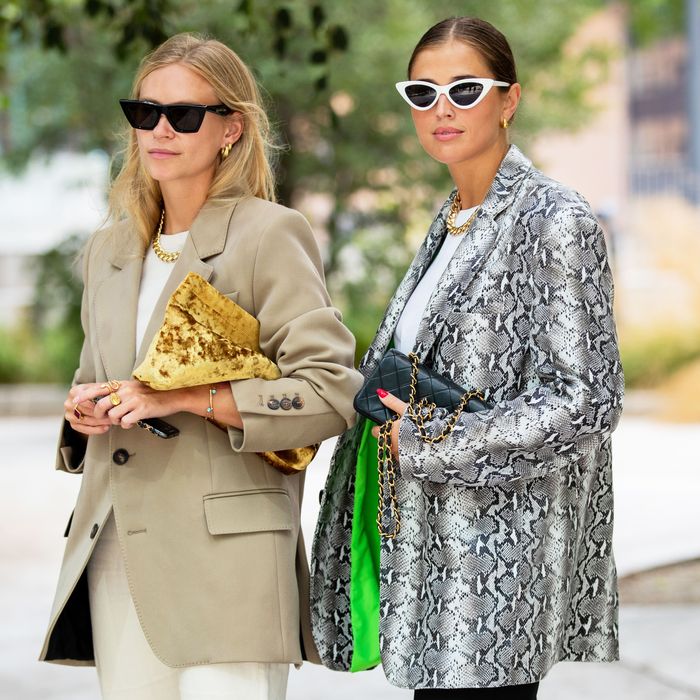 Photo: Christian Vierig/Getty Images
I love accessories, but my biggest vice has always been sunglasses. I'm no stranger to splurging on designer pairs, but my bills and rent keep my sunglasses addiction on the cheaper end of the spectrum for now. Last year, I bought a pair of red cat-eye sunglasses on Amazon for … not a lot of money. The first time I wore them, my friends thought they were Le Specs, which retail for about five times what I paid. Since then, I've been trawling Amazon for cheap eyewear, and I've amassed such a large collection that it's like having a pair for every mood. They may not hold up as well as a $250 pair, but for $10, you won't feel a pit of shame if they accidentally get crushed.
Below, I've rounded up some of the best pairs I could find under $30. Bonus: You can get all of them in two days.
If You Love Phoebe Philo
Who knew translucent blue could be so damn chic? When Celine released a similar pair years ago, it was practically impossible to escape them, and the shape has become a modern classic.
If You Want to Look Like a Style Blogger
If you don't own a pair of white cat-eyes, can you even call yourself an influencer?
A Universally Flattering Pair
Some people think certain face shapes require certain sunglasses shapes. Some people think this is a myth. Either way, you can't go wrong with this oversize pair, which is big enough to sit comfortably on your face but not so aggressive that it'll swallow it whole.
If You Love Trends
From motocross to the runway, sport sunglasses have arrived at the apex of trendiness. They're certainly not a frame for everyone, but with the right outfit, they can look very cool.
If You Want to Look Sleek
If black leggings and a sweatshirt are your weekend uniform, here's an easy way to look slightly more pulled together. I always carry a pair in my gym bag to cover my sweaty face after a workout.
The Classic Pair
Wire-rimmed sunglasses really do coordinate with everything, and the rounded octagon shape on these offers a bit of a twist.
If You're Feeling Futuristic
They're shaped like 3-D glasses, with a translucent frame — fun if you want to do something unexpected.
If You're Feeling Romantic
If Saint Laurent's heart sunglasses and Miu Miu's glitter shades fell in love, these would be their offspring.
The Ones That Look Vintage
Tell everyone you found them after scouring every corner of an out-of-the-way little thrift shop.
If You Love Phoebe Philo, Part 2
These Celine-reminiscent glasses have such a good shape I'd get them in every color — and $12 each, that's not impossible.
If You Like Animal Prints
The animal-print trend has finally made its way to sunglasses. Wear them with an all-black outfit for balance.
The Ones That Feel Expensive
Looking expensive and feeling expensive are two different things. At $30, these are priced slightly higher than everything else on the list, but their weight and solid construction make them well worth it.
If you buy something through our links, New York may earn an affiliate commission.