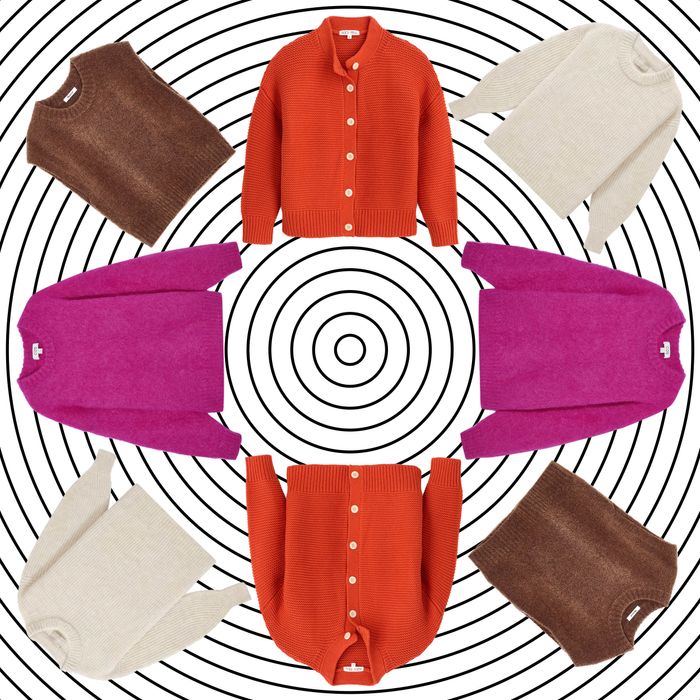 Photo-Illustration: The Cut
It's time to bring out the knitwear. Not only is it getting chillier outside, but even when the heat's blasting, there's always a mysterious draft wafting in from a window, so a Zoom shirt alone won't cut it. We know good-quality cashmere and wool sweaters can be an investment, but being warm, stylish, and cozy is possible without spending a ton.
Whether your aesthetic is colorful, preppy, minimalist, or somewhere in between, we rounded up 22 affordable sweaters under $200 that with great care will last you more than one season.
The Best Seller
Made from 60 percent alpaca, this under-$100 sweater from Everlane is a fan favorite. It's cozy and the ribbed sleeves allow you to scrunch them up for a puffy-sleeve look.
The Sweater Vest
Throw this bad boy over your summer dress, a white tee, or a printed turtleneck, and your outfit is immediately chic. If you need tips on how to style a sweater vest, right this way.
The Oversize One
Tie this roomy sweater around your waist and over your slip dress à la Bottega Veneta.
The Short-Sleeve Sweater
Switch your cotton polo for a polo sweater and voilà, a chic look.
The Basic Mock-Neck
You already know we're big fans of all things Uniqlo. This sweater is no different. The mock-neck adds a little flair.
The Perfect Winter White
Where else can you get 100 percent cashmere under $80? This sweater comes in over 25 colors for your choosing.
The Cardigan
The Sweater Dress
For $28, it's a sweater for your whole body. Plus, it goes up to a size 4XL.
The Elevated Basic
This basic sweater looks everything but thanks to the metallic buttons on the sleeves.
The Pink One
This soft mohair and merino-wool sweater from COS is a great way to add a pop of color to your outfit. Plus, the chunky crew neck looks great when paired with chunky earrings.
The Sweater-Sleeve
The effect of a sweater without actually committing to wearing one. It hits right above the waist and goes up to a size 28.
The Striped One
This 100 percent cotton option is for anyone who would rather be on a boat or a field. The men's fit allows for a boxier shape, which looks great tucked into jeans with a belt.
The Cashmere Option
This fitted cashmere J.Crew sweater is not only chic, but it is fair-trade.
The Hoodie Version
For hoodies, we always look for a couple of things: how it will look peeping under a coat; if there are drawstrings; and if the cuffs are fitted. This one checks the boxes for all three. (Plus: a matching midi skirt.)
The One With a Fun Detail
This asymmetrical sweater with pretty little bow says, "I'm not a regular sweater, I'm a cool sweater." We love the raglan sleeves as well.
The Bright-Colored One
This bouclé sweater is the perfect chartreuse color for fall. It will look great paired with some black pants or jeans. So if you're ordering some discounted layering pieces, you might as well throw in this marked-down sweater, too.
The Collared One
This collared shirt features dropped shoulders and a collared neckline, idea for layering. It's also a mid-weight fabric, which allows you to wear it during fall and into winter paired with a turtleneck.
Not Your Average Sweater
This crocheted organic-cotton-blend sweater with a fringed hem from Birger Christensen's brand Remain is a great statement piece.
The Animal-Print One
The Colorful Mock-Neck
If your closet is already filled with neutrals, consider this mock neck that comes in 13 different colors, including three shades of pink and green.
The Alpaca-Wool One
Nothing is softer than alpaca wool. And alpaca wool for $50? We will take it.
The Fluffy One
This supersoft cardigan from Asos can be worn alone or over a tee or sweater, making it a great option for fall. The spread collar also adds some flair.