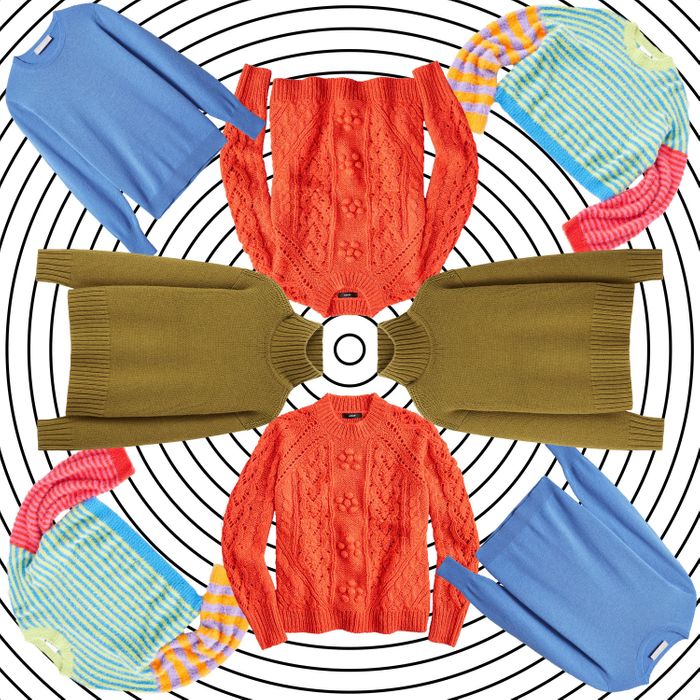 Photo-Illustration: Retailers
Yeah, it's cold. And even when the heat's blasting, there's always a mysterious draft wafting in from a window so a Zoom shirt alone won't cut it. Being warm, stylish, and cozy is possible without spending a ton. Whether your aesthetic is colorful, preppy, minimalist, or somewhere in between, here are some great sweaters that cost $100 and under. (And should you need extra layers, add on sweatpants and house shoes, too.)
See all of our favorite picks below.
The Most Cozy
The texture on this will feel like a blanket swaddling your body.
The Céline Knockoff
Style it slouchy with wide-leg pants.
The Best-Seller
Amazon reviewers rave about this #1 best-selling turtleneck, giving it high marks for its cozy oversized fit, softness, and overall quality.
The Pastel Pick
Happy colors like pale pink, bright green, and yellow are exactly what you need to get through a dark winter.
The Best Chunky Knit
A vibrant color balances out a cable knit so you won't look like you're wearing a bowl of oatmeal.
The Most Versatile
For a cheap cashmere sweater, you can't beat Everlane's crewneck.
Another Versatile Option
A very affordable classic in a nice wine shade.
The Layering Tool
Roomy enough for a shirt (or two) underneath. Plus, a V-neck pairs well with a collared shirt.
The One in Mint Green
The color is muted, but still unusual.
The Updated Tennis Sweater
The stripes alongside the contrasting pattern make this a nice alternative to basic black or cream.
The Dramatic One
Because those sleeves demand attention.
The Updated Classic
You can never have enough black turtlenecks.
The Tree-Hugging One
Is it a desert sunset? A psychedelic beach scene? You be the judge.
When You Want to Be Trendy But Not Too Trendy
The tiny little flare at the sleeves is just the thing to make this basic less boring.
When You're Not Over Millennial Pink
If you still can't get enough of the popular shade, here's another one in a checkered print.
The Perfect Winter White
Maybe skip the red wine though.
If You Love Pumpkin Spice
A sweater to match your latté.
The Nautical Option
A discounted find for everyone who would rather be on a boat.
The Fuzziest Option
For all the soft girls out there.
The Colorful Option
Pair with relaxed pants for chill skater vibes.
The Cropped Option
This will look good with any high-waisted bottoms.
The Best Color Block
The grown-up version of a cheerleading sweater.
The Boho Option
How do you make a cable-knit sweater less stuffy and preppy? Add fringe.
When You Need Cashmere ASAP
A great sweater you can buy in multiples.
When You Need a Solid Basic
This article was originally published December 17, 2020. If you buy something through our links, New York may earn an affiliate commission.