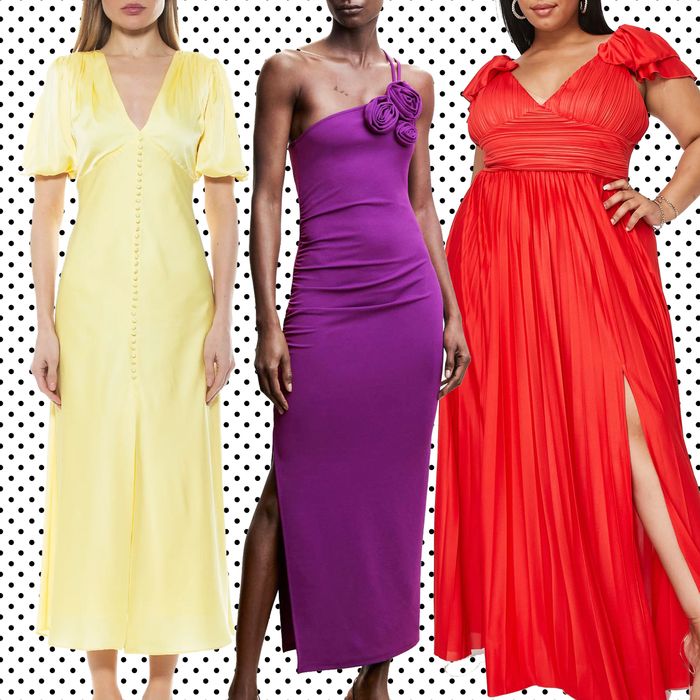 Photo-Illustration: by The Cut; Photos: Retailers
If it feels like you're still recouping from last year's wedding boom, don't throw in the slingbacks just yet. Nuptials are heating up yet again, and these sub-$200 wedding-guest dresses will help you avoid another cost-analysis spreadsheet. The venue, the time of day, and the weather will impact what dress you eventually wear, but there are plenty of options that'll work across several events. Ahead are our favorite cheap (but not cheap looking) wedding-guest dresses.
The one that pairs nicely with a Napa rosé
Lucky you, vineyard-bound attendee. The wine will be flowing, as should your dress.
If the invite says the dress code is "James Bond"
No one knows what formal means anymore, but if there's any reference to 007, make it dark and make it slinky. Reformation's knit dresses are basically cheaper (and sexier) versions of the brand's most popular styles.
For camouflaging among the other masterpieces
The "A Day at the Museum" Lisa Says Gah collection was created with New York–based artist Gabriella Picone. As the name suggests, you'll find antiquities-inspired icons, including vases, statues, snakes, and more. This dress will be your whole table's conversation starter; you're welcome.
When you're celebrating l'amour
Headed to a chateau in the south of France? After spending all that money to take us with you, you'll be pleased to know that Hill House Home's versatile Nap Dresses are under $200 and entirely appropriate for not napping at a wedding.
If gingham's the only answer
God bless the couple celebrating their love amid chickens, pigs, and goats. Avoiding awkward conversations via petting zoo is a lovely out for the introverted attendee.
For vibing with the modern art
If a Rothko will be present, channel the color blocking with this dress that gives tasteful and artfully composed plaster.
For faking a country-club membership
If the word "barefoot" is anywhere on the invite
If you RSVP'd to a summer beach wedding, one word: poplin. (It essentially repels sand and will keep you cool.) This one has a modern "boho" feel courtesy of the center rosette.
To stand out against the industrial complex
Did you look up the "updated warehouse" in Downtown Brooklyn? There will be iron beams and concrete. Wear something that's as avant-garde as the couple.
The one that'll look good against city lights
We sincerely hope you get to attend (or, maybe, throw!) a rooftop wedding. The twinkly cityscape, the Champs, the silhouette of you in this asymmetrical dress. Views, views, views.
For bringing the heat
Ideal for Miami, Los Angeles, or any destination that will also have an ex present.
If the bride is a dancing queen
Get on her level — and maintain it throughout the night, ideally. No one likes an empty dance floor!
One that'll go with a wedge
Botanical-garden weddings are beautiful from the ankle up. This dress will pair well with your espadrilles or chunky heels.
When you've spent enough on the plane ticket
Come through, Amazon. This one's especially handy if you have a sneaking suspicion that the freewheeling bride will want to run into the ocean after the "I do"s.
When you want to live, laugh, love #lakelife
Forget the mosquitos: There will be an air of citronella among the peonies to protect you.
If you know the playlist will be immaculate
You'll know if she mentioned "Let's Get Married" by Jagged Edge as the first dance song.
The one that looks good with a tucked-in napkin
The world needs more backyard-barbecue weddings.
The Stars Hollow–worthy one
If the suggested bed-and-breakfast doubles as the wedding venue, enjoy pretending you lead a quaint (but fulfilled!) life as Lorelai Gilmore.
For the Palm Springs wedding
Pairs well with cat-eye glasses and the inevitable plastic-flamingo selfie.
The dress you'll actually wear again (and again)
When the group chat tried and failed to understand the dress code for the wedding, a simple black dress won't let you down.
If you buy something through our links, New York may earn an affiliate commission.